When should you pay off debt versus investing. Why stocks are not less risky the longer you own them, but younger investors should still own more in stocks. How to invest a lump sum payment.
In this episode you'll learn:
How net worth consists of both financial capital and human capital.
What is the financial return for college.
How does asset liability matching apply to mortgages and student loans.
How to decide whether you should invest a lump sum payment all at once or systematically invest it over time.
Show Notes
2017 PayScale College ROI Report
Time Diversification: Fact or Fallacy – David A. Stangeland and Harry J. Turtle
Labor Supply Flexibility and Portfolio Choice in a Life-Cycle Model – Zvi Bodie, Robert C. Merton, William F. Samuelson
On the Risk of Stocks in the Long Run – Zvi Bodie
Time Diversification and Horizon-Based Asset Allocations – Donald G. Bennyhoff, CFA – Vanguard
Invest Now or Temporarily Hold Cash – Vanguard
Episode Sponsors
Become a Better Investor With Our Investing Checklist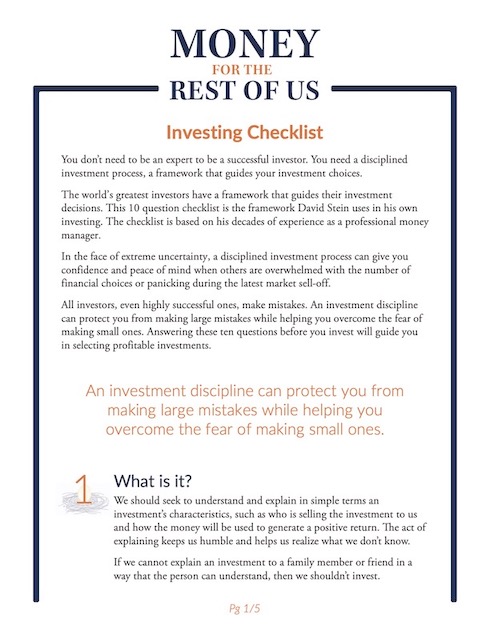 Become a Better Investor With Our Investing Checklist
Master successful investing with our Checklist and get expert weekly insights to help you build your wealth with confidence.
Episode Summary
At some point in our lives, we all have to deal with the issue of debt. It's a specter that hangs over our heads and gives us an uneasy feeling until it is gone. Debt has a cost, naturally so because it demands interest all the time. A question that comes up often is whether or not it is better to pay off debt immediately, primarily because it IS debt, or if a better return can be achieved, should available money be placed into investments instead? You could run the numbers and figure out what looks best on paper and go with that. But the answer is honestly not that simple. This episode is designed to walk you through many of the issues that should be considered when answering the question.
If it costs you less numerically to pay interest on loans than you could make on investments, you should invest instead of paying off debt, right? Maybe it's not that simple
Let's do the math. If you are paying 5% for your home mortgage and have a lump sum of cash available to pay it off, but you also have the opportunity to lend the money to a real estate crowdfunding platform with a guaranteed return of 9%, isn't it true that you would make 4% more by investing in the crowdfunding platform than you would if you paid off the mortgage? Yes, that's what the numbers say, but there's more to be considered. You want to think about things like human capital, the nature of the debt, and the mental cost you bear for having the debt hanging over you.
Most people should try to do both: invest and pay off debt. Here's why-
When it comes to the choice between paying off debt with available funds or investing those funds elsewhere, there is no cut-and-dried answer that fits everyone. But after doing his research in thinking through the issue, David feels that most people should try to do both. While there is a psychological benefit to paying off debt, there is also the knowledge and discipline that comes from investing.
In This Episode You'll Learn
[0:46] Welcome to the show – and could you help spread the word?
[1:55] Should you pay off student loans first or put your cash into investments?
[4:20] We've got to consider the cost of developing "human capital"
[9:40] What is debt and how does short-term VS long-term debt apply
[12:45] How do human capital issues impact how we invest?
[16:13] Why most people should try to do both: invest AND pay off debt
[22:50] Should a lump sum be invested all at once or dollar cost average it?