How commission free ETFs, mobile apps and zero fee index funds make it easier to invest if you have little money. What are some examples of commission fee ETFs and funds for Vanguard, Fidelity, Robinhood and TD Ameritrade.
In this episode you'll learn:
What are the options for investing when you have little money..
How brokerage firms make money apart from commissions.
What happens if a brokerage firm goes bankrupt.
Why are companies destroying billions of dollars of their own products
Show Notes
SEC Key Financial Responsibility Rules for brokerage firms to protect clients
Vanguard Brokerage Services Annual Notice
Vanguard SEC 606 report on directed brokerage
Fidelity Brokerage Services SEC 606 Report
TD Ameritrade Clearing SEC 606 Report
Automated Account Transfer Service – ACAT
Episode Sponsors
Become a Better Investor With Our Investing Checklist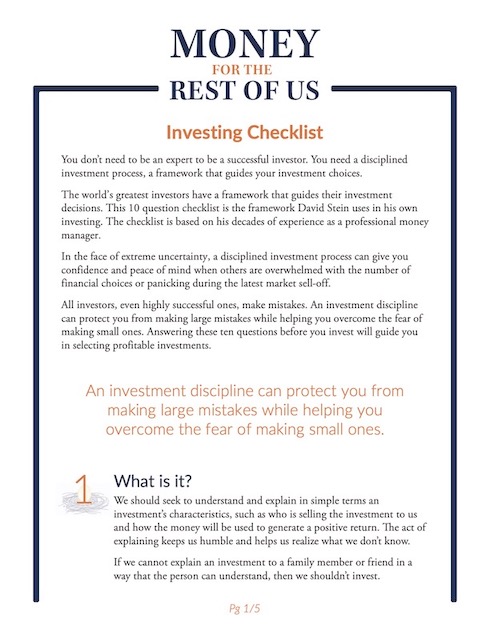 Become a Better Investor With Our Investing Checklist
Master successful investing with our Checklist and get expert weekly insights to help you build your wealth with confidence.
Episode Summary
On this episode of Money For the Rest of Us, David explains how to invest when you have little money to do so. Gone are the days where a few thousand dollars were needed before you could gain market exposure – investing is now possible with as few as $10. You'll hear about how investing with a very simple portfolio is possible and learn how brokerage firms make money even if they don't charge commissions. David also reassures listeners that there are protections in place that guard against losses in the event of firm bankruptcy. It's an episode not to be missed – listen now.
Learning how to invest when you have little money is possible!
One of the best ways to begin investing with very little money is through commission-free exchange traded funds (ETFs). These types of investments allow you to start small while still investing in varied types of stocks and bonds. Taking advantage of no minimum index mutual funds is another great way to start investing, even when you have little money.
How do brokerage firms make money if they don't charge commissions?
Brokerage firms such as Robinhood, Fidelity, TD Ameritrade, and countless more are able to make a profit even if they don't charge commissions. Many of these firms count commission-free trading and zero expense ratio funds as lost leaders – they're willing to not make money off of these aspects of their business. However, they do make a profit through securities lending, and margin accounts. Many also hope that users who only utilize the commission-free trading will eventually utilize additional services that do make money for the firm.
What happens to your investments if a firm goes bankrupt?
There are two types of protections in place that prevent investors from losing their entire portfolios in the event of a firm's bankruptcy. One is Security Exchange Commission, Rule 15c3-3 – it's the customer protection rule and it requires brokerages to keep client assets separate from corporate assets. The net capital rule, 15c3-1, mandates that brokerages must keep a certain amount of unencumbered capital in place in case they go bankrupt. Finally, even if a brokerage does go bankrupt, typically another firm will purchase those assets and your portfolio will simply be held by a new company. There is also SIPC insurance protection in place if a U.S. brokerage fails. David explains all of these protections in full on this episode, and it's a discussion you don't want to miss.
Having few funds is no excuse to not invest, and it can be done with a simple portfolio
There are a few key strategies to keep in mind when beginning your investment strategy. The biggest one to remember is the fact that even small fees of a percentage point or less can add up quickly over time and cut into your ability to see actualized returns. David also encourages new investors to consider global stock ETFs. It's a great classification that allows for a diverse mix of stocks and bonds while allowing you to gain market exposure. Simply starting now, rather than waiting until you have more money in hand to invest, is the best strategy.
Episode Chronology
[0:14] Here's how to invest when you have little money
[4:26] How do brokerage firms make money if they don't charge commissions?
[11:37] What happens to investments in a firm goes bankrupt?
[18:14] Thoughts on investing with a very simple portfolio
[27:35] A lack of money is no excuse to not invest
Transcript