How inequitable business models like those in the gig economy can lead to a financial crisis, more regulation, and doubts about the viability of the free-market system.
In this episode you'll learn:
What is the expanded role of corporations according to leading chief executive officers.
What is the gig economy.
Takeaways from David's recent experience delivering restaurant meals for Doordash including the huge liability many independent delivery drivers are unaware of.
Who covers the shortfall when the cost of operating a business is less than what consumers are willing to pay for the goods and services the businesses offer.
How more regulation results from businesses unfairly passing on costs to others.
How income inequality and debt can lead to a financial crisis.
Show Notes
Business Roundtable Redefines the Purpose of a Corporation to Promote 'An Economy That Serves All Americans'—Business Roundtable
The Future of Work The Rise of the Gig Economy by Dr. Emilia Istrate and Jonathan Harris
My Frantic Life as a Cab-Dodging, Tip-Chasing Food App Deliveryman by Andy Newman-The New York times
DoorDash Changes Tipping Model After Uproar From Customers by Andy Newman—The New York Times
DoorDash raises another $600m at $12bn-plus valuation by Tim Bradshaw—Financial Times
Fueling the Last Mile—DoorDash
The urban delivery bet: USD 5 billion in venture capital at risk? by Dr. Thomas Netzer, Dr. Jan Krause, Dr. Ludwig Hausmann, Florian Bauer, and Tim Ecker—McKinsey&Company
India's Restaurants Rebel Against Food Delivery Apps by By Vindu Goel and Ayesha Venkataraman—The New York Times
The Investor Seth Klarman, in a Rare Interview, Offers a Warning. Davos Should Listen By Evan Osnos—The New Yorker
Inequality Will Eventually Hurt the Rich, Too By Michael Pettis—Barrons
Inequality, Leverage, and Crises by Michael Kumhof, Romain Rancière, and Pablo Winant—American Economic Association
Household Debt-to-Income Ratios in the Enhanced Financial Accounts Michael Ahn, Mike Batty, and Ralf R. Meisenzahl—US Federal Reserve
LOOKING UNDER THE HOOD OF U.S. HOUSEHOLD DEBT by Ryan Collins—Georgetown Public Policy Review
Household Debt Service Payments as a Percent of Disposable Personal Income—Federal Reserve Bank of St. Louis
Oh, Inverted World (Update) by Claire Jones—Financial Times
Episode Sponsors
Become a Better Investor With Our Investing Checklist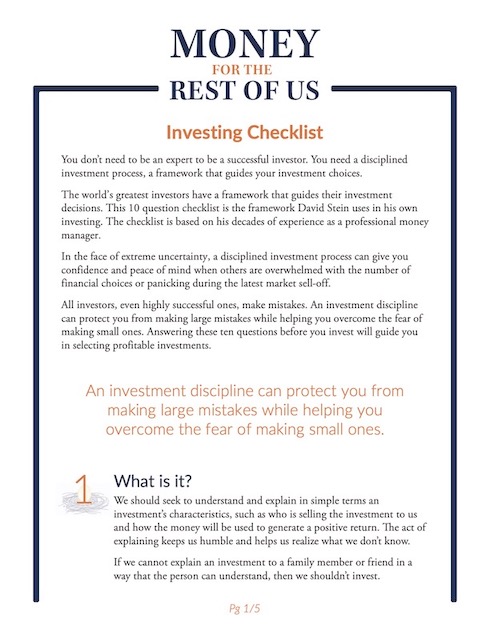 Become a Better Investor With Our Investing Checklist
Master successful investing with our Checklist and get expert weekly insights to help you build your wealth with confidence.
Episode Summary
Does capitalism still work? With the concerns of income inequality, rising debt, and the challenges posed by app-gigs, many are wondering if there's a better economic system. In this episode, David tackles the question of why U.S. capitalism isn't functioning as well as it could and what helps foster a healthy, capitalist economy.
The gambling nature of the gig economy
Ideally, businesses in a capitalist economy would take into consideration the well-being of their employees, seek to provide the community with what it needs, deal fairly with suppliers, and provide measurable value to shareholders. The reality, however, is that many don't. David describes his brief encounter working as an independent contractor with his daughter for DoorDash—one of the many gig-type jobs programmed through an app.
While you will have to listen to the episode for the details of the surprising story, David discovered that for 2 ½ hours of hard work, he and his daughter had earned $4.84. The problem, he explains, is that many drivers for such gigs as DoorDash, Lyft, and Uber don't take into consideration the entire cost of the labor they are providing. Insurance, wear and tear of the vehicle, fuel, and time spent all factor into the actual cost and earnings of a job.
The lack of insurance came as the biggest surprise for David. While DoorDash insured its driver while they had an "active" delivery in progress (meaning, they had the food they were delivering with them), they were not insured when not in possession of an "active" delivery. The catch is that private car insurance often doesn't cover commercial food delivery, in effect disabling gig drivers in their ability to be properly insured as private contractors within their work.
The end-result of the gig economy is that everyone who works within it gambles with their income capacity. Sure, you might receive a jackpot of orders for a few days. But what do you make after the government and the bills have taken their piece? The disconnect occurred between what customers are willing to pay and what it costs to perform the job. It's a damaging system that begs the question—what went wrong? Listen to the entire episode to find out.
Income inequality restrains economic growth
Business regulations are often fought against in a capitalist economy, but without them, everything would fall into pieces. Reasonable regulations help to keep businesses in line with the ideals of capitalism, providing a fair opportunity to everyone. Businesses need to realize that the shareholders are not the only ones that require a return on investment. Employees and customers also deserve fair treatment.
David cites a study that compared the 2008 Recession with the 1929 Depression. Surprisingly, there were many similarities, including a marked rise in income inequality alongside an increase in debt-to-income ratios among the middle and lower classes. While the top 5% or so continue to grow in their wealth, the rest of the household economy takes on debt because they are not being paid enough. Households continue to spend, however, because they take on more debt. Eventually, a breaking point occurs. Income inequality creates a problem for businesses because they cannot know what to expect. Should they expand in hopes that there will be enough consumer support? Or will they expand only to crash and burn? Uncertainty, and the inability of households to get out of debt due to income inequality, creates a shaky foundation for working capitalism.
Capitalism only works if the entire cost of a job is accounted for
Capitalism is easily distorted because it only works well within certain parameters. The cost of a product cannot exceed what customers are willing to pay for it. When there is a gap created—as within the gig economy—someone has to make up the difference. That task often falls to the shareholders and to the independent contractors.
Businesses are caught in the trap of wanting to expand, being able to easily obtain large loans for expansion, and then not being able to pay back the cost of the expansion because there isn't enough revenue coming in. This catch halts business growth—sometimes costing people their jobs because the business is unable to pay their debts.
Businesses must take into account the entire cost of their product in order to pay employees and independent contractors fairly, enabling them to partake in the economy and indirectly support the businesses' ability to expand without crashing.
Three ways we can help create a healthy capitalist economy
Often, a simple change in perception and decision-making is enough to cause a positive response. To aid the economy in positive evolution towards healthy capitalism, David suggests considering three things:
Pay employees and contractors fairly as a business owner or manager.
Pay a fair price for the products you purchase as a consumer.
Become a voice for reasonable business regulation.
Take the time to research what things actually cost. Promote fair play. Capitalism still works, but it requires boundaries. Listen to the episode for a deeper look into what makes capitalism crumble, and what you can do to help the economy thrive.
Episode Chronology
[0:18] Is Capitalism still working for everyone?
[2:12] David's disappointing gig economy experience.
[6:53] The hidden cost of insurance in gig jobs.
[9:04] Who pays to close the financial gap created by gigs?
[14:27] The pitfalls of the gig economy.
[16:17] What makes capitalism work?
[19:29] Income inequality is a drag on the economy.
[23:09] The importance of calculating the entire cost.
[25:36] How your decisions can impact the health of the capitalist economy.
Transcript

Welcome to Money for the Rest of Us, this is a personal finance show on money, how it works, how to invest it, and how to live without worrying about it. I'm your host David Stein. Today is episode 267, it's titled, "Why Capitalism Goes Off Track."
Back when I was in college I worked for a polling company who had asked the people we called whether they believed the U.S. was on the right track or the wrong track. There's been discussion in this presidential election as to whether capitalism still works for everyone. Is capitalism off-track? Is there a better system? I believe the free market still is the best, but there's things that happen that get it off-track.
New goals for the purpose of a corporation
Last month the Business Roundtable announced a news statement on the purpose of a corporation. It was signed by 181 CEOs who commit to lead their companies to the benefit of all stakeholders. That's customers, employees, suppliers, communities, and shareholders. That's from the press release.
The Business Roundtable is a nonprofit association whose members are the chief executive officers of major U.S. corporations. They promised to do their part to get capitalism back on track. In this episode, we'll see what that will actually take, both leaders of businesses, as well as our sales as consumers.
The statement on the purpose of a corporation, they believe it's the role of business to "deliver value to customers. Invest in their employees", which they say starts with "compensating them fairly and providing important benefits." "The role of business is to deal fairly and ethically with suppliers, support the communities in which they work", and finally, "generate long-term value for shareholders," who provide the capital that allow the companies to invest, grow, and innovate.
The gig economy
Then, there's the gig economy. Amelia Istrate and Jonathan Harris wrote a piece for the National Association of Counties and described what the gig economy is. They said it's made up of 3 main components: "independent workers paid by the gig, or task or project, as opposed to workers who receive a salary or wage." That's 1 element. Two is "consumers who need a specific service, for example, a ride to their next destination. Or they might need a particular item delivered." And finally, you have an app-based technology platform, Uber, Airbnb, Lyft, DoorDash, that act as a medium between the independent worker and the consumer that wants that temporary task.
As a Money For the Rest of Us Plus member, you are able to listen to the podcast in an ad-free format and have access to the written transcript for each week's episode. For listeners with hearing or other impairments that would like access to transcripts please send an email to [email protected] Learn More About Plus Membership »