How to avoid ruin and help others avoid ruin as the economy shuts down to slow the spread of the coronavirus.
Topics covered include:
What is the precautionary principle and how can it help us make important decisions with regards to the coronavirus pandemic.
How many people could be infected with COVID-19 in the next 30 to 60 days at the current daily growth rate.
Why investment managers are selling assets to reduce their market exposure.
Should individual investors be increasing or reducing their exposure to the stock market in the current market environment.
How recent actions by the Federal Reserve suggest they think a U.S. recession is imminent.
What can individuals locked down at home do to survive mentally and emotionally.
What we can do to help businesses avoid ruin during the pandemic crisis.
Show Notes
The precautionary principle in environmental science. D. Kriebel and co-authors. Environmental Health Perspective
Coronavirus disease (COVID-2019) situation reports – World Health Organization
Why Markets Are So Volatile – It's Not Just the Coronavirus – Gunjan Banerji and Gregory Zuckerman – Wall Street Journal
Episode Sponsors
Rad Power Bikes Text the word RAD to the number 64-000 to get a free accessory with the purchase of a bike.
Become a Better Investor With Our Investing Checklist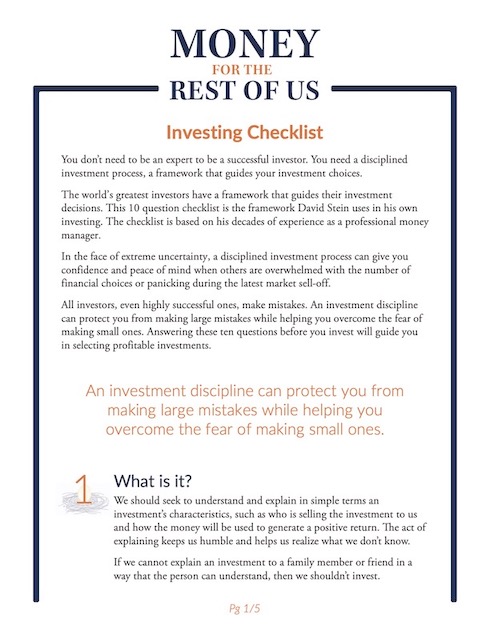 Become a Better Investor With Our Investing Checklist
Master successful investing with our Checklist and get expert weekly insights to help you build your wealth with confidence.
Learn more about coronavirus and investing
Coronavirus and the Financial Impact of Pandemics
Market Timing Versus Time in the Market
Decision Making: Uncertainty Versus Risk
How Stories Go Viral and Drive Economic Events
Why the Stock Market and Economy Are Rebounding So Quickly
Transcript
Welcome to Money for the Rest of Us. This is a personal finance show on money, how it works, how to invest it, and how to live without worrying about it. I'm your host, David Stein. Today is episode 291. It's titled, "How to Survive the Coronavirus Shutdown."
The pandemic becoming real
Last Thursday LaPriel and I got on a plane and flew to Cincinnati. Our children got on other planes coming from three different locations to also attend the same funeral. I was a bit apprehensive getting on the plane. It was packed with individuals that had been attending spring training, which had just been canceled, so now they were returning home.
The Coronavirus pandemic up until then had always seemed a little distant, something that was happening over there in Seattle, Europe, China. LaPriel had eaten out a few times last week. But then the cancellations started coming in. Colleges closed, churches, restaurants, entire countries locked down. Then cities in the U.S. And yesterday President Trump encouraged that we don't have gatherings with more than 10 individuals.
In Ohio, we went to the grocery store to buy some food for our Air BnB. Many shelves were empty, not just toilet paper, but pasta, beans, peanut butter, rice, chicken, Skyline Chili.
Everything is changing
That same day I received an email from Steve who is a listener. He wrote, "I live in the Seattle area, the epicenter of the Coronavirus pandemic in this country. It's fascinating watching the behavior changes occurring locally. Thousands upon thousands of people are working from home. Traffic, especially during rush hour has disappeared. Restaurants are nearly empty and dozens have closed. Coffee shops like Starbucks are no longer gathering places. Stores have few customers. Schools have closed. Sporting events canceled.
"People are not spending. Demand is dropping precipitously. People's living, working, and recreational behaviors have changed dramatically and very quickly. Locally, epidemiologists don't think that the infection rate will peak until late May or June. That suggests that we have close to 5-6 months to go before the situation stabilizes. Who knows?
"I wonder if new behaviors will become ingrained over months of enforced change. I don't think we can assume things will return as they were a month ago. Will the pace and scope of online shopping accelerate? Will people adapt to eating out much less often? Will the desire to travel for either business or pleasure rebound? Ours is a consumer-driven economy, when this crisis ends, slows down, or stabilizes, presumably businesses will reduce prices to spur demand. Will it be effective? Or will people's consumption habits have changed? Will it lead to deflation?"
Steve concludes, "I'm curious as to your thoughts and what we, your listeners and readers, should do." Something changed for me this past weekend. The Coronavirus pandemic became real—that it's going to require change on my part and many others. We will have to change our behavior to stop the spread of this virus.
As a Money For the Rest of Us Plus member, you are able to listen to the podcast in an ad-free format and have access to the written transcript for each week's episode. For listeners with hearing or other impairments that would like access to transcripts please send an email to [email protected] Learn More About Plus Membership »