As we await the U.S. presidential election results, we review the results of the Trump Administration's economic policies to see if Americans are better off financially than they were four years ago.
Topics covered include:
Why pollsters and election models can be wrong
Why the state of the economy often drives election outcomes
What has been the economic impact of the 2017 Tax Cuts and Jobs Act
What has been the impact of the U.S. trade war with China
How have poverty and health insurance costs changed under the Trump Administration
What has been the growth of federal regulations under the Trump Administration
How have stocks performed during the Trump Administration
Why we shouldn't let whoever wins the presidency ruin our life
Show Notes
President Trump has had real achievements and a baleful effect—The Economist
FiveThirtyEight 2020 Election Forecast
Forecasting the US elections—The Economist
David Leonard, Professor Emeritus of Finance at Miami University
A Preliminary Look at 2019 Tax Data for Individuals by Taylor LaJoie and Erika York—Tax Foundation
An Updated Analysis of Corporate Behavior and the Tax Cuts and Jobs Act by Nicholas H. Cohen & Manoj Viswanathan—The University of Chicago Law Review Online
Did the 2017 tax cut—the Tax Cuts and Jobs Act—pay for itself?—William G. Gale—Brookings
Changes in U.S. Family Finances from 2016 to 2019: Evidence from the Survey of Consumer Finances – Federal Reserve
Federal Surplus or Deficit [-] as Percent of Gross Domestic Product—The Federal Reserve Bank of St. Louis
U.S. budget deficit breached $3.1 trillion in 2020 as pandemic slammed economy—By Jeff Stein and Andrew Van Dam
Federal Debt: Total Public Debt as Percent of Gross Domestic Product—The Federal Reserve Bank of St. Louis
All Employees, Manufacturing—The Federal Reserve Bank of St. Louis
All Employees, Total Nonfarm—The Federal Reserve Bank of St. Louis
Episode Sponsors
Tempo – use code David to get $100 off
Become a Better Investor With Our Investing Checklist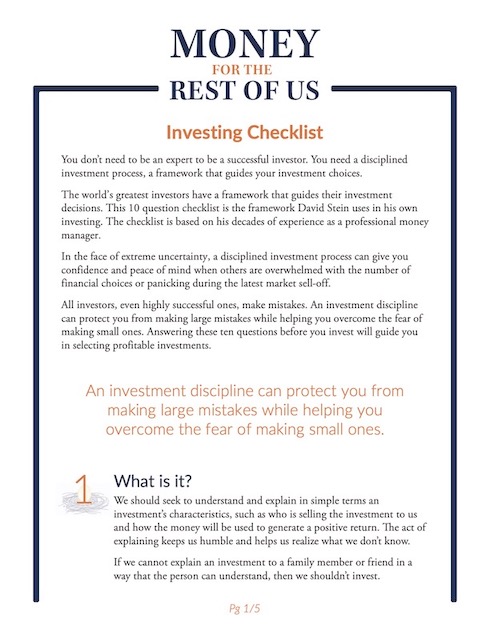 Become a Better Investor With Our Investing Checklist
Master successful investing with our Checklist and get expert weekly insights to help you build your wealth with confidence.
Learn More
212: Trade Wars Increase Prices and Poverty
213: Why Health Insurance Is A Mess
Transcript
Welcome to Money For the Rest of Us. This is a personal finance show on money, how it works, how to invest it, and how to live without worrying about it. I'm your host, David Stein. Today's episode, 320. It's titled "Someone won the election. Now what?"
Four years ago, at the time of the last U.S. presidential election in 2016, I recorded a two-part episode. One on Tuesday, election day, and the next part, the following day, once the results were known. It was episode 132, titled "Trump wins. Now what?" I will not be doing a two-part episode this presidential election. Today is election day, November 3rd, 2020. It had been a combative election season, with many early voters.
As of last Friday, 94 million Americans had voted in the election, double the 47 million that did so in 2016. There's record turnouts. But the results might not be known for days or weeks, because a lot of those early votes have to be counted.
Why Polls Can Be Wrong
In 2016, when Trump won, it was a surprise, because the various election models, such as Nate Silver's FiveThirtyEight had Trump at only a 20% probability of winning. These models are based on numerous polls. All polls ask questions and then weight or adjust the results based on estimates of likely voters.
In 2016, pollsters systematically under-estimated the number of white males without a college degree that would vote. Many more voted, and that was enough to push the electoral college victory to President Trump. Pollsters believe they have adjusted for that under-estimation this round.
There also appears to be a lot less undecided voters in the days and weeks leading up to the election. Does that mean the election models will be more accurate? We'll see. FiveThirtyEight's model, which simulates the election results 40,000 times, they see Biden winning 89 times out of 100. And Trump 10 out of 100, and a tie 1 out of 100.
The Economist also has an election model. It includes poll data, but also current economic data. They see Biden's chances of winning the Electoral College at 97%, better than 19 and 20. Still, surprises happen, and it could happen again.
As a Money For the Rest of Us Plus member, you are able to listen to the podcast in an ad-free format and have access to the written transcript for each week's episode. For listeners with hearing or other impairments that would like access to transcripts please send an email to [email protected] Learn More About Plus Membership »