How New York City and other metropolises will overcome the pandemic economic shock. Why do some cities thrive while others devolve into chaos. How we can develop the resiliency of thriving cities.
Topics covered include:
How New York and other cities have dealt with the pandemic economic shock
Why the city of Port au Prince in Haiti is struggling
Why do cities fail less frequently than companies
How we can replicate the rhythms and cycles of cities
How most cities can evolve in response to the pandemic and we can too
Show Notes
Local Area Unemployment Statistics – New York City— U.S. Bureau of Labor Statistics
Scale: The Universal Laws of Growth, Innovation, Sustainability, and the Pace of Life in Organisms, Cities, Economies, and Companies by Geoffrey B. West
The Office Sector in New York City by Brian McElwain, Anita Yadavalli, and Amar Mehta—Office of the New York Comptroller
Desperate Haitians suffocate under growing power of gangs by Dánica Coto and Alberto Arce—The Associated Press
California's approach to gendered toys says a lot about the state's political direction—The Economist
HB 389: Poor policy, poorly written, bad for rural Idaho by Geoffrey Wardle—Idaho Business Review
Human History Gets a Rewriteby By William Deresiewicz—The Atlantic
The Dawn of Everything: A New History of Humanity by David Graeber and David Wengrow
Four Thousand Weeks: Time Management for Mortals by Oliver Burkeman
Episode Sponsors
Become a Better Investor With Our Investing Checklist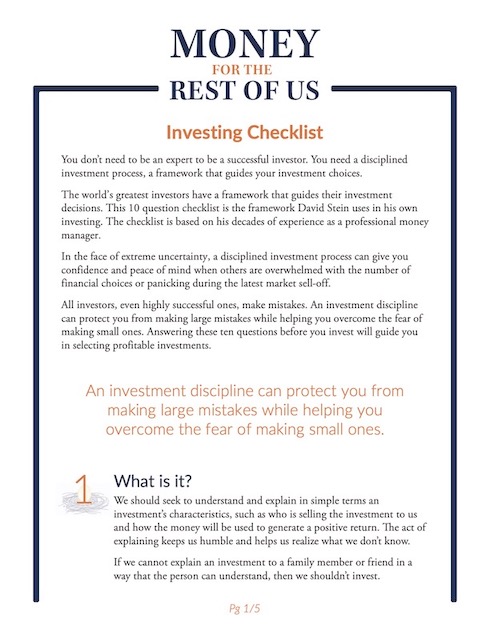 Become a Better Investor With Our Investing Checklist
Master successful investing with our Checklist and get expert weekly insights to help you build your wealth with confidence.
Related Episodes
171: The Extraordinary Impact of Cities
Transcript
Welcome to Money For the Rest of Us. This is a personal finance show on money, how it works, how to invest it, and how to live without worrying about it. I'm your host, David Stein. Today's episode, 363. It's titled, "Why most cities don't die."
New York City
Last week, LaPriel and I visited New York City. We hadn't been there in two years due to the pandemic. We typically visit every fall. I like the variety, the diversity, the large scale of the city. The randomness of walking and discovering a new shop, a new restaurant, meeting someone new, or discovering something I hadn't seen before.
I didn't use to like New York City. I found it overwhelming, but I was also curious about this city. My parents drove from Cincinnati to New York for their honeymoon. Growing up, I thought that was an odd choice. Why not Hawaii?
My first time in New York City was on my first business trip. But the trip wasn't even to New York. I was a temp worker for an information technology company. I was getting ready to go to graduate school, and this company sent me to Parsippany, New Jersey along with my boss, to train the replacement for my job. My boss had never been to New York either. So we drove into the city. She asked me to drive, and I drove. We never got out of the car. We had no maps, no GPS. We just drove straight, probably took the Holland Tunnel. I remember driving past Times Square and leaving the city on some bridge.
A few years later I started going to New York regularly, to research investment managers. I was always a bit tentative. One manager was kind enough to show me how to use the subway, instead of spending so much on taxis.
I've now visited New York City dozens of times. But never in the midst of a pandemic. Like most places, Covid-19 has been a huge economic shock to New York. One million jobs had been lost. The unemployment rate jumped to 20%. Over a thousand restaurants closed. Over 90% of the 1.5 million office workers began working from home. I wasn't sure what we would find when we went to the city.
There were clearly more storefronts that were empty. More graffiti, more litter in some places. But as we walked the streets of Soho, Tribeca, the Meatpacking and Flatiron districts, and other areas, the streets were full of people. They were as crowded as I've ever seen them. People shopping or eating at restaurants. Most restaurants have built outdoor seating areas on the sidewalk, or in the street by the curb.
The Advantages of Cities
Four years ago, in episode 171 of the podcast, I shared some work by Jeffrey West, from his book Scale. In there, he points out that cities scale in a super-exponential way. As they get bigger, they get more efficient and grow faster. The bigger the city, the more economic output per person. There are economies of scale as a city grows because it requires less infrastructure per person.
As cities get larger, the dynamics of social networks lead to greater wealth creation and innovation. There's an increased pace of life. Things just happen faster. New businesses are born and die more frequently. Commerce is transacted more rapidly. People even walk faster. 15% faster in cities, versus smaller towns. There's more interaction, more opportunity to be creative. Make connections in your daily working life. New York City is the largest city in the U.S, but only the 11th largest in the world. The largest is Tokyo, one of my other favorite cities.
Cities are complex, adaptive systems. They adapt and change over time. New York and other cities will adapt to this Covid shock. Despite all the people on the streets of New York, only 30% of office workers have returned to the office. The unemployment rate, which got up to 20%, is still at 10%. It was 3.8% prior to the pandemic.
Overall employment in New York is down by 300,000, including 100,000 fewer office workers. Despite that, all during the pandemic, the amount of office space continued to increase. There's 13 million square feet of office space under construction. Total office space is 405 million square feet. New York has the largest office sector in the country. The vacancy rate is very high, 18% vacancy rate. Up from 11% back in 2019. That has hurt property values of some of the most expensive office properties in New York. The World Trade Center value is down 23%. If we look at the average valuation decline of the top ten office properties in New York—down about 13%.
New York is starting to come back, but there's a long way to go. And not every city is rebounding as quickly as New York. Certainly, some of the cities in the Sun Belt have done better economically. LaPriel and I were in Seattle in July, and that city seemed like it was under a little more duress as we walked downtown. But there are cities way, way worse.
As a Money For the Rest of Us Plus member, you are able to listen to the podcast in an ad-free format and have access to the written transcript for each week's episode. For listeners with hearing or other impairments that would like access to transcripts please send an email to [email protected] Learn More About Plus Membership »