Stories determine economic and financial outcomes, both our own and the world in aggregate. Here's how to craft and follow stories that will lead to better financial outcomes and greater happiness.
Topics covered include:
How financial narratives give us the confidence to take action in the face of uncertainty and potential loss
How the greater the stakes, the more we rely on anecdotal evidence rather than statistics
Is the world more stable and predictable or in a constant state of disorder
How stories determine what we buy and aspire to and how marketers try to influence those stories
How stories of fear and greed influenced economic outcomes in the 1920s and 1930s
How more precise stories lead to greater confidence and potentially to manipulation.
How to get off the hedonic treadmill in order to be happier
Show Notes
Joseph Campbell & The Hero's Journey by Tamlorn Chase—Odyssey Online
Panarchy: Understanding Transformations in Human and Natural Systems by Lance H. Gunderson
Optimizing SKU Selection for Promotional Display Space at Grocery Retailers by Pak Et al.
The Role of Sentiment in the Economy of the 1920s by Kabiri Et al.
Monetary Policy and the Management of Uncertainty: A Narrative Approach by Bank of England Publications Et al.
Impressed by Numbers: The Extent to Which Novice Investors Favor Precise Numerical Information in a Context of Uncertainty by Batteux Et al.
When poignant stories outweigh cold hard facts: A meta-analysis of the anecdotal bias by Freling Et al.
Narrative Economics: How Stories Go Viral and Drive Major Economic Events by Robert J. Shiller
Walgreens replaced some fridge doors with screens. And some shoppers absolutely hate it by Nathaniel Meyersohn—CNN
How To Want Less by Arthur C. Brooks—The Atlantic
Episode Sponsors
Become a Better Investor With Our Investing Checklist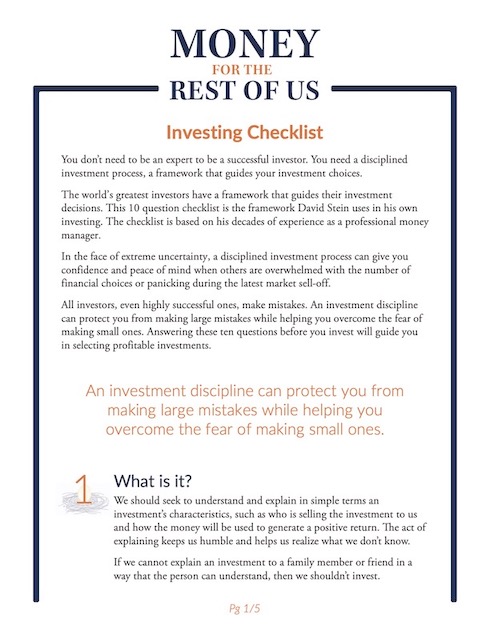 Become a Better Investor With Our Investing Checklist
Master successful investing with our Checklist and get expert weekly insights to help you build your wealth with confidence.
Related Episodes
294: How Stories Go Viral and Drive Economic Events
Transcript
David Stein: Welcome to Money For the Rest of Us. This is a personal finance show on money, how it works, how to invest it, and how to live without worrying about it. I'm your host, David Stein. Today's episode is 380. It's titled "How Stories Drive Our Happiness and Financial Success."
Stories and News Consumption
Last week, LaPriel and I watched the 2011 documentary Finding Joe.
It was about the hero's journey, a theory that Joseph Campbell developed and discussed in-depth in his 1949 book, The Hero with a Thousand Faces. He developed this theory over five years, spending nine hours a day reading mythology from around the world.
He concluded that epic poems, novels, movies, myths, all tell the same story, what he describes as a monomyth, with stages of initiation, separation, and return.
There are 17 stages in his monomyth. But the final stage, when there is a return, the hero brings back a story, to share and inspire others.
We are rooted in stories. It's how we view the world. It's how we make financial decisions, based on the narrative that is in our head, that drives our actions.
I've mentioned in the past that I skim numerous digital newspapers and magazines a day, I subscribe to a number of institutional research services that produce a constant stream of written reports.
I subscribe to Refinitiv and YCharts, that stream news headlines from Reuters, Associated Press, and other services. I scan my Twitter feed briefly.
I don't watch any news on television or listen to it on the radio or on podcasts. But I spend about an hour a day on news consumption, usually in the evenings, trying to batch it all at once.
When I finished my news consumption session, I often ask, did I learn anything? Did anything change? Did something jump out that I didn't expect?
Was there something that contradicted my worldview, that interrupted the narrative that I've constructed as to what is happening in the world? And what is the narrative that others are following?
We navigate the world through narratives, through stories.
As a Money For the Rest of Us Plus member, you are able to listen to the podcast in an ad-free format and have access to the written transcript for each week's episode. For listeners with hearing or other impairments that would like access to transcripts please send an email to [email protected] Learn More About Plus Membership »