How protected are you if the brokerage firm where you hold your stocks, bonds, and crypto assets files for bankruptcy? Why you shouldn't store your crypto assets with an online broker.
Topics covered include:
How traditional brokerage firms protect their client assets in case of bankruptucy
How cryptocurrency brokers, such as Voyager, mistreat their clients in bankruptcy proceedings
What is the safest way to hold cryptocurrency
Show Notes
Voyager To Acquire Circle Invest Retail Digital Asset Business From Circle Internet Financial—Cision
Welcome, Circle Invest! Voyager Acquires Circle Invest's Retail Customers—Voyager
Crypto lender Voyager Digital files for bankruptcy by Shivam Patel, Sinead Cruise, and Tom Wilson—Reuters
Crypto lender Voyager addresses customer anger in first bankruptcy hearing by Dietrich Knauth—Reuters
If a Brokerage Firm Closes Its Doors—FINRA
Crypto Broker Voyager Digital Says Three Arrows Capital Hasn't Repaid $666 Million in Loans by Vicky Ge Huang—The Wall Street Journal
From $10 billion to zero: How a crypto hedge fund collapsed and dragged many investors down with it by MacKenzie Sigalos—CNBC
Update on Customer USD and Crypto—Voyager
'I'm out millions of dollars': Thousands of crypto investors have their life savings frozen as Voyager files for bankruptcy protection – Fortune
CFTC Charges MF Global Inc., MF Global Holdings Ltd., Former CEO Jon S. Corzine, and Former Employee Edith O'Brien for MF Global's Unlawful Misuse of Nearly One Billion Dollars of Customer Funds and Related Violations—Commodity Futures Trading Commission
Episode Sponsors
Keeper – keep your passwords safe
Become a Better Investor With Our Investing Checklist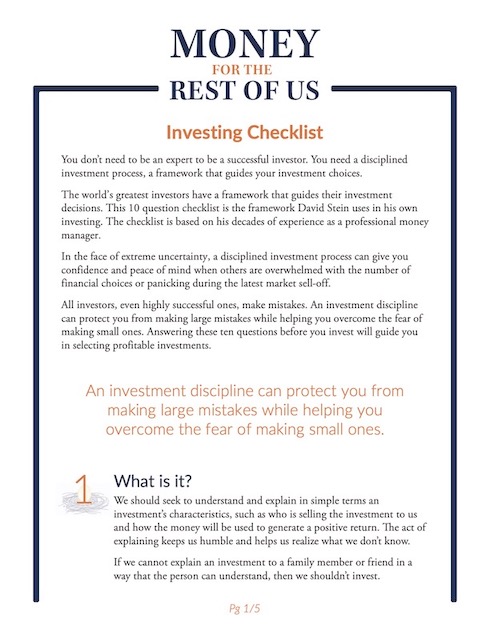 Become a Better Investor With Our Investing Checklist
Master successful investing with our Checklist and get expert weekly insights to help you build your wealth with confidence.
Related Episodes
392: What Is Money and How to Use It
Transcript
Welcome to Money For the Rest of Us. This is the personal finance show on money, how it works, how to invest it, and how to live without worrying about it. I'm your host, David Stein. Today's episode, 393. It's titled "What happens if your brokerage firm goes bankrupt?"
From Circle to Voyager
Four years ago, in the summer of 2018, for four episodes, one of our sponsors of the show was Circle Invest. It was an app to purchase and store cryptocurrency.
Circle investment had been around since 2013, and the app allowed you to buy the crypto market. You could spread your bets across a number of cryptocurrencies in one trade. I tried it out and purchased about $500 of Zcash and Monero.
My son, Camden, also tried it out. In the ads, I was very specific that cryptocurrency was a speculation. And by speculation, I mean there's disagreement over whether the return will be positive or negative. And that in the worst case, the speculator could lose all or their investment. It could go to zero. That's what speculations are.
We did the spots, we moved on, and in February 2020 a company named Voyager purchased Circle Invest.
At the time, Voyager's co-founder and CEO, Steven Erlich, wrote "This product line acquisition signifies a tremendous development for Voyager, as we welcome a substantial number of new users to our platform. This transaction also helps us deliver on our promise to investors, providing regulated brokerage services and resources to as many users as possible in the digital asset marketplace."
At the same time, in a blog post on the Voyager website, they wrote "We couldn't be more excited to welcome Circle Invest's 40,000+ customers to the Voyager community."
"Like Circle, Voyager offers a safe and licensed crypto destination, with popular features like commission-free trading, and instant funding with US dollars. Notice the words they used: "regulated brokerage services", "a safe, licensed crypto destination."
In April 2020, I received an email from Voyager saying, "Your Circle Invest account has been converted to Voyager." They had transferred the fund to the Voyager account, and I just needed to activate it. And I could start trading dozens of top coins, commission-free. They wrote Voyager also offers up to 6% interest on your crypto holdings. No lockups", they said. I activated the account and forgot about it.
The Safest Way to Store Crypto
The vast majority of my cryptocurrency is not stored with an online broker. Instead, I used a Trezor Suite desktop app with a separate Trezor USB wallet to store my private keys.
In order to access the crypto, including transferring it, I need to plug that USB key into my laptop, insert a four-digit code, and then I can access my crypto holdings. This added layer of security is a big advantage over storing cryptocurrency with a brokerage firm.
Still, I have some cryptocurrency and altcoins stored at Coinbase Pro, but it's a very small amount, and smaller than it was, given the significant sell-off in the crypto space.
As a Money For the Rest of Us Plus member, you are able to listen to the podcast in an ad-free format and have access to the written transcript for each week's episode. For listeners with hearing or other impairments that would like access to transcripts please send an email to [email protected] Learn More About Plus Membership »