This episode edits and remasters two earlier episodes on investing based on cycles to focus on timeless investing principles.
Topics covered include:
What are different types of cycles
Why do cycles have subjective start and end dates.
Why do coincidences happen so often.
How to position investment portfolios based on cycles.
How luck and skill play a role in investing.
Why it is better to invest based on calibrating risk rather than prediction.
Show Notes
Foundation For The Study of Cycles
Fluke: The Math and Myth of Coincidence by Joseph Mazur
A Spectral Analysis of World GDP Dynamics – Andrey V. Korotayev and Sergey V. Tsirel
Mastering The Market Cycle by Howard Marks
Episode Sponsors
Become a Better Investor With Our Investing Checklist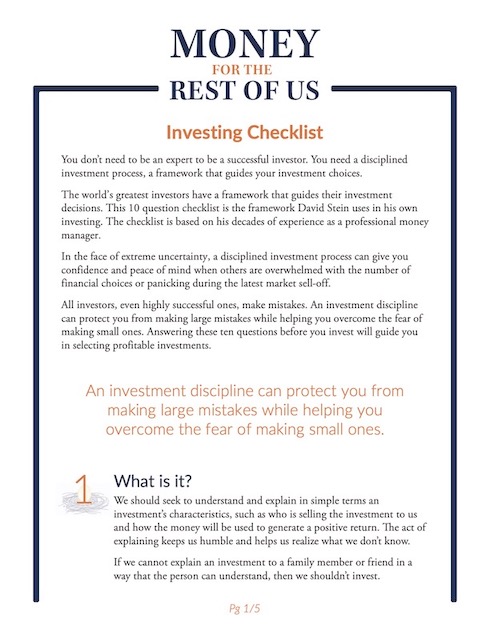 Become a Better Investor With Our Investing Checklist
Master successful investing with our Checklist and get expert weekly insights to help you build your wealth with confidence.
Related Episodes
173: Should You Invest Based On Cycles
224: Mastering the Market Cycle – Howard Marks
Transcript
Episode 397: How to Invest Based On Cycles
The topic was suggested by Rob; he's a member of our community, Money For the Rest of Us Plus.
He also subscribes to a service that's called The Real Wealth Report, and it's sponsored or produced by Martin Weiss of Weiss Research. I had not heard of that, but Rob brought it to my attention.
He says a couple things – they're predicting something called the K-Wave. This is a cycle that will destroy the financial markets. Those are Rob's words.
He says they're also really positive on gold. But he subscribed to this service because he was looking for reliable and unbiased investment information. Which he thinks I provide, but at the time he thought Martin Weiss provided it also. You'll have to be the judge of that.
Warning Signs
So I started listening to the videos, and the announcer comes on very gravely and says "Martin Weiss, who's semi-retired, interrupted his travels overseas abruptly, and he rushed home to bring you an alarming prediction about the future.
It's probably the most important forecast ever in his 46 years since he founded his company. And it's frightening.
On the flip side though, there's going to be a tremendous profit opportunity." And later on they talk about these 500% profit opportunities.
Now, one of my rules in investing – as soon as somebody is predicting three-digit returns, 100% or more, that's a red flag.
So I started watching the videos, and I admit, I did not watch them all. Later I got a copy of the transcripts, which made it so much easier.
And the reason why I didn't watch them all is there's another red flag when it comes to any type of service, but particularly investing service.
As a Money For the Rest of Us Plus member, you are able to listen to the podcast in an ad-free format and have access to the written transcript for each week's episode. For listeners with hearing or other impairments that would like access to transcripts please send an email to [email protected] Learn More About Plus Membership »