How sophisticated AI apps from OpenAI and other companies create articles, art, and other works that have never existed. How generative AI will impact business owners, employees, students, and financial markets.
Topics covered include:
How AI is creating personal finance articles and other creative works
ChatGPT's attempt at writing a script for the Money For the Rest of Us podcast
How ChatGPT and other large language models work
What are the risks and flaws of generative AI
How can we adapt and take advantage of generative AI
Show Notes
We Are Here To Create: A Conversation with Kai-Fu Lee—Edge
CNET Is Quietly Publishing Entire Articles Generated by AI by Frank Landymore—Futurism
Should You Break a CD Early for a Better Rate by AI engine and edited by Jaclyn DeJohn—CNET
NerdWallet, Inc. Q3 2022 Earnings Call—NerdWallet
The Backstory of ChatGPT Creator OpenAI by Berber Jin and Miles Kruppa—The Wall Street Journal
GPT-3.5 + ChatGPT: An illustrated overview by Alan D. Thompson—Life Architect
AI-generate answers temporarily banned on coding Q&A site Stack Overflow by James Vincent—The Verge
Alarmed by A.I. Chatbots, Universities Start Revamping How They Teach by Kalley Huang—The New York Times
A Coming-Out Part for Generative A.I., Silicon Valley's New Craze by Kevin Roose—The New York Times
Episode Sponsors
Masterworks – invest in contemporary art
NetSuite – the leading integrated cloud business software suite
Become a Better Investor With Our Investing Checklist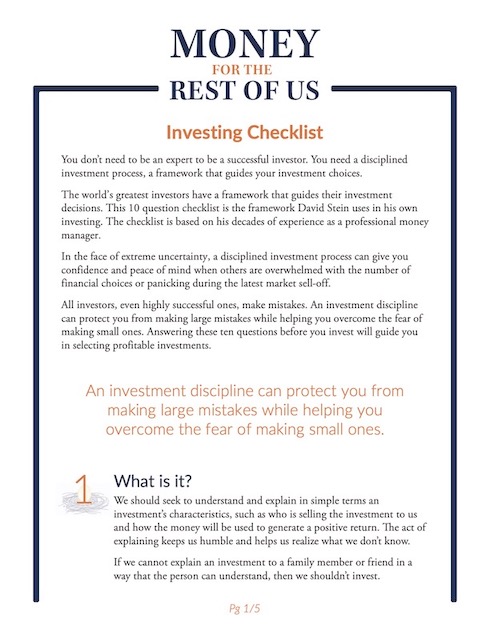 Become a Better Investor With Our Investing Checklist
Master successful investing with our Checklist and get expert weekly insights to help you build your wealth with confidence.
Related Episodes
72: Will A Robot Take Over Your Job?
184: Massive Job Losses Are Inevitable, But There Will Still Be Work
256: Will Artificial Intelligence Change Investing?
Transcript
Welcome to Money for the Rest of Us. This is a personal finance show on money, how it works, how to invest it, and how to live without worrying about it. I'm your host, David Stein. Today's episode, 2017. It's titled "Will Generative AI Take Over Your Job?"
Previous Episodes on Robots and AI
Almost eight years ago, in September 2015, we released episode 72, "Will a Robot Take Over Your Job?" We concluded that computers and robots will eventually be able to do everything. But as humans, we can decide what we are willing to let robots do, and what we want humans to do. Two years later, in December 2017, we revisited the topic in episode 184, "Massive Job Losses are Inevitable, but there Will Still be Work."
We discussed how automation and technology, including robots, have always led to massive job losses. But the increases in efficiency and productivity lead to higher overall average incomes that can be spent on goods and services, and that spending, those higher incomes create more jobs.
Now, that's not to suggest that some individuals are impacted and they lose their work due to automation, and maybe aren't able to get back on their feet. But across the entire economy, higher incomes, due to increased efficiency and productivity, creates more jobs.
We can think about the jobs in travel-related industries. Or consider how many more coaches, counselors, therapists, psychologists are, as people seek help to manage mental health challenges they might be having, or just to improve themselves mentally and emotionally as they face the world.
Four years ago, in episode 198, "Capitalism is creation", I shared a quote from author and computer scientist Kai-Fu Lee. He's the author of the book AI Superpowers: China, Silicon Valley, and the New World Order. It came out in 2018.
Lee said, "We're all going to face a very challenging next 15 or 20 years, and half the jobs are going to be replaced by machines."
Humans have never seen the scale of massive job decimation. And referring to AI, he said that one of the reasons that we exist is to create, and that AI perhaps can't do that as well. Now, again, this is back in 2018. We're seeing generative AI, where AI is taking its training, its dataset, and creating things that have never existed before, such as images and paragraphs.
Lee continues "One such direction is that we create, we invent things, we celebrate creation. We're very creative about scientific processes, about curing diseases, about writing books, writing movies, creative about telling stories, doing a brilliant job in marketing. This is our creativity that we should celebrate, and that's perhaps what makes us human."
As a Money For the Rest of Us Plus member, you are able to listen to the podcast in an ad-free format and have access to the written transcript for each week's episode. For listeners with hearing or other impairments that would like access to transcripts please send an email to [email protected] Learn More About Plus Membership »