Why you should allocate a small percentage of your assets to gold.
Topics covered include:
What is money, and how does gold fit with that definition
Why central banks bought more gold last year than at any time since 1967
Which central banks own the most gold and which are increasing their gold holdings
How fast is the gold supply growing compared to the U.S. dollar money supply
How financialization, greater leverage, and contagion risk should motivate us to consider gold
Show Notes
Central banks load up on gold in response to rising geopolitical tensions by Daria Mosolova—The Financial Times
Central bank holdings—Gold Hub
Does the Federal Reserve own or hold gold?—The Federal Reserve
Episode Sponsors
Hello Fresh – Use code 16david for 16 free meals with free shipping from Hello Fresh
NetSuite – the leading integrated cloud business software suite
Become a Better Investor With Our Investing Checklist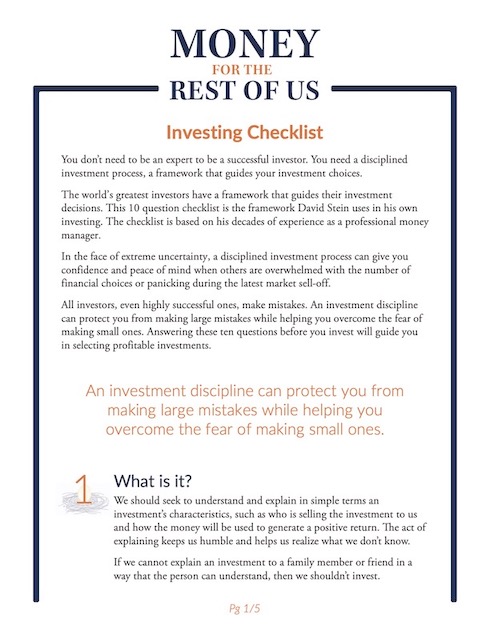 Become a Better Investor With Our Investing Checklist
Master successful investing with our Checklist and get expert weekly insights to help you build your wealth with confidence.
Related Episodes
37: Gold – Without the Hype and Politics
53: Should You Invest In Bitcoin?
263: Should You Invest In Gold?
344: Why Should You Care About Shadow Banking?
Transcript
Welcome to Money for the Rest of Us. This is a personal finance show on money, how it works, how to invest it, and how to live without worrying about it. I'm your host, David Stein. Today is episode 431. It's titled "The Long-Term Bullish Case for Gold."
Prior Gold Episodes
In the past nine years, we have released several Money for the Rest of Us episodes on gold investing. The first was in December 2014, episode 37. At the time, gold was priced at about $1,100 an ounce, down from $1,900 an ounce, its all-time high in September 2011. That's a 42% decline in three years.
Now, I didn't own gold in December 2014 when I did that episode. On the show I've talked about investment journeys, and how it can take time to learn a new asset class, to get comfortable with it, recognizing we're never sure how things will turn out; we'll make mistakes, and it took me a while, a decade or more, to get comfortable with gold.
From a traditional finance background, gold was sort of looked down upon; there was a lack of cash flow. It was just a shiny rock. But over time, as I began to better understand some of the risks with fiat currency, the risk with central banking, and some of the aspects that we'll talk about today, I felt more comfortable investing in gold, so I initiated my first purchase of gold coins in April 2015. At the time gold was selling for around $1,180 per ounce.
That same month, April 2015, we released our first episode on Bitcoin, which is sometimes known as digital gold. The case for owning Bitcoin—some of the elements are similar to gold, but there are definitely some differences. That particular Bitcoin episode was episode 53, "Should you invest in Bitcoin", and I bought my first Bitcoin a couple of months later, in June 2015, when Bitcoin was about $250 per coin.
Gold coin investments I did through a company called Apmex. There are other vendors out there. That was one that was recommended to me, and it worked out fine, and then that gold is stored. At this point, it's just all gold coins in a safe deposit box at a credit union.
Now, in 2015, gold and Bitcoin combined made up about 1% of my net worth. I continue to do episodes on both topics. Episode 59 in June 2015 was on gold, "Is Gold Money?" I did a follow-up episode on Bitcoin; it was a Plus episode, episode 59, in August 2015. In that episode, I mentioned that Bitcoin was a lot like the early days of the internet; it was sort of the Wild West.
It was not necessarily easy if you were a cryptocurrency company to even find a traditional bank that was willing to work with you. And one of the few that I mentioned in Plus episode 59 was Silicon Valley Bank, which we discussed earlier this year because that bank collapsed and was taken over by the FDIC.
Now, I sold most of my Bitcoin in January 2016, at around $430, and that turned out to be a mistake. I continued to research the area, and at the time there was discussions of a fork in terms of the underlying code, and I just didn't feel comfortable, and I sold it. It wasn't until about a year and a half that I reentered Bitcoin at around $3,200 after releasing another Bitcoin episode in August 2017.
There was about a four-year gap then between my episode on gold in 2015 and the next one we did, episode 263, "Should you invest in gold?" Gold was $1,446 an ounce; it never recovered to its high from 2011. I've had gold and Bitcoin about eight years. And if we look at the returns from June 2015
As a Money For the Rest of Us Plus member, you are able to listen to the podcast in an ad-free format and have access to the written transcript for each week's episode. For listeners with hearing or other impairments that would like access to transcripts please send an email to [email protected] Learn More About Plus Membership »