How to decide whether to rent a house or apartment or purchase a home or condo. What has been the financial return from owning a house?
Topics covered include:
How much have home prices increased in major cities since 1980
What drove the greater than 50% jump in home prices in some U.S. cities since 2020
Why there aren't more new starter homes
What will it take for the housing shortage to abate so houses can be more affordable
Why now could be a more advantageous time to rent versus buy
What academics estimate the long-term return is for owning a house, and why the calculations are incomplete
How to determine what your total cost of ownership is for buying a house in order to compare it to renting
Show Notes
The housing theory of everything by John Myers & Ben Southwood & Sam Bowman—Works in Progress
Irish property: the boom that shows no signs of slowing by Jude Webber—The Financial Times
Whatever Happened to the Starter Home? by Emily Badger—The New York Times
The Housing Revolution Is Coming by M. Nolan Gray—The Atlantic
In Today's Housing Market, It's Timing Over Location by Joe Pinsker—The Wall Street Journal
The Rate of Return on Real Estate: Long-Run Micro-Level Evidence by David Chambers, Christophe Spaenjers, and Eva Steiner—Oxford Academic
The Rate of Return on Everything, 1870–2015 by Òscar Jordà, Katharina Knoll, Dmitry Kuvshinov, Moritz Schularick, and Alan M. Taylor—National Bureau of Economic Research
Episode Sponsors
NetSuite – the leading integrated cloud business software suite
Use code MONEY10 to get 10% off on your NAPA Autoparts online order.
Become a Better Investor With Our Investing Checklist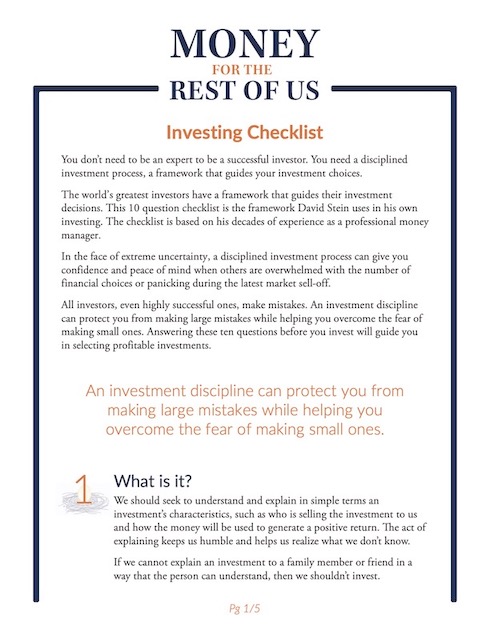 Become a Better Investor With Our Investing Checklist
Master successful investing with our Checklist and get expert weekly insights to help you build your wealth with confidence.
Related Episodes
258: How Financialization Pushes Up Home Prices
317: How To Buy In A Hot Housing Market
357: Is a Housing Crash Coming?
Transcript
Welcome to Money for the Rest of Us. This is a personal finance show on money, how it works, how to invest it, and how to live without worrying about it. I'm your host, David Stein. Today is episode 435. It's titled, "Is it Better to Rent or Buy a House?"
Morning Walks
The last few weeks LaPriel and I have been traveling. We came from Tucson to Idaho, and then we've taken a trip over to the Oregon Coast. I usually take an early morning walk wherever I am. So I've taken early morning walks in Sedona, Santa Fe, Afton, Wyoming, Boise, Idaho, and then a number of towns in Oregon, including Ben, Corvallis, Medford, and Klamath Falls. That's just in the last month.
Generally, I'm just admiring the houses, admiring the neighborhoods, the nature. And for the most part, because I'm walking so early, there's not a whole lot of people outside walking. Sometimes there'll be some runners, or individuals walking their dog, but mostly it's me and individuals experiencing homelessness that tend to be out walking very early.
Now, there are multiple reasons for homelessness, and that isn't the topic of today's episode. But one of the primary drivers is the huge jump in housing cost and rent, particularly in large cities.
Rising Housing Costs
There was an article by three analysts: John Myers, Ben Southwood, and Sam Bowman, and their thesis was housing costs are the root of many societal problems. And they give evidence of how a lack of housing is driving up prices over the past 40 years.
They pulled data that shows the average New York City house rose 706% since 1980, compared to 376% for US consumer prices. So double the rate of inflation. San Francisco has seen their houses increase 932% since 1980. In London, home prices are up over 2100% in the last 40 years. A 1,450% increase in Sydney, Australia. And in Ireland, over that same period, we've seen home prices there increase 800%. Now, the rents have also jumped significantly over that same period.
What's fascinating about that is housing costs are going up, while the cost of many other things haven't. Myers, Southwood, and Bowman point out that based on the number of hours it would take the median worker in the US to work to buy certain goods, that costs are much, much lower.
For example, in 1975 it took 60 hours for the median American worker to purchase a television. In 2013, it was seven hours. A refrigerator took 65 hours for that median wage-earning worker to purchase a refrigerator, versus 20 hours in 2013. A treadmill would have cost 18 hours worth of work in 1975, versus six hours in 2013. And a washer/dryer 67 hours in 1975 and 30 hours in 2013.
Automobiles are three times cheaper today than they were back in 1975, based on what the median worker earned. But not housing. And as a result, housing is becoming an ever-increasing percentage of household budgets, often requiring both partners or spouses having to work in order to afford a place to live.
Home prices have risen even more dramatically since the pandemic. In a number of episodes, we've talked about how the money supply, the cash, checking account balances, purchasing power has expanded by 40% since 2020 due to stimulus to help households because of the pandemic, as well as quantitative easing, the Federal Reserve and other central banks buying bonds. A huge jump in cash and households who are wealthier; they could buy more of a house, a more expensive house, combined, because interest rates were rock bottom, under 3%.
As a Money For the Rest of Us Plus member, you are able to listen to the podcast in an ad-free format and have access to the written transcript for each week's episode. For listeners with hearing or other impairments that would like access to transcripts please send an email to [email protected] Learn More About Plus Membership »