We answer over a dozen questions from listeners on investing, housing, retirement, business, podcast production, and more.
Topics covered include:
The Endowment Model
Teaching children about investing
Four influential investing books
The difference between being an entrepreneur and investing
The balance between too much and too little efficiency and productivity
What we learned about investing from the Covid crash
How asset allocation changes as one gets older
The state and future of cryptocurrency
Is now the time to buy individual stocks given high valuations for indices
Donor-advised funds
FDIC insurance
Money For the Rest of Us production time and expenses
Is it possible to have too much invested in one ETF
Is a house and investment and will there be a housing crash
How to worry less about money
Episode Sponsors
Clear – Use code David for two months free
Become a Better Investor With Our Investing Checklist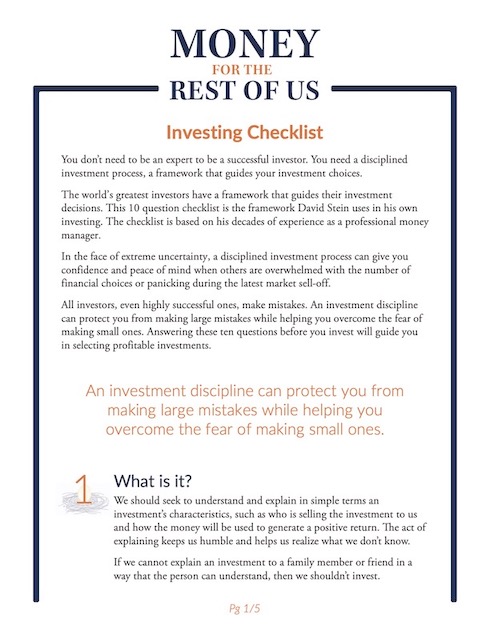 Become a Better Investor With Our Investing Checklist
Master successful investing with our Checklist and get expert weekly insights to help you build your wealth with confidence.
Books Mentioned in This Episode
Complexity, Risk, and Financial Markets by Edgar E. Peters
The Black Swan by Nassim Nicholas Taleb
The Misbehavior of Markets by Benoit Mandelbrot
An Economist Walks into a Brothel—And Other Unexpected Places to Understand Risk by Allison Schrager
Related Episodes
Transcript
Welcome to Money For the Rest of Us. This is a personal finance show on money, how it works, how to invest it, and how to live without worrying about it. I'm your host, David Stein. Today is Episode 348. It is a listener Q&A episode. That's something I've never done. In the seven years I've been doing the podcast I have a weekly plus episode for Plus members, which is mostly a Q&A episode, but I've never really opened up that format for all listeners.
This week's podcast topic wasn't coming together as well as I would like, so an hour before I was set to record, I sent out an email to the Insider's Guide list asking for questions. I didn't do that very well though, because I mistyped the reply email, so everybody that tried to reply got their email bounce back. But I still got dozens of questions from persistent listeners that were able to find an alternative email and get ahold of me.
Topics we'll cover in today's episode include the endowment model, teaching our kids about money, favorite investing books, cryptocurrency, valuations, investing in individual stocks, Donor-Advised funds, the housing bubble and potential crash, FDIC insurance, and some additional topics. I won't be able to spend too much time on each topic, otherwise the show will be too long, but let's kick it off.
As a Money For the Rest of Us Plus member, you are able to listen to the podcast in an ad-free format and have access to the written transcript for each week's episode. For listeners with hearing or other impairments that would like access to transcripts please send an email to [email protected] Learn More About Plus Membership »