Most people don't understand what the economy is, how it grows and what causes recessions. Nor do they care. This episode describes in simple terms how the economy works and why you should care so you can influence the quality of economic growth and its impact on the Earth's limited resources.
You'll learn:
What is the economy and how is it measured.
Who decides how much the economy grows.
Why economic growth is not a measurement of how many things are produced and sold.
How we can growth the economy while producing less things.
What drives long-term economic growth.
Why economic growth fluctuates in the short-term.
How debt can distort economic growth.
How our individual choices regarding our use of debt and what we purchase impacts the quality of economic growth.
Why gaining financial knowledge is so important.
Show Notes
The story of how Chichen Itza was sold after being in private hands for 500 years: Yucatan Buys Chichen Itza for $220 million.
Here is a link to the academic paper on the importance of financial knowledge: Financial Knowledge and 401k Investment Performance
Become a Better Investor With Our Investing Checklist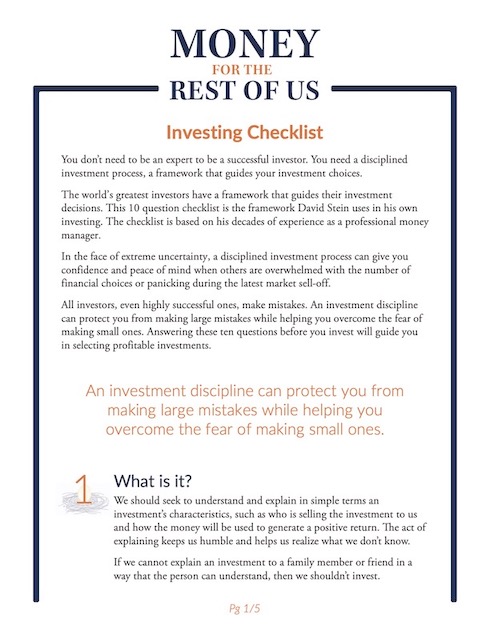 Become a Better Investor With Our Investing Checklist
Master successful investing with our Checklist and get expert weekly insights to help you build your wealth with confidence.
Summary Article
The Societal Cost of a Thing
Last week, I wrote when we buy something, there is always a price. The price we pay, however, does not always reflect the true cost of the item—both the cost to ourselves and the cost to society.
The personal cost to buy an item is our time and freedom.
We obviously expend time to earn the money to purchase a good or service. What is not always recognized is the opportunity cost in terms of our future freedom. A consistent pattern of investing dollars instead of spending them, ultimately leads to the freedom to pursue whatever activity we choose without having to worry about earning money at all.
What about societal costs?
Negative Externalities
When there is a cost to society that is not reflected in the price of a good it is called a "negative externality". A negative externality occurs when there is a negative effect inflicted on a third party against their will.
For example, prior to the passage of the Clean Air and Clean Water Acts, air and water pollution were commonplace in the U.S., negatively impacting the health and enjoyment of millions. The pollution was the result of companies choosing to pass on to unsuspecting citizens the negative side effects of their manufacturing processes.
Because companies did not adequately treat industrial waste, they could sell their goods at lower prices, which means the prices of those goods did not reflect the true costs to society.
Ideally, corporations would choose to responsibly treat industrial waste without government oversight, but unfortunately that has not proven to be the case. If one company chooses to voluntarily treat their industrial waste in a responsible manner, but its competitor does not follow suit, the responsible company is placed at an economic disadvantage.
Las Playas de Basura
I saw another example of a negative externality on my recent trip to the Sian Ka'an biosphere on the Yucatan coast of Mexico.
It is a magical place where jaguars still roam the jungle and you can walk for miles along the beach without seeing anyone.
The world's second largest barrier reef stretches for 1,000 kilometers just off the shore. It is home to 65 species of coral and 500 species of fish.
The setting would be perfect except for a ribbon of plastic that mars the coastline.
I walked a short stretch along the beach and found water bottles, motor oil containers, paint buckets, shoes, toys, soda bottles, cups, and bowls from Jamaica, Haiti, Puerto Rico, Honduras, Venezuela, Columbia and the Dominican Republic.
This conveyor belt of trash floats along prevailing ocean currents until it washes up on the Mexican coast.
The Pan-American Centre for Sanitary Engineering and Environmental Sciences estimates 424,000 tons of waste are generated daily in Latin America and the Caribbean with less then 35 percent processed in regulated sanitary landfills.
Two-thirds of the trash ends up in open-air dumps or local rivers and streams where storms and floods send much of the garbage into the ocean and eventually to the Mexican coast.
This negative externality is the result of consumer goods companies choosing to sell products in non-biodegradable containers. Instead, one-time-use products are packaged in cheap plastic containers that last for generations.
The negative externality is also the result of a market breakdown in parts of Latin America where adequate garbage disposal and recycling systems are not provided.
What We Can Do
What can we do about societal costs that are not reflected in the price of goods?
First, we should support fair but appropriate regulations that limit negative externalities born by society because of the actions of public and private corporations.
Second, we should take personal responsibility to ensure we are not contributing to negative externalities by purchasing products whose prices do not reflect the true costs.
Finally, we should evaluate our own lives to make sure we are not passing on costs to others that we should be incurring ourselves. For example, when citizens refuse to purchase health insurance, get sick and are then unable to pay their medical bills, those medical costs are passed on to paying patients and taxpayers.When we buy something, there is always a price. The price we pay, however, does not always reflect the true cost of the item—both the cost to ourselves and the cost to society.