Hacks to live like a local when traveling including how to rent homes using Airbnb.com.
In this episode, you'll learn:
How we rent private homes and apartments through Airbnb.
How to find cheap airfares.
How to find an empty row for sleeping on overseas flights.
Why leasing a car in Europe can be economical for extended travel.
Why driving can be more economical than public transportation.
Show Notes
MNY024 discussing the economics of timeshares.
Itasoftware Matrix Airfare Search
Renault Eurodrive Short-term Care Leasing
@jdstein – my Instagram account
Become a Better Investor With Our Investing Checklist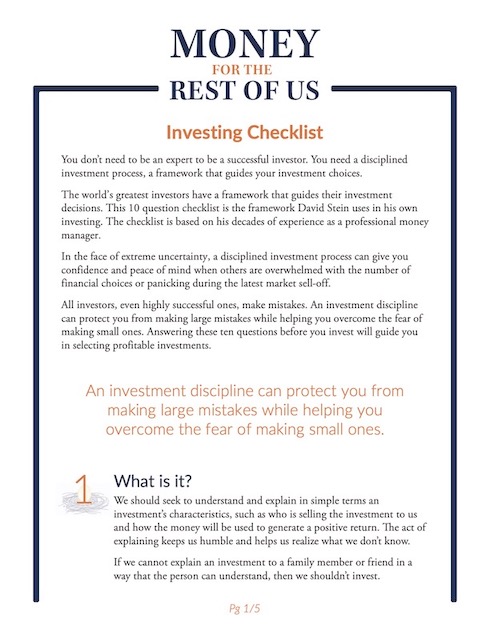 Become a Better Investor With Our Investing Checklist
Master successful investing with our Checklist and get expert weekly insights to help you build your wealth with confidence.
Related Episodes
361: How to Buy and Sell a Timeshare Vacation Rental
Summary Article
Live Like A Local When Traveling
We have owned a timeshare through Marriott for the past nine years.
With a timeshare, you pay upfront for an ownership stake in a specific resort or in a owners trust that owns multiple resorts.
You then pay an annual maintenance fee to cover the resort management costs, upkeep and property taxes.
I usually divide the weekly maintenance fee by seven to come up with a daily rate and then compare it to a night's stay at a hotel.
For example, this year the weekly maintenance fee at our home resort was $3,562 per week or $169 per night.
I used to think that was a great deal for a 1,100 square foot two-bedroom suite.
I don't think so anymore.
First, the maintenance fee has been increasing by over 5% a year for a number of years, much faster than inflation.
More importantly, there is a far more economical lodging option than hotels or timeshares.
How Airbnb Works
For the past several years, we have stayed in private homes and apartments in Europe, Asia and the U.S. that we rented through Airbnb.com.
Vacation home rentals have been around for years, but Airbnb disrupted the market by acting as a trusted middleman.
When you rent through Airbnb you pay upfront but the money is not released to the homeowner until after you arrive at the location and make sure everything is in order.
In addition, Airbnb verifies much of the information provided by the homeowner and most rental locations have extensive reviews from previous guests.
Here are three things we learned that you should know before using Airbnb:
Homes Are Not Hotels
First, these are homes not hotels. That means they have warts, and they haven't been "Americanized."
Just as your home probably has some issues, Airbnb rentals are not perfectly polished. Beds aren't always as comfortable as you might like, the shower head might be too low or not attached to the wall at all, and sometimes the Internet goes out.
Yet, it is the utter uniqueness of each home that has given us an appreciation for each country's culture.
We now know that Japanese have heated toilet seats because most bathrooms in Japan aren't heated. We know the good and the bad (although mostly good) of living on a vineyard in Tuscany, in a row house in Brussels, on a traditional French farm and in a luxury condo overlooking the Sea of Japan in Busan, Korea.
Often these homes are the hosts' primary residence, and they stay with friends or family when guests rent their entire home. Frequently, they are located in neighborhoods outside of the typical tourist haunts. This truly gives insight as to how locals live.
A Renters Market
Second, it is a renters market. For now, there appears to be more Airbnb listings than renters. That's because most Airbnb hosts are also travelers and might only have three weeks of annual vacation, but they are willing to rent their home most days of the year.
During our 2013 trip to Japan, Korea and Europe we paid on average $180 a night for two-to-three bedroom homes and apartments, including cleaning and Airbnb fees. That is significantly cheaper than what hotels would have cost for our family of five. Plus, we typically eat two meals at home since the houses have full kitchens, saving even more money.
While $180 is average, we paid as low as $50 a night outside Venice, $80 a night for that villa in Tuscany but as high as $300 a night for the condo in Busan (where there was only one Airbnb listing).
We are visiting Norway and Sweden this month and our average nightly cost to rent entire homes through Airbnb in those countries is $143.
For our last night there, were going to book a hotel room at the Oslo Airport but the average cost was $300 per night, and more than likely we would need to book two rooms.
Instead, we rented a traditional Swedish farmhouse in the countryside about ninety minutes from the airport for $147.
The farmhouse owner has even invited us to have dinner with their family.
When there are a large number of listings for a particular location, you can often wait until a week or two before to book a rental. When there are only a few Airbnb listings, it is best to book a month or two ahead of time.
Grade Inflation
Third, expect some grade inflation. The reality is once someone has trusted you enough to open up their home, left you homemade chocolate cake and jam and given you lots of local travel tips, it is difficult to be critical in a review—even if the bed was uncomfortable or the Internet sporadic.
So while the reviews on Airbnb are helpful, assume that each rental will have some quirks—not enough towels, dull kitchen knives, noisy room heater, etc.
The key to effectively using Airbnb is to be open minded and flexible.
Some travelers prefer to stay in full-service resorts like you find with a Marriott timeshare. Sometimes we do too.
Usually, though, we prefer to live like locals when traveling overseas. Not only is it more economical but we gain a greater appreciation for the culture, both the good and the bad.