How productivity increases due to robots and other technology enhancements should lead to both higher wages and higher investment portfolio returns, allowing workers to save enough to eventually retire.
In this episode you'll learn:
How industrialization led to a greater variety of jobs.
Why the internet is the world's largest copy machine.
What things are better than free.
How is productivity measured and why is its growth slowing.
What are the negative consequences of slower productivity growth and what is required for productivity to increase.
Show Notes
The Inevitable: Understanding the 12 Technological Forces that Will Shape Our Future by Kevin Kelly
Human Are Underrated by Geoff Colvin
20,000 Leagues Under the Sea – Jules Verne with illustrations by John Patrick
U.S. productivity slips for the first time in three decades – Financial Times
Does the United States have a Productivity Slowdown or a Measurement Problem? – Federal Reserve by David M. Byrne, John G. Fernald, and Marshall B. Reinsdorf
Janet Yellen speech with quote on productivity and household income – July 2015
Executive pay holds the key to the productivity puzzle – Andrew Smithers – Financial Times
The mystery of weak U.S. productivity – Edward Luce – Financial Times
Become a Better Investor With Our Investing Checklist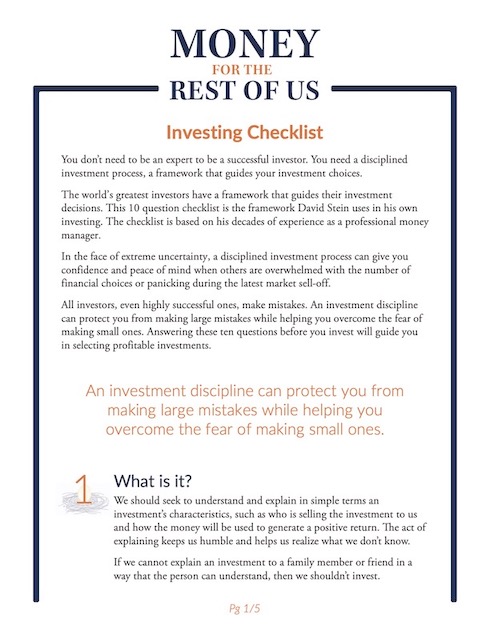 Become a Better Investor With Our Investing Checklist
Master successful investing with our Checklist and get expert weekly insights to help you build your wealth with confidence.
Summary Article
Better Than Free
In the year 2000, I attended the wedding of a friend who is a freelance illustrator.
At the reception, there were a number of illustrators at our table. At one point during the evening the conversation shifted to a discussion of how the illustration business was changing. The previous decades had been good as there was ongoing demand for artistic work using pen and ink, watercolor and oil and acrylic paints to illustrate books, magazine covers and advertisements.
But in the previous few years, there had been less work as hand-done production techniques were being replaced by digital media. Meanwhile, a proliferation of stock illustration sites was putting downward pressure on artist rates.
One illustrator at our table was particularly bitter about these industry developments. I asked if he had considered learning some of the new digital techniques, and he made it quite clear that he had not and he would not.
Meanwhile, my newly married friend was busy learning how to illustrate using a digital pen and tablet. It has been a struggle, but in the past 15 years he has continued to forge a career as a freelance illustrator, specializing in marine life.
He co-founded a boutique publishing company with his brother and released an illustrated version of Jules Verne's classic "20,000 Leagues Under the Sea."
Newly Invented Jobs
Recently, I visited with a local artist about the continued evolution of the illustration business. He shared how one of his artist friends was making over six figures a year creating custom brushes for Adobe Photoshop. Photoshop brushes allow artists to add effects and detail to their work without having to draw each individual element.
This local artist also mentioned another illustrator whose primary income comes from running an online membership site and blog teaching others how to illustrate.
Custom digital brush developer and online membership site producer are two jobs that didn't exist fifteen years ago. Two hundred years ago most occupations that exist today weren't around as 70% of the population worked in agriculture. Now less than 1% of the populace are farmers.
Kevin Kelly in his new book, "The Inevitable: Understanding the 12 Technological Forces That Will Shape Our Future," writes:
"When robots and automation do most of our basic work, making it easy for us to be fed, clothed and sheltered, then we are free to ask, 'What are humans for?'" Industrialization did more than just extend the average human lifespan. It led a greater percentage of the population to decide that humans were meant to be ballerinas, full-time musicians, mathematicians, athletes, fashion designers, yoga masters, fan-fiction authors, and folks with one-of-a-kind titles on their business cards."
Kelly continues, "It is a safe bet that the highest earning professions in the year 2050 will depend on automations and machines that have not been invented yet. That is, we can't see the jobs from here, because we can't yet see the machines and technologies that will make them possible. Robots create jobs that we didn't even know we wanted done."
The World's Largest Copy Machine
My friend, John Patrick's illustrated version of "20,000 Leagues Under the Sea" is an e-book that costs $9.99 on Amazon Kindle. E-book designer and publisher is another job that didn't exist 15 years ago.
One of the book's reviewers gave it "one star" and wrote, "This is not good. It is not worth the money. There are plenty of other versions that are cheaper and better. Some are even free!"
He is correct. There is usually a free version of most things. If you search the internet for a specific book, one of Google's suggested search queries will most likely be for a "pdf" version of the book. Google makes that suggestion based on the tens of thousands of queries from readers looking for a free version of the book.
Kelly writes that "The internet is the world's largest copy machine…The digital economy runs on this river of free flowing copies…We can't stop massive indiscriminate copy. Not only would that sabotage the engine of wealth, but it would halt the internet itself. Free-flowing copies are baked into the nature of this global communication system. The technology of the net needs to copy without constraint. The flow of copies is inevitable."
If copies are freely available, then why would I buy Patrick's version of "20,000 Leagues Under the Sea" or Kevin Kelly's book?
Because I want something better than free.
I want to admire my friend's illustrations. I want to reward Kelly for sharing his ideas and inspiring me. I'll gladly pay to experience those things.
What Can't Be Copied
"A universal law of economics," writes Kelly, "says the moment something becomes free and ubiquitous, its position in the economic equation suddenly inverts. When nighttime electrical lighting was new and scarce, it was the poor who burned common candles. Later, when electricity became easily accessible and practically free, our preference flipped and candles at dinner became a sign of luxury."
"When copies are free, you need to sell things that can't be copied."
There are plenty of free Adobe brushes on the Internet. How then can someone make a living creating and selling virtual brushes? Because one thing that can't be copied is trust.
Artists are willing to pay for Adobe brushes because they trust the person who created them and want to reward them for their efforts.
Customers are also willing to pay rather than search or wait for a free version when they can get something personalized, get it immediately (instead of waiting), it's the authentic version or it comes with instructions on how to implement it.
Creators should worry less about whether their work will be copied (it will) and more on how to create a trustworthy and rewarding experience for those who want something better than free.