Two outcomes from the Brexit vote is money got cheaper and politics got scarier. What should you do about it. Plus we profile a man who never retired and was still working at 87.
In this episode you'll learn:
What photographer Bill Cunningham can teach us about money and freedom.
What are some of the consequences of Brexit.
Why money is so cheap.
How much has global debt increased relative to the size and growth of the global economy.
What were the Founding Fathers worried about regarding electing the President and would they be worried today.
Show Notes
Bill Cunningham On The Street column
Bill Cunningham New York documentary
Once and Always a New Yorker by Pamela Gwyn Kripke – New York Times
Brexit vote is about the supremacy of Parliament and nothing else: Why I am voting to leave the EU – Ambrose Evans-Pritchard – UK Telegraph
Revolt of the Masses – David Brooks – New York Times
Planet Money Episode 707 – Brexit – transcript
Constitutional Convention Debates by James Madison – July 17, 1787
Become a Better Investor With Our Investing Checklist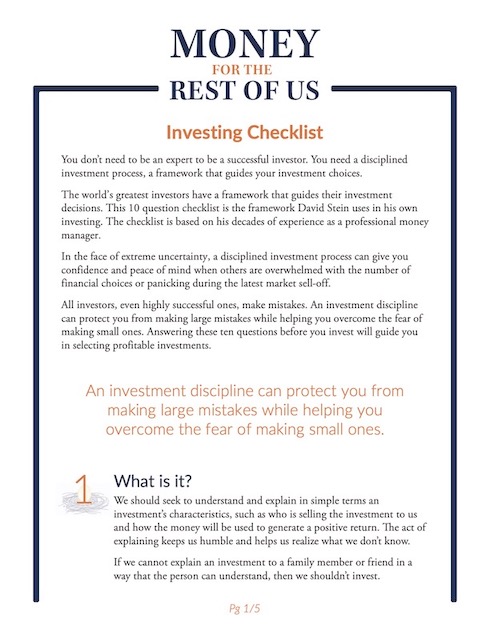 Become a Better Investor With Our Investing Checklist
Master successful investing with our Checklist and get expert weekly insights to help you build your wealth with confidence.
Summary Article
The Man Who Never Retired
Last week a remarkable gentleman passed away at the age of 87. For close to fifty years, Bill Cunningham rode his bike through the streets of New York City, camera in tow, often stopping at the intersection of 57th Street and 5th Avenue to take photos of ordinary people wearing interesting outfits.
These photos were published in his weekly New York Time's "On The Street" column and slideshow. His most recent piece ran only a few weeks ago.
I have never seen an octogenarian move as fast as Cunningham as he worked to capture a shot, often running ahead of his subject to get a better view.
The documentary "Bill Cunningham, New York" does a wonderful job of profiling Bill's frenetic pace, infectious smile and joyful demeanor.
It's The Clothes
Cunningham photographed people in the streets during the day and documented the city's charity events and galas in the evening. But he wasn't overly impressed with celebrities.
In 2008, when the French government bestowed the Legion of Honor on Cunningham, he said in his acceptance speech, "I'm not interested in the celebrities with their free dresses. It's the clothes, not the celebrities and not the spectacle."
Cunningham lived alone and never married. For decades, he resided in a small studio in Carnegie Hall, sleeping on a cot amidst his file cabinets filled with negatives. He didn't go to movies or own a television. His passion was capturing the changing fashion and times. "I don't work," he remarked. "I only know how to have fun everyday. It's not work."
He admitted he was peculiar. He got his first camera in 1967 at the age of 38 and used it as a visual notebook. Previously, he had designed hats, served in the military during the Korean War and worked as a journalist.
While his focus was on the clothes, Cunningham deeply cared about the people he photographed. He wasn't a paparazzi, but an artist, who sought to capture beauty, not embarrass people.
For a time, he worked for Womens Wear Daily, but when they published a series of his photographs and the captions ridiculed the ordinary people in his work, Cunningham was mortified. He quit and never worked for Womens Wear Daily again.
Cunningham said, "I did try to play a straight game, and in New York that's almost impossible. To be honest and straight in New York, that's like Don Quixote fighting windmills."
Surviving Everyday Life
Cunningham described fashion as "the armor to survive the reality of everyday life. I don't think you could do away with it. It would be like doing away with civilization."
Besides fashion, Cunningham's armor for surviving was his faith. He attended church weekly.
When the filmmaker asked Cunningham about his religious observance, Cunningham was overcome with emotion and couldn't speak. Finally, when he composed himself, he said of his faith, "I think it's a good guidance in your life. It's something I need. Whatever it is, you do whatever you do as best as you can to work things out. I find it very important." Although he admits when he attended church when he was young all he did was look at women's hats.
Never Be Owned
Cunningham also valued his freedom. He said the important thing was "never to be owned; to be free. Money is the cheapest thing. Liberty and freedom is the most expensive."
To maintain his freedom, Cunningham lived simply. For many years he refused to join the payroll of any one publisher, instead opting to be a freelancer. Only when he got hit by a truck while on his bike did he relent and join the New York Times as an employee so he could get health insurance.
Cunningham used his freedom to discover beauty as reflected in personal style. He gravitated toward those who were not crowd followers or crowd pleasers, but who bravely expressed their individuality.
Cunningham voice cracked with emotion as he expressed these final words upon accepting the prestigious honor in Paris. "It's as true today as it ever was, he who seeks beauty, will find it."