Why we need to embrace complexity in order to find lower cost, less stressful solutions to challenges including with investing. Plus is investing moral?
In this episode you'll learn:
How ETFs and index funds reduce portfolio complexity.
How we know if we have achieved simplicity on the other side of complexity.
Is investing immoral such as owning ETFs that hold positions in pharmaceutical companies that benefit from opioid addiction?
How much do you need to save to retire a millionaire.
Show Notes
In Defense of Food by Michael Pollan
The Wall Is A Fantasy – New York Times
The drug industry's answer to opioid addiction: More pills – Washington Post
Cooperation In Evil – Archdiocese of Philadelphia
Retire A Millionaire On Just $35 A Week – Dave Ramsey Blog
Become a Better Investor With Our Investing Checklist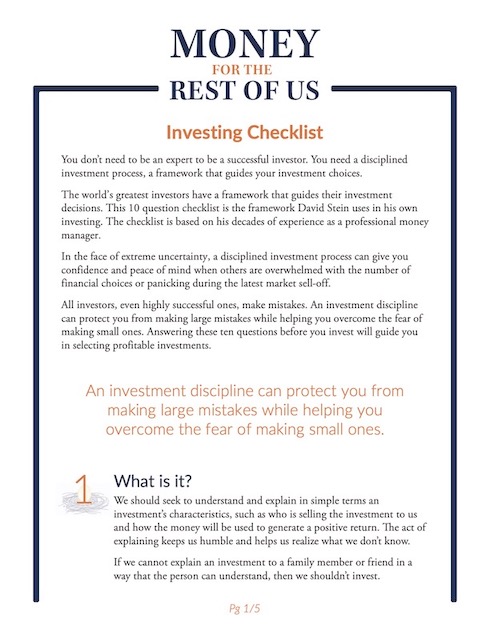 Become a Better Investor With Our Investing Checklist
Master successful investing with our Checklist and get expert weekly insights to help you build your wealth with confidence.
Summary Article
Simplicity On The Other Side of Complexity
Oliver Wendell Holmes Jr. was a Civil War veteran who served on the United State Supreme Court from 1902 until 1932 when he retired from the court at age 90.
He wrote in the dissenting opinion in Abrams v. United States (1919) that the U.S. Constitution is "an experiment, as all life is an experiment."
Holmes' father, Oliver Wendell Holmes Sr., was a poet, physician and friend and contemporary to Ralph Waldo Emerson and Henry Wadsworth Longfellow. He was an early supporter and contributor to the Atlantic Monthly magazine, which he named. In 1860, Holmes Sr. invented the stereoscope, a device for viewing pictures in 3-D, which was a precursor to the popular 20th century View-Master toy for viewing a reel of colored slides.
One of my favorite Holmes quotes is attributed to both Oliver Wendell Holmes Sr. and Junior. I haven't been able to find the source for this quote or to pin down whether it was the father or son who said it.
The quote is "I would not give a fig for the simplicity this side of complexity, but I would give my life for the simplicity on the other side of complexity."
Sometimes the quote substitutes "right arm" for "life", which while painful would certainly lower the cost for finding simplicity.
It is ironic that a quote on simplicity has such an uncertain origin as to who spoke it and when and where. Still, I like the quote because it beautifully captures my investment journey.
Finding Investing Simplicity
For years, I advised endowments and foundations on their investment portfolios. Early in my investment career, most of those portfolios were comprised of active investment managers. We spent hour upon hour researching investment firms in order identify those select managers who we believed could outperform the market indices, such as the S&P 500 Index, a measure of U.S. large company stocks.
Those investment firms in turn had portfolio managers and analysts who spent hour upon hour researching companies whose stocks or bonds they believed were mispriced and could help the managers outperform the market benchmarks.
A great deal of effort went into building these complex portfolios that had multiple managers invested across multiple asset categories with thousands of investment securities constantly being bought and sold.
Later in my career I found the simplicity on the other side of complexity by constructing client portfolios out of passive index funds and ETFs that seek to replicate specific areas of the market rather than outperform them.
These portfolios were simpler as there was significantly less trading in the underlying securities. Yet, the performance was often better than my previous portfolios as not only were fees lower but I used those low cost ETFs to tilt the portfolios to the areas of the market with the most attractive valuations, earning excess returns that way rather than relying on active managers to make smart stock or bond selections.
My investment solution reduced complexity as evidenced by lower fees and less time expended while also improving portfolio outcomes.
Nutrition Simplicity
Since discovering the investing simplicity on the other side of complexity I have looked for other areas where the same concept applies. One area is nutrition.
Michael Pollan in his book "In Defense of Food" provides a simple answer to the complex question of how best to eat healthy.
"Eat food, not too much, mostly plants," writes Pollan. By food he means real food with simple ingredients you can recognize and pronounce. Food that is found on the perimeter of the grocery store rather than the middle where highly processed food reigns.
Pollan reduces the complexity of eating by replacing complicated diet and nutritional plans with just seven words.
We know we have achieved simplicity on the other side of complexity when our solution reduces costs in terms of time, money and stress while resulting in equal or better outcomes.
Elegance
Matthew May writes in his book, "In Pursuit of Elegance" that to find the simplicity on the other side of complexity you must "appreciate, embrace and then travel beyond complexity."
Mays uses the word elegance to describe "far side simplicity that is artfully crafted, emotionally engaging, profoundly intelligent. It should not be confused with near side simplicity, which stops short of confronting complexity."
Immigration Complexity
Building a wall on the Mexican border is an example of a proposed solution that ignores complexity.
The U.S.-Mexican border is 1989 miles long. Currently, there is a fence or wall that stretches across 700 miles of it.
The New York Times recently profiled José Manuel Talavera, a coffee farmer from Honduras. Talavera had just navigated Mexico's freight train network to make his way to the U.S. border after crossing into Mexico from Guatemala.
Talavera was making his third attempt to enter the United States illegally.
The article states, "The first time, a Mexican drug cartel kidnapped him and took all his money. On the second attempt he made it to America only to be captured, detained for two months and put on a plane back to Honduras. It was his first flight. 'One month to get there, four hours to go back,' Mr. Talavera recalled with a smile. 'At least the ticket was free.'"
"Now the border loomed again, bristling with guards and cameras. This time, if caught, he faced six months in detention. He didn't care. 'I'll go back and try again,' he said. Nothing could stop him, he said. Not even a new wall."
A wall will not stem the flow of migrants to the U.S. that are seeking better opportunities. It just compels them to attempt ever riskier ways to enter.
The flow of migrants will stop only when economic opportunity and security is great enough in the migrants' home country to offset the risk and cost of leaving.
Solving that is a multifaceted complex challenge that doesn't have a simple, elegant solution. That is the case for most problems.
A Rarity
Why else would Oliver Wendell Holmes offer his life for the simplicity on the other side of complexity? Finding it is extremely rare.