What should you do about Trump presidency? And how the truth was the real loser in this presidential election.
In this episode you'll learn:
How fake news gets equal billing as real news.
How news spreads through echo chambers.
Why most knowledge is actually faith in authority.
Why we need a weight of evidence approach from multiple credible sources to decide what we believe is the truth.
What are the potential impact of a Trump presidency on the economy and financial markets and what should you do about it.
Show Notes
Denver Guardian – Fake Newspaper
How the Internet Is Loosening Our Grip on the Truth – Farhad Manjoo – New York Times
Hyperpartisan Facebook Pages Are Publishing False And Misleading Information At An Alarming Rate – Buzzfeed
The Spreading of Misinformation Online
The Science Before Science: A Guide To Thinking In The 21st Century – Anthony Rizzi
The Banality of Change – David Brooks – New York Times
Media's New Challenge – Overcoming The Threat of Fake News – Jim Rutenberg – New York Times
President Elect Donald Trump Acceptance Speech
President Trump – Washington Post editorial
Letters From A Stoic by Seneca
Become a Better Investor With Our Investing Checklist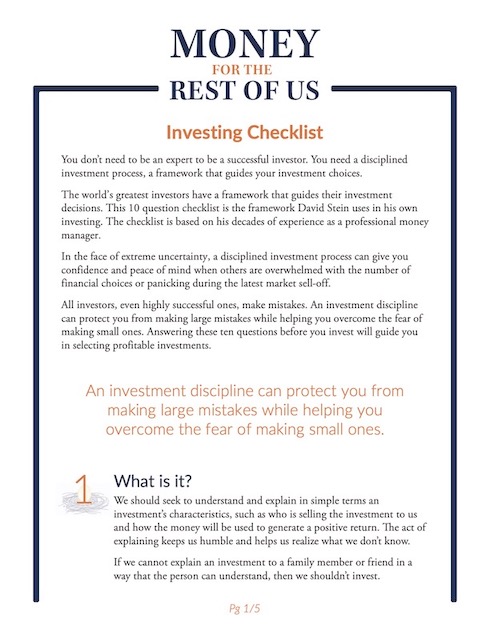 Become a Better Investor With Our Investing Checklist
Master successful investing with our Checklist and get expert weekly insights to help you build your wealth with confidence.
Summary Article
How Truth Got Lost In The Election
This past weekend, I was on Facebook when a news article appeared in my feed. The article was published by the Denver Guardian, which claims to be Denver's oldest news source and one of the longest running newspapers published in the United States. `
The headline was "FBI agent suspected in Hillary Clinton email leaks found dead in apparent murder suicide."
The article was shared by two friends, one of whom introduced it with the comment, "You can't make this stuff up. Murder – suicide, sure thing."
Fake News
Here's the problem. It was entirely made up. The story was fake as was the entire Denver Guardian web site which is filled with fake, stolen or misleading stories.
Its lead local news story was about a Walgreen's robbery for a store that doesn't exist in Denver but is located in Baltimore, even though the article gave out the Denver Police phone number. The obituaries are taken from the Baltimore Gazette. Many of the links lead to pages with no information other than to say the site is experiencing technical difficulties.
Facebook's algorithm selected this fake news story for my feed and presented it in the same manner it presents news stories from legitimate sources. The only way to tell the article was fake was to study it in detail.
This fake story is not an isolated incident. Last month, Buzzfeed analyzed more than 1,000 posts from six partisan political Facebook pages and found that 38% of posts from right-wing pages were either a mixture of true and false or mostly false information while 19% of posts on left-wing oriented pages were mostly false or a mixture of true and false.
These fake stories proliferate because readers willingly share them without considering their authenticity. The stories match the readers' world views so they are presumed to be accurate.
Spreading Misinformation
Farhad Manjoo recently wrote in the New York Times in an article titled "How the Internet Is Loosening Our Grip On The Truth" that "psychologists and other social scientists have repeatedly shown that when confronted with diverse information choices, people rarely act like rational, civic-minded automatons. Instead, we are roiled by preconceptions and biases and we usually do what feels easiest—we gorge on information that confirms our ideas, and we shun what does not."
And then we share that information with like minded friends who in turn share it with their like minded friends.
In an academic study released last year titled "The spreading of misinformation online," the authors used publicly available information from Facebook to evaluate how digital information and misinformation spreads.
They found that homogeneity was the primary driver of diffusion of conspiracy theories and science news. The stories were most likely to be shared by friends having a similar profile as the person who originally shared the story. In other words, the stories reverberated through the same echo chamber.
Everyone Is Biased
Commentators on both the right and the left have accused the main stream media of bias during this election.
The reality is all media pieces reflect the biases of the producers. Sometimes the bias is intentional but more often than not it is subconscious. All journalists have a world view that influences their particular angle for covering a story even as they seek to adhere to journalistic ethics.
But there is a difference between having a conscious or subconscious bias when producing a story versus fabricating complete lies and passing it off as news.
One thing journalists do that isn't often found on fake news stories that circulate on the internet is journalists sign their real names and don't use pseudonyms.
Readers can research the author and the publication or media outlet and decide if they are authentic and authoritative.
Finding The Truth
As citizens, we have a responsibility to identify a variety of authentic and authoritative news sources so that we can use a weight of evidence approach to determine what we believe to be true.
Most of what we think we know to be true is not based on our first hand knowledge. It is based on our belief in what someone else has told us. It is based on trust.
Anthony Rizzi in his book, "The Science Before Science, points out even our personal knowledge of the most basic facts, such as the earth is round, is based on trusting what our teachers have said and what scientists have purportedly proven.
Very few of us have flown high enough into the atmosphere or space to personally verify the earth is round.
Most of our knowledge is really "faith based on authority." That is why it is critical we find multiple, credible sources. And yes, that often means paying money to gain access to those sources such as newspapers and other periodicals that have demonstrated their journalistic authority and ethics over decades, always recognizing there will be an inherent bias.
We cannot escape biases, both our own and in others, but in spite of biases we must still seek the truth by identifying multiple, authoritative sources to decide what we believe is true.
Rizzi writes, "If we are unsuccessful in identifying trustworthy sources, we will either remain in a state of belief of erroneous things, or we will discover that our sources are erroneous and become cynical about our ability to learn from others."
The Danger of Cynicism and Disbelief
Cynicism, disbelief and a failure to verify the trustworthiness of where we get our news is what allows conspiracy theories to thrive, fake news to proliferate, dictators to rise and democracies to fall.
What good is it to protect free speech and the press if people believe and spread unverified lies or worse don't trust anyone other than their closest friends and family members.
Capitalism and democracy cannot function without trust in others and in institutions outside of our immediate circle and areas of expertise.
Related Episodes
320: Somebody Won the Election. Now What?