Here are four most important things to teach children about money and why showing is better than telling when it comes to kids and finances.
In this episode you'll learn:
Four money principles all children should learn.
Why just-in-time learning is a great way to teach kids about money
Show Notes
The Little Virtues by Natalia Ginzburg
Episode Sponsors
Become a Better Investor With Our Investing Checklist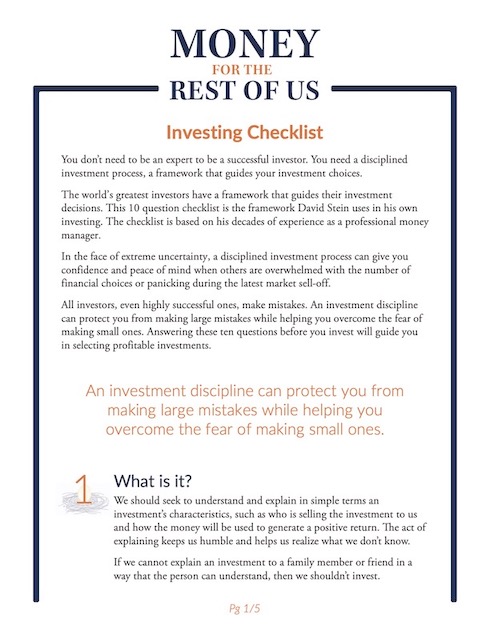 Become a Better Investor With Our Investing Checklist
Master successful investing with our Checklist and get expert weekly insights to help you build your wealth with confidence.
Episode Summary
Parenting is no easy feat, and one of the biggest questions parents face is how to teach children about money. Teaching young ones about the value of a dollar, how to manage their money, and how to responsibly discuss money with others are all points that David covers on this episode of Money For the Rest of Us. He outlines the five main concepts he and his wife taught their children about money and offers considerations for listeners on how to approach financial conversations with their families. He also explains the power behind "just in time" learning, and it's all wisdom you don't want to miss.
#1 – Having the right attitude about money is essential
David explains that the overarching thought about money that should be conveyed to children is their parents' attitude about money. No matter if the family has little or much money, if parents are able to treat money as a resource that flows in and out of hands (rather than a powerful force to be stored and collected), it can avoid unhealthy pressures that are often tied to finances. Money, while important and necessary for 21st-century lifestyles, should not be the most important part of a family's life.
#2 – Children should be given the opportunity to be accountable for and have choices about their money
David incorporates insights from his young adult children in this episode, and they explained that having control over their own funds as children helped set them up for success. Some parents may choose to dictate how children allocate money (20% in savings, 20% to donate, etc.), however, David encourages listeners to allow their children to make their own mistakes while handling money. Both spending money wisely recklessly present valuable learning opportunities to children.
#3 – Money is tied to work, and there's value in working for your goals
There is a way for money to be tied to work without having it be a reward or bribe. Helping children understand that money can be a tangible wage for work, not the end-goal for a job well done, will prepare them to be successful employees and leaders later on in life. David explains how his family's culture of a shared wealth amongst all members is valuable information that every listener should hear, so be sure to give this episode your full attention.
#4 – Avoiding the wrong kinds of debt should be a priority
David encourages listeners to instill in children the knowledge behind good and bad debt. Debt that enhances a person's human capital (such as investing in education) can be beneficial, while consumer debt is often best avoided. Children can learn to appreciate the anticipation behind saving for a much-wanted item, while also understanding that debt is to be taken seriously and not approached as a trivial undertaking.
#5 – Just in time learning
Lastly, children often ask a lot of questions, and these questions can be a great opportunity to teach children about finances. David shares experiences of when he and LaPriel were able to teach some of the most important financial lessons simply as the opportunity was presented to them.
Children, money, and family finances can be complicated – but it doesn't have to be. This episode will shed light on four ideas that are important to consider when teaching children about money, and is worth your full attention. Listen now.
Episode Chronology
[2:58] Here's how you can start teaching children about money

[5:30] #1 – The right attitude about money comes with a balance of respect, understanding, and trust

[8:40] #2 – Healthy relationships with money come with accountability and choice

[11:38] #3 – Money is tied to work

[20:25] #4 – Avoid the wrong kinds of debt

[22:51] #5 – Teaching kids about money is often about "just in time" learning
Transcript