With RealtyShares and other crowdfunding platforms shutting down, should you invest on these platforms and if so how do you go about evaluating the investment opportunities?
In this episode you'll learn:
Show Notes
The Real Estate Crowdfunding Review
RealtyShares' downfall shows perils of crowdfunding – Kathleen Pender – San Francisco Chronicle
To learn about investing in equity real estate investment trusts, check out A Complete Guide to Equity REIT Investing.
Episode Sponsors
Become a Better Investor With Our Investing Checklist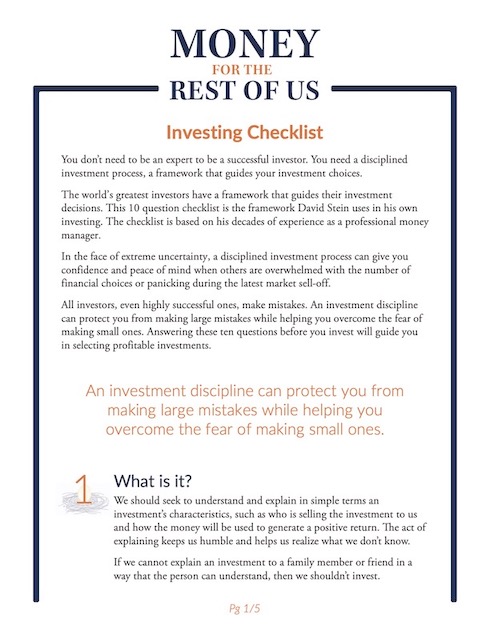 Become a Better Investor With Our Investing Checklist
Master successful investing with our Checklist and get expert weekly insights to help you build your wealth with confidence.
Episode Summary
Real estate crowdfunding has become a popular investment option for many individuals. On this episode of Money for the Rest of Us, David ponders the pros, cons, and questions associated with this investment option. He uses his own personal experience with the Acquire Real Estate platform to examine what people should consider when contemplating investing in real estate through a crowdsourced stack. You won't want to miss his insights.
How are real estate crowdfunding platforms structured?
Real estate crowdfunding platforms allow investors to gain access to real estate markets through crowdfunding. When David began investing using this strategy, he selected a hotel/restaurant company that was seeking to revitalize a piece of property. The company carried multiple types of debt (senior, mezzanine, preferred equity, common equity, etc.) This flow of debt is followed by most projects within the real estate crowdfunding market.
David encountered a few major signs of complications throughout his investments with Acquire Real Estate
After electing to invest $20,000 in this hotel/restaurant company, a few hiccups began to arise. Only half of the expected amount of total cash flow was realized, months into the endeavor. Property damage due to burst pipes and failing infrastructure resulted in lost revenue. Classifications of income as guaranteed payments, sporadic company updates, and even more dire income projections all contributed to a less-than-ideal investment situation. For the full story behind David's personal experiences with real estate crowdfunding, be sure to give this episode your full attention.
Transparency and other key areas are essential when considering to invest in crowdsourcing real estate platforms
David encourages listeners to examine all of the considerations on the table before choosing to invest using this specific type of real estate strategy. Honest transparency is one of the biggest factors to consider. Investors should also look at the amount of leverage that was being used in the situation. You also want to consider the amount of cash flow, fees, interest rates, and more.
Public and private REITs are an often overlooked alternative
Real estate investment trusts, or REITs, are an alternative option to consider. They can be public or private, and they can be a better approach to gaining access to the real estate market. David believes they hold the same types of opportunities as crowdfunding options, with less risk and unknown variables. However, they do hold less leverage in certain circumstances. For the full story that will help you develop your own thoughts about this new type of investing, be sure to listen to this episode of Money For the Rest of Us.
Episode Chronology
[0:30] Check out this episode for David's experience with real estate crowdfunding investments
[2:35] Real estate crowdfunding platforms are comprised of this type of structure
[6:57] You want to understand these considerations before making an investment
[12:40] Issues began to crop up with David's investment – learn from his story
[18:41] David's experience with these platforms have not led to a lot of transparency
[25:07] There's not a specific way to determine which real estate crowdfunding platforms are going to survive
[30:08] Public and private REITs are another great investment option to consider
Related Episodes
414: Use Caution with Private REITs like Blackstone's BREIT
Transcript