How public equity REITs differ from private REITs. Why investors are selling out of private REITs and why private REIT sponsors like Blackstone and Starwood are limiting investors' ability to do so.
Topics covered include:
What are public and private real estate investment trusts
Why has Blackstone's BREIT been such a success
Why investors are trying to exit private REITs
Why commercial property values are falling
Is now a good time to invest in public and private REITs?
Show Notes
How the gates closed on Blackstone's runaway real estate vehicle by Antoine Gara, Sujeet Indap, and Kaye Wiggins—Financial Times
Investors Yank Money From Commercial-Property Funds, Pressuring Real-Estate Values by Konrad Putzier and Peter Grant—The Wall Street Journal
Property Insights: Roller Coaster by Michael Knott—Green Street
Rising Interest Rates Threaten to Expose Office Buildings' Inflated Values by Konrad Putzier—The Wall Street Journal
Why Blackstone's $69 Billion Property Fund Is Signaling Pain Ahead for Real Estate Industry by John Gittelsohn and Patrick Clark—Bloomberg
Blackstone's $70 Billion Real Estate Fund for Retail Investors Is Losing Steam by Dawn Lim and John Gittelsohn—Bloomberg
Episode Sponsors
LinkedIn – Post your job for free
Become a Better Investor With Our Investing Checklist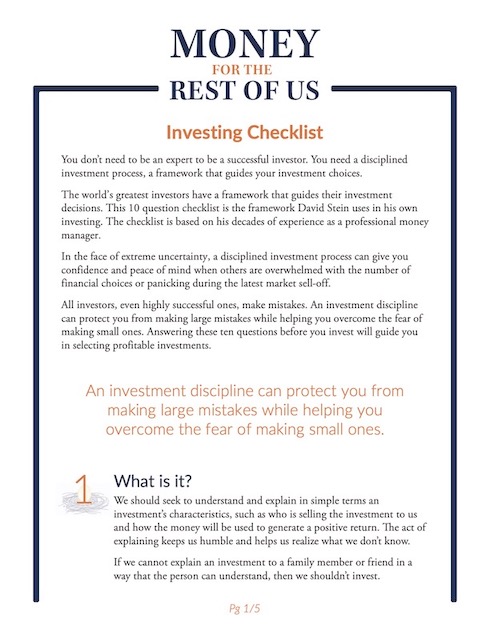 Become a Better Investor With Our Investing Checklist
Master successful investing with our Checklist and get expert weekly insights to help you build your wealth with confidence.
Related Episodes
183: How To Invest In Commercial Real Estate
230: Use Caution With Real Estate Crowdfunding
434: Don't Be Afraid To Invest In Commercial Real Estate
Transcript
Welcome to Money for the Rest of Us. This is a personal finance show on money, how it works, how to invest it, and how to live without worrying about it. I'm your host, David Stein. Today's episode, 414. It's titled "Use Caution with Private Real Estate Investment Trusts."
Just a quick announcement. This is the last episode of the year. We're getting ready to take our year-end break. We'll return on January 4th, 2023, with a brand new episode, episode 415. It will be a Q&A episode where we'll be answering listener questions. Thank you for listening to the show this year, for sharing it with your friends, for leaving reviews of the podcast, and just being a part of our community.
Blackstone Real Estate Income Trust (BREIT)
Four years ago, in episode 230 of the podcast, the episode was titled "Use Caution with Real Estate Crowdfunding." Now have a follow-up episode, a narrower topic, "Use Caution with Private Real Estate Investment Trusts." But in episode 230 we discussed the Blackstone Real Estate Income Trust (BREIT). At the time, BREIT had been operating for just about two years. We analyzed the fund again in one of our premium podcast episodes, Plus episode 256.
BREIT is set up as a perpetual private real estate investment trust. That means it never matures. Traditionally, institutional investors have invested in private real estate transactions—this is offices, shopping centers, apartments. They've done it through private funds, typically a limited partnership structure, and there's a term of 10 to 12 years. But with a private REIT, there isn't a term. New investors are coming in, and that can fund investors that want to leave.
Public and Private Equity REITs
Equity REITs, both public and private, are what are known as indirect investment vehicles. They're indirect because there's a professional money management team selecting the underlying direct investments. The direct investments for a public REIT and a private REIT are income-producing commercial real estate: offices, buildings, shopping centers, apartments, and even rental housing.
Public equity REITs are registered with security regulators, such as the US Securities and Exchange Commission, and most public equity REITs trade in the secondary market on a stock exchange. These public equity REITs are very liquid. We can get in and out, just like trading any other security. Private equity REITs are not registered with security regulators. They are bought directly from the REIT sponsor. In this case, in the case of BREIT, it's bought through Blackstone, although typically there could be a stockbroker involved, or an advisor that's representing BREIT, recommending it and facilitating the transaction.
Private REITs are less liquid than public REITs, because the buyer, if an investor wants to exit, is the sponsor itself, in this case, Blackstone. Whereas if you own a public equity REIT, it trades on a stock exchange, and so there's natural buyers and sellers of these securities. Much, much more liquid. Because commercial real estate is an illiquid investment, but it is put in sort of a quasi-liquid wrapper of a private REIT, there's a disconnect there, and as a result, private REITs limit the amount of redemptions in a given month or a given quarter.
As a Money For the Rest of Us Plus member, you are able to listen to the podcast in an ad-free format and have access to the written transcript for each week's episode. For listeners with hearing or other impairments that would like access to transcripts please send an email to [email protected] Learn More About Plus Membership »