Why equity real estate investment trusts should be part of your investment portfolio despite the office sector's struggles.
Topics covered include:
Why some office REITs are down 30% in 2023, and owners are walking away from buildings
How commercial mortgages differ from residential mortgages
The broad sector diversification found within equity REIT ETFs
What have equity REITs performed long-term, and what drove those returns
What is a reasonable return expectation for equity REITs
Why equity REIT prices adjust more quickly than private real estate values
Why you should be wary of private REITs
Show Notes
Slow Return to Work Pummels Office Stocks by Peter Grant—The Wall Street Journal
REITs Likely to Attract Growing Interest from Private Real Estate Funds by Sarah Borchersen-Keto—Nareit
Episode Sponsors
Brooklinen – Get 20% off for Memorial Day
Money Pickle – Schedule a free 45-minute video chat with a vetted financial advisor and ask them anything about your financial situation. Go here to schedule your free session.
Become a Better Investor With Our Investing Checklist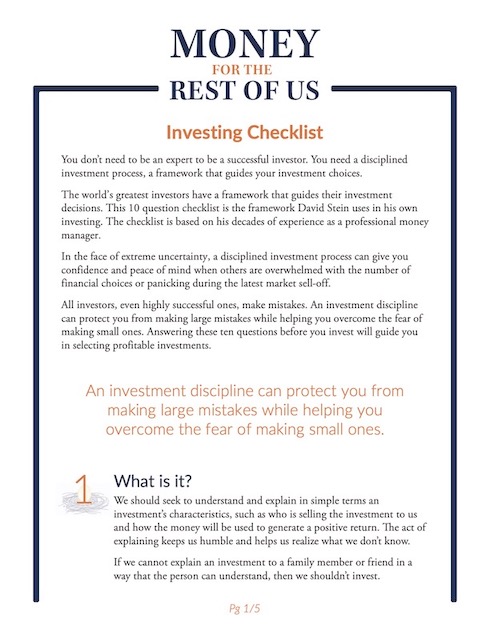 Become a Better Investor With Our Investing Checklist
Master successful investing with our Checklist and get expert weekly insights to help you build your wealth with confidence.
Related Content
A Complete Guide to Equity REIT Investing
414: Use Caution with Private REITs like Blackstone's BREIT
428 Plus: CMBS Risks, ETF Replacements for Money Market Mutual Funds, and Comparing Two Value ETFs
Transcript
Coming Soon
Episode 434 first draft transcript
As a Money For the Rest of Us Plus member, you are able to listen to the podcast in an ad-free format and have access to the written transcript for each week's episode. For listeners with hearing or other impairments that would like access to transcripts please send an email to [email protected] Learn More About Plus Membership »