How owning fewer, more permanent things can lead to greater freedom and continued economic growth.
Topics covered include:
How a railroad company issued a bond that matured in 999 years
Why land and gold are the most permanent investments
What is the oldest currency in use
Why fiat and cryptocurrencies are potentially worthless
Why permanence is freedom and constantly craving more things limits freedom
Why do quality goods cost more
How the volume of trash generation and the number of storage units are increasing
Why reducing the number of things we own is so difficult and how to go about doing it
How the economy could change as people own things longer
Show Notes
Business & Finance: Freak Finance
Back to the future with long-term bonds by Franky Leeuwerck—Franky's Scripophily BlogSpot
ELMIRA AND WILLIAMSPORT RAIL ROAD COMPANY 500$ BOND, 1863—WorthPoint
The Power of Gold: The History of an Obsession by Peter L. Bernstein
How much gold has been found in the world?—USGS
The oldest living thing on Earth by Marnie Chesterton—BBC
What is the world's oldest currency?—CMC Markets
Bitcoin, Currencies, and Fragility by Nassim Nicholas Taleb
Small Is Beautiful: Economics as if People Mattered by E. F. Schumacher
Want to Make It Big in Fashion? Think Small, Like Evan Kinori by Guy Trebay—The New York Times
Artists of Theory: Evan Kinori Interview by Isaac McKay-Randozzi—Theories of Atlantis
National Overview: Facts and Figures on Materials, Wastes and Recycling—United States Environmental Protection Agency
Basic Information about Landfill Gas—United States Environmental Protection Agency
The Great Markdown Disaster w/ Evan Kinori—Corporate Lunch
Evan Kinori, Clothing Designer by Sean Hotchkiss—Faculty Department
France Gave Teenagers $350 for Culture. They're Buying Comic Books. by Aurelien Breeden—The New York Times
Episode Sponsors
Become a Better Investor With Our Investing Checklist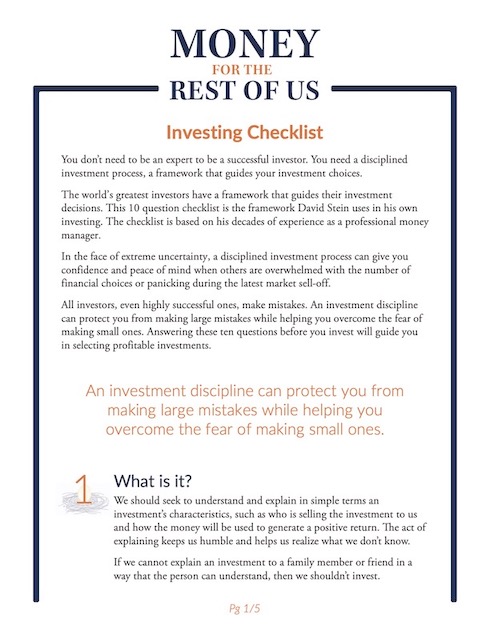 Become a Better Investor With Our Investing Checklist
Master successful investing with our Checklist and get expert weekly insights to help you build your wealth with confidence.
Related Episodes
278: You Have Permission to Spend
262: Better Not Bigger, Circular Not Linear – How the Global Economy Is Changing
Transcript
Welcome to Money For the Rest of Us. This is the personal finance show on money, how it works, how to invest it, and how to live without worrying about it. I'm your host, David Stein. Today is Episode 352. It's titled, Is This the Key to Wealth, Freedom, and Happiness?
A 1,000 Year Bond
In 1863, The Elmira and Williamsport Railroad Company that owned a railroad line that ran about 70 miles from Williamsport, Pennsylvania, to Elmira, New York, issued a bond that paid an annual interest rate of 5%. The bond could not be called early. Its maturity date was 2862. Yes, this was a 999-year debt instrument. Steel and railroad tracks last from 5–100 years. Wood ties that make up railroad tracks last 8–25 years. Yet the Elmira and Williamsport Railroad, and its guarantor, The Pennsylvania Railroad Company, expected to be in existence 1000 years later, to make good on a bond.
They didn't make it. The Pennsylvania Railroad Company took over the debt obligation and The Elmira and Williamsport line in the early 1900s. The line continued to operate until 1972. It made it 100 years, but then it was destroyed by the flooding from Hurricane Agnes.
As for the Pennsylvania Railroad Company, it merged with the New York Central Railroad in 1968. The integration didn't go well, and Penn Central as the new company was known, filed for bankruptcy in June 1970. At the time, it was the sixth-largest corporation in the US, and the largest bankruptcy in US history, at least until 2001 when Enron filed bankruptcy.
The railroad and the railroad company only made it about 100 years. What remnants are still around from the Elmira and Williamsport railroad? You can buy the original bond certificate that was issued in 1863 on eBay, I suspect there's still some rotting wood and rusted steel from the original rail line, perhaps some locomotives and boxcars.
The most valuable thing still in existence from that railroad is the land on which the railroad tracks were laid. Land is permanent. Long-term bonds often are not, nor the companies that issue them.
As a Money For the Rest of Us Plus member, you are able to listen to the podcast in an ad-free format and have access to the written transcript for each week's episode. For listeners with hearing or other impairments that would like access to transcripts please send an email to [email protected] Learn More About Plus Membership »
The Permanence of Land and Gold
Another thing that's still around is the gold coins owned by the passengers that rode on that railroad. Peter L. Bernstein wrote in his book The Power of Gold, "When all the steel has rusted and rotted and forever after that, your great cube of gold will still look like new. That is the kind of longevity we all dream of; stubborn resistance to oxidation, unusual density and ready malleability."
The US Geological Survey estimates there is about 244,000 metric tons of gold that has been discovered. 187,000 metric tons have been mined and there's another 57,000 metric tons of underground reserves. A metric ton is 1000 kilograms or about 2205 pounds. All the gold discovered thus far would fit in a cube that is 28 meters wide on every side, not very much. But all of the gold is still around. Gold has served as a form of money for the last 6000 years, longer than the oldest living thing, which is the Great Basin bristlecone pine, which can be found in the California White Mountains. There's one tree there named Methuselah that's estimated to be 4850 years old.
Two things that are permanent, land and gold, have been tremendous stores of wealth if our time horizon is decades, centuries, or millennia.
The Impermanence of Fiat and Crypto Currencies
The oldest currency still in use today is the British pound. There are sterling silver pennies that date from around 775 AD. The first printed banknotes for the British pound are from 1853, although the Bank of England issued partially printed notes back in 1694, where they also needed to be handwritten in order to be valid. That's a long time, the British pound.
The US dollar, which is also known as the Federal Reserve note, a non-interest bearing perpetual liability of the central bank has been around only since 1914. The British pound, the US dollar and other fiat currencies are poor stores of wealth; they pale in comparison to land and gold.
Why is that? There is no scarcity. It takes very little effort to create more dollars. Fiat money can be created out of thin air by simply changing the digits on a ledger. And because fiat currencies are not backed by anything—we are no longer on a gold standard where the amount of currency issued was linked to the amount of gold held by the Central Bank—the amount of money outstanding has exploded.
The combined total of fiat currency outstanding is $90 trillion when converted to US dollars as measured by M2, the money supply that consists of currency, checking, and savings accounts, primarily. So if we combine the amount of fiat currency from the US, the UK, Europe, Canada, Japan, and China, collectively, it's worth about $90 trillion, double the amount that was outstanding a decade ago.
Meanwhile, the amount of gold mined over the last decade is about 32,000 ounces, or $58 billion worth if we use a conversion rate of $1,800 per ounce of gold. That means there are 45 trillion more dollars over the past decade, compared to only $58 billion worth of additional gold supply.
Nassim Nicholas Taleb wrote in a recent white paper on cryptocurrency that "One can expect one's gold or silver possessions to be around physically for at least the next millennium, as well as having some residual economic value. But" he points out, "we cannot expect a book entry on a ledger that requires active maintenance by interested and incentivized people to keep its physical presence, a condition for monetary value."
He suggests that a non-dividend paying asset like that, that requires active maintenance on a ledger, its present value should be zero if there's any doubt that its ongoing existence can't be assured. He says that "The slightest mortality rate puts its value at zero", which means according to his paper, "cryptocurrency has no worth by that measure." Nor do fiat currencies, because there is no cash flow, there is no dividend on just holding it. It has to be converted into something else that earns interest or buy a real thing with it. Even interest-bearing and dividend-paying assets are vulnerable.
The Elmira and Williamsport railroad bond only made it 100 years of its expected 909-year life. Last year, Austria issued a 100-year bond at an interest rate of 0.9%. Peru issued a 100-year bond at a 3.3% interest rate. While I was prepping this episode, a friend texted me and asked whether I was ready to buy long-duration bonds. 30-year Treasuries are yielding 1.9%. I told him, "No, I prefer assets that have a real positive yield after backing out inflation, or some permanence, like land or gold."
Now I do own 5% of my net worth in cryptocurrency. I consider that currency diversification. I do have some currencies, some fiat currency, some cryptocurrency. But I don't consider them permanent.
Wisdom and Permanence
E.F. Schumacher in an essay titled "Buddhist Economics" from his book Small is Beautiful wrote, "From an economic viewpoint, the central concept of wisdom is permanence. We must study the economics of permanence."
What is permanent from an economic standpoint? Land, gold, culture, stories, myth, wisdom. "If wisdom is permanent", Schumacher says, "the opposite of wisdom is the cultivation and expansion of needs." He describes that as "the antithesis of wisdom," this constant need for more and more and more growth, more things. "That cultivation and expansion of needs," he writes, "is also the antithesis of freedom and peace. Our cravings restrict our freedom and our peace. Why?" He writes, "Every increase of needs tends to increase one's dependence on outside forces over which one cannot have control, and therefore increases existential fear. The more things we want, the more time we need to earn the money to buy it. It restricts our freedom. It can stress us out."
Schumacher continues, "Only by a reduction of needs can one promote a genuine reduction in those tensions." He points out that, "A materialist is interested in goods, more and more things, but a Buddhist, from an economic perspective, is mainly interested in liberation." But he points out, "It's not wealth that stands in the way of liberation, but the attachment to wealth; not the enjoyment of pleasurable things, but the craving of them. Therefore," he concludes, "the keynote of Buddhist economics is simplicity."
He gives the example of clothing. "The purpose of clothing is temperature comfort and attractive appearance. And the goal or the task," he points out, "is to get that clothing with the smallest possible effort, with this smallest annual destruction of cloth, with designs that don't take too much effort, because with more time, there can be more artistic creativity." He writes, "It would be the height of folly to make material that should wear out quickly, and the height of barbarity to make anything ugly, shabby or mean."
The Economics of Clothing
A couple of weeks ago, LaPriel and I were in Seattle to visit family, and we had hoped to hold a Plus member meet-up, but because of the Delta variant, we decided it was probably better not to do that on this trip. We went to a store, it's called the Glasswing Shop; they sell plants and clothes. I bought a pair of pants and a jacket. It's beautifully made. It's simple in construction. It's made out of Belgian linen. Its designer is Evan Kinori. He started his brand in 2015. He makes a limited number of pieces each year; they're all numbered. His pieces never go on sale. They always sell out. They just happened to have some while I was there.
Kinori says, "My design ethos is basically geared toward people not buying stuff all the time." He wants people to keep his things forever. He says, "We need to get back to the richness and simplicity of basic, well-designed things." But these garments are expensive. The pants cost over $300; the jacket was over $400. One of Kinori's friends that runs a skating magazine interviewed him, and the friend wrote, "I'll be frank man, on average, you charge about $300 per item. I know they are handmade and limited in availability to less than 100. Why not make more and charge less, so people can afford them? What is the appeal to making them so limited and so expensive?"
Kinori responded, and without getting into a preachy or guilt trip style approach, put it this way, "If you want to use nice fabric that comes from good sources, meaning the fibers (cotton, wool, hemp) are sourced ethically or in a high-quality way, and then they are woven in a factory of good reputation, where labor is valued and respected, and then you ship those fabric rolls and pay for duties, and then have that fabric cut and sewn in a small sewing workshop in the USA, that you can walk into and feel it's a good atmosphere, and the people working seem happy. And on top of that, you have a focus on good solid construction. Then after all that, you wholesale said product to shops around the world, you end up seeing that my pieces are actually on a pretty low end of the price spectrum in terms of the type of product that they are."
I agree. $300 on one hand, seems incredibly expensive. But if you understand the economics of clothing of high-quality goods, well constructed, made in small batches, it is a very fair price. I expect that pair of pants to last the rest of my life. I might need to do some mending 20 years from now, and they cost around $300. Or I could have gone to Walmart and bought a pair of pants for $17. I could have bought 17 pairs of pants at $17. Doing so would have had the same impact on the economy; the gross domestic product, the value of the output produced, the monetary value of that output. $300 of pants produced has the same impact on GDP of 17 pairs of pants from Walmart that are priced at $17.
Some people can only afford the $17 Haggar no wrinkles stretch men's slacks at Walmart. But if you can afford more, is it better to buy fewer pieces that are higher quality that will last longer? Is that not wiser, more permanent?
The Environmental Protection Agency in the US reports that each American generated 2.68 pounds of trash in 1960. That increased to 3.7 pounds in 1980. By the year 2000, it was 4.7 pounds. And by 2018, it was 4.9 pounds. So the rate of increase is less, but it is almost double what it was back in 1960.
We generate way, way more trash than we did 50 years ago. Fortunately, more of it is recycled. Landfill waste made up 90% of the amount generated in 1960. By 2018, it was half, of which about 35% was recycled. Many companies such as Patagonia, Eileen Fisher, and Madewell have a program of recycling your old clothes. You can bring them in, and they'll give you a credit for them; it's a circular economy.
The EPA estimates that landfills release 15% of methane, a greenhouse gas that contributes to global warming. That methane is equivalent to the energy use of 12 million homes or 22 million passenger vehicles driven in one year. There is an environmental impact of consuming more and more stuff, not to mention the psychological impact, the stress of doing so.
Simplicity
On the way back from Seattle, LaPriel and I listened to a podcast interview with Evan Kinori. He mentioned he was reading a book by British architectural designer John Pawson. The book is titled Minimum, it was published in 1996. In that book, Pawson defines minimum as the pursuit of simplicity. He says, "An item reached that state of simplicity, that minimum level when it's no longer possible to improve it by subtraction. Every component, every detail, every junction has been reduced or condensed to the essentials. It is a result of the mission of the inessentials."
That's what he tries to do in his design. He points out that, "A minimal life gives us a sense of liberation, and we're not distracted by the trivial, that we just focus on the essence of our existence, because we're freed from the dead weight of excess possessions. Minimal living, simple living requires less resources, less money, less time, less stress, yet it's not easy."
Pawson points out, "Simplicity is actually very difficult to achieve. It depends on care, thought, knowledge and patience. It requires an enormous amount of effort, and we have to be ready to purge all the clutter and jumble that continually threatens to overwhelm us. It's hard to get rid of stuff. We become attached to things, but we also get weighed down with things."
I also had an unfortunate experience in Seattle. LaPriel and I were in a woman's clothing store and a woman walked in, she had no shoes, just socks, and she clearly had some mental health issues. She walked up to a rack and I saw her just start taking clothes off the rack and putting them in her bag. And then she started walking out, and I went and notified the manager, and then the manager and this woman had an altercation. The woman that took the clothes kept screaming, "I'm being robbed. I'm being robbed." And the manager was very, very calm. But at some point, the bag ripped, the clothes fell on the ground outside the store. And the woman just—she was frantic. She said, "I paid for those things." She felt that they were hers.
When I offered her $20, just hopefully so that she would feel better, she wasn't interested. Her things that she was convinced she had paid for were being taken from her. It's difficult to get rid of stuff when we feel like we own it. There's the endowment effect.
Storage Units
We're doing a remodel at our house in Tucson, and we had most of our stuff moved out by movers to be stored, but we also rented a storage unit. From 2014 to 2020 new construction of self-storage units, the amount spent building them was two to five times the annual rate from the previous decade. The spaces are better, they're climate-controlled. And there's been a lot of capital raised to build these self-storage units by companies such as Extra Space and Life Storage.
60% of customers that have a storage unit—and it's about 11% of the US population—about 60% keep their storage unit for more than 12 months. And 43% keep it for 24 months. Life Storage did a survey and they found that 41% of their customers needed the storage because they were moving. They were downsizing, they were staging their home to be sold, or their closing date was going to be pushed back. Another 17% said they use storage to declutter, to get rid of stuff out of their house. But it's amazing how much storage is used. Now, the storage units are very helpful.
Another reason people have storage is to store loved one's belongings. In other words, too much stuff, so they need a storage unit, or they want to declutter, but it's too hard to give things away. And it is very, very difficult.
The Ongoing Challenge of Simplifying
John Pawson, in his book, points out a way to do that, recognizing it's very, very challenging. He writes, "You reduce, you simplify. And at first, there's less and less to look at. Then as you go on reducing, attenuating, and compressing, you come to a point at which you go through a barrier, and pass through into a kind of mirror world, in which you see, looked at with enough clarity, not emptiness, but a sense of richness." It just kind of opens things up so we can see things differently if we go through the process of reducing. It's like pulling back layer, after layer, after layer, and it's challenging.
The minimalists have an approach where you start on the first day of the month and you get rid of one thing. Day two, you get rid of two things. Day three, three things, and on and on, to where by day 30 you're getting rid of 30 things.
We've tried to challenge, it's not an easy thing to do.
I truly believe that one of the keys to wealth, freedom, and happiness is to focus on having less, to simplify our lives, to simplify our activities, that when we purchase is to try to purchase permanent things. Now, obviously, food and some things will be used up. But for hard goods, consider, "Could this be the last one of this item I will ever buy?"
I did this 11 years ago when my son and I were traveling in Japan, and I wanted to buy a backpack to hold my computer and other things when I traveled. And I still use it. It doesn't have a lot of frills to it. It is a simple black backpack, and it works for me. I believe that we're undergoing a transition in the economy. People are holding on to things longer. Market reports the average age of cars driving on US roads is about 12 years, the highest ever.
Keeping things longer makes economic sense. Purchasing things that cost more, but are more permanent, can still allow the economy to grow, but the mix will change. We can take this ephemeral fiat currency that's created out of nothing, that's not scarce, that's growing at a tremendous rate via government deficit spending combined with central bank purchases of government bonds. That is creating significant amounts of money, to where there is an excess of money. We see that in very low interest rates. There's so much money that it's driving interest rates down, even as inflation picks up. But we can take some of that worthless fiat money or worthless cryptocurrency and buy real things, permanent things, including investment assets, such as gold, or land, or real estate, things that you can feel confident will be there decades from now.
Now, we also need to own investments that generate cash flow, stocks, REITs, and other cash-flow generating assets. But in our day-to-day life, when we're buying consumer goods, we will have more freedom, more time, and less stress if we focus on simplicity and permanence. Recognizing that is very, very difficult, and it will take effort, knowledge and patience, as Pawson points out.
I laughed when I saw an article in The New York Times where in France, every 18-year -ld is given a pass, a cultural pass, where they can spend 300 euros for up to two years on an app at over 8,000 businesses and institutions, be it bookstores, record shops, art supplies, instrument stores; they can buy tickets to go to movie showings, plays, concerts, go to museums, they can sign up for dance, painting and drawing classes. All of these rich experiences.
What they've found is 75% of all purchases were for books. And two-thirds of those books were Manga, Japanese graphic novels. Not that there's anything wrong with Manga, but the entire world of culture and the majority is spent on graphic novels, which fortunately are recyclable.
This summer up at our cabin, about a 1,300 square foot cabin on 10 acres overlooking the mountains in Teton Valley, and I look at all this stuff around me, and we've had four people living with us, at times we've had six or eight. One shower, a lot of people, a lot of things. And so I recognize how hard it is to simplify. But it's something I continue to try to do because I do believe that's what true wealth is; having less, owning less, owning things that are permanent, that will create more freedom, more time, and less stress. That's Episode 352.