How permanent life insurance can be an effective tool for retirement planning.
Topics covered include:
What is the difference between term and whole life insurance
How many people let their life insurance policies lapse each year
What are strengths that insurance companies have that are beneficial to individual investors
What are the benefits of whole life insurance policies
How the infinite banking concept works and who should it be used
How asset allocation should differ when investors have a whole life insurance policy
What are concerns with whole life insurance
How an integrative approach of using whole life, immediate annuities, and investments can lead to higher retirement spending levels
Show Notes
ACLI 2020 Life Insurers Fact Book—The American Council of Life Insurers
Pros And Cons Of Life Insurance For Children by Cameron Huddleston and Amy Danise—Forbes
The Four Approaches to Managing Retirement Income Risk by Wade D. Pfau
Safety-First Retirement Planning: An Integrated Approach for a Worry-Free Retirement (The Retirement Researcher Guide Series) by Wade D. Pfau
Integrating Whole Life Insurance into a Retirement Income Plan: Emphasis on Cash Value as a Volatility Buffer Asset by Wade D. Pfau and Michael Finke
Episode Sponsors
The All-New Electric MINI Cooper SE
Become a Better Investor With Our Investing Checklist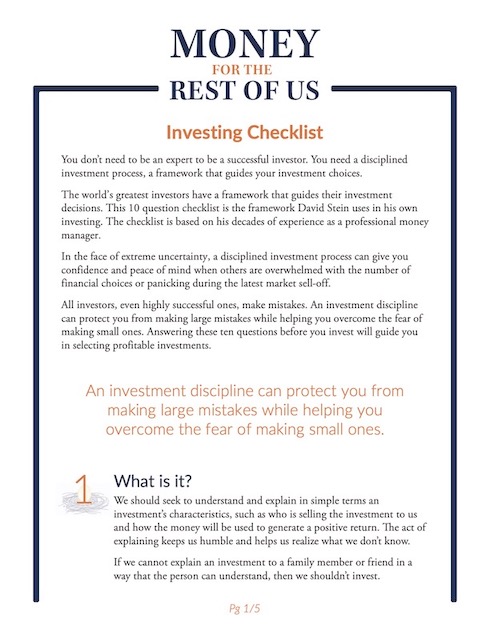 Become a Better Investor With Our Investing Checklist
Master successful investing with our Checklist and get expert weekly insights to help you build your wealth with confidence.
Related Episodes
279: Why All Retirees Should Consider an Income Annuity
326: The New Math of Retirement Spending and Investing
349: Forward and Reverse Mortgages: When To Take Them Out and When to Pay Them Off
Transcript
Welcome to Money For the Rest of Us. This is the personal finance show on money, how it works, how to invest it, and how to live without worrying about it. I'm your host, David Stein. Today is Episode 353. It's titled, The Pros and Cons of Infinite Banking and Whole Life Insurance.
Term Life Insurance
I don't remember much about my university days, but one presentation I do remember from a finance class. It was a student that sold life insurance apparently for a company called A.L. Williams. And he introduced a phrase I had never heard before, and he said it over and over and over again, "Buy term and invest the difference." What he meant was buy term life insurance, the type of life insurance that you pay a fixed premium over a set period of time, say 10 or 20 years, and then the life insurance ends, and you're no longer insured.
Term life insurance is cheaper than permanent life insurance. Permanent life insurance such, as whole life insurance, is life insurance you keep throughout your life, and there's an investment component to it that I'll explain in a few minutes.
The idea behind "buy term and invest the difference" is the purpose of life insurance is to protect against the loss of human capital or earnings power. As we get closer to retirement, we have less human capital, because we're not going to be working as long, and ideally, we have sufficient retirement assets that we don't need that life insurance protection.
After hearing that presentation and other things I've read about the topic, I was down on permanent life insurance policies like whole life. They seem more complicated; the premiums are higher and I've seen families purchase them and not maintain them. On average, about 6% of individuals let their life insurance terminate each year, letting it lapse by not paying the premium, or by surrendering it and collecting any cash value that is available. Because term premiums are less expensive, it seems less likely that term policies will lapse.
I have two term life insurance policies that are coming to an end, two $500,000 policies. I see now, one of the disadvantages of term life insurance. If I want another policy, I have to go apply again. And the insurance company will rate me based on my health. I've had some health issues that have come up in the last 20 years that could make me uninsurable. If I had purchased permanent life insurance, such as a whole life, I'd still have that policy in place for the rest of my life. And so I wouldn't have to worry about insurability.
I've had a lot of questions over the years about whole life insurance, about infinite banking, which I'll discuss later in the episode. And I'm not an insurance expert, but I'm less skeptical about insurance policies than I used to be. I met with insurance agents from Northwestern and others and never bought anything except these two term life insurance policies. That's it.
But then the 2008 financial crisis hit. I saw how retiree portfolios were decimated. I attended an insurance conference where they discussed all types of insurance products, but I was particularly taken by income annuities, immediate annuities. I could see how helpful they could be for retirees to ensure that they had lifetime income. I discussed income annuities in Episode 326 and Episode 279 of the podcast.
In considering term life insurance versus permanent life insurance, I was surprised that there's actually more permanent life insurance policies underwritten each year. In 2020, 59% of individual life insurance policies were permanent life insurance like whole life. 39% were term life insurance. Now the face value of term life insurance was more, about $1.3 trillion. Because premiums are lower, the insured can get a bigger death benefit, and so the overall face value of the term life insurance underwritten was $1.3 trillion, versus a half-billion dollars for permanent life insurance.
As a Money For the Rest of Us Plus member, you are able to listen to the podcast in an ad-free format and have access to the written transcript for each week's episode. For listeners with hearing or other impairments that would like access to transcripts please send an email to [email protected] Learn More About Plus Membership »