A regulatory crackdown and ideological campaign by the Chinese government has upended the Chinese stock market, which comprises close to 40% of emerging market indices. We evaluate what is going on and what investors should do.
Topics covered include:
How has the Chinese stock market performed in 2021
Why has Cathie Wood and Ark Invest dramatically cut their Chinese stock exposure
What are examples of regulatory changes in China
Why the stocks Chinese online tutoring companies that trade on the New York Stock Exchange fell 90% this year
What are variable interest entities (VIEs) and why they are a risky corporate structure for Chinese companies
How a high private sector debt burden could lead to a banking crisis or contagion in China
What are ways investors can invest in emerging markets while having a smaller allocation to China
Show Notes
Cathie Wood's Ark cuts China positions 'dramatically' by Leo Lewis and Thomas Hale—Financial Times
Beijing to break up Ant's Alipay and force creation of separate loans app by Sun Yu and Ryan McMorrow—Financial Times
China's dodgy-debt double act—The Economist
China's bid to stabilise its property market is causing jitters—The Economist
Episode Sponsors
Become a Better Investor With Our Investing Checklist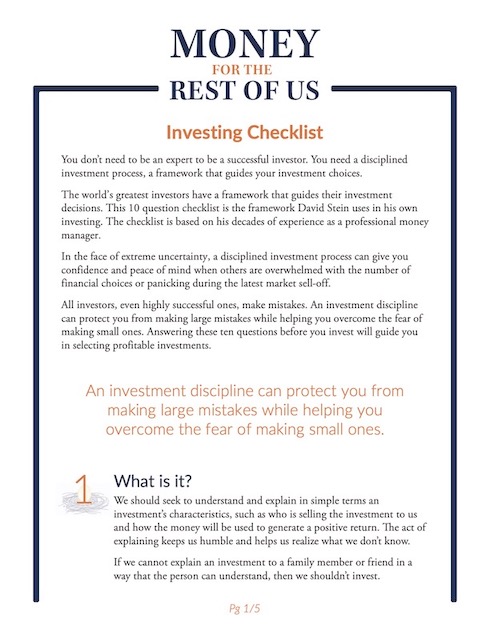 Become a Better Investor With Our Investing Checklist
Master successful investing with our Checklist and get expert weekly insights to help you build your wealth with confidence.
Related Episodes
218: Is China or the U.S. More Vulnerable?
249: Should You Invest in India?
328: Are You Underweight Chinese Stocks? Pros and Cons of Investing in China
445: From Boom to Bust—Why China's Stocks Lagged Behind Its Economy & Where to Invest Next
Transcript
Welcome to Money For the Rest of Us. This is a personal finance show on money, how it works, how to invest it, and how to live without worrying about it. I'm your host, David Stein. Today is Episode 358. It's titled "Should You Stop Investing in China?"
China's Size Relative to the U.S.
Earlier this year, in Episode 328, an episode titled "Are you underweight Chinese stocks?" The pros and cons of investing in China, I shared a statistic that China made up about 17% of the world's economy as measured by gross domestic product, but only about 5% of the global stock market, as measured by the MSCI All Country World Index.
We can contrast that with the US; its economy comprises about 22% of the global economy, but over 57% of the global stock market. Since that episode, those differences have gotten wider, because the US stock market is up double digits year to date, whereas the MSCI China All Shares Index, which includes their shares listed in Hong Kong, it includes domestic shares, the A-shares, the B-shares, shares that are listed overseas —that index is down 8% year to date. And the index of China's largest companies, the China 50, has lost 17% year to date. The A-shares that trade on the local Chinese stock market on the mainland have gained 2.7% year to date.
China's Regulatory Crackdown and Ideological Campaign
In that episode, I listed out some of my reservations about investing in China. The most significant one was political issues. There were trade wars and a renewed regulatory push by Chinese officials to reduce the economic influence of some of the large technology companies. In November of last year, Chinese officials shut down the initial public offering of Jack Ma's Ant Group. That group controls Alipay, one of the largest mobile payment apps in China.
Just yesterday, the Financial Times reported that China wants to break up Alipay. That app has over a billion users and it wants the company to create a separate app for its loan business that's incorporated into Alipay. The lending businesses now need to have an independent app, and the Chinese government is requiring Ant to turn over user data that helps it decide whether to offer somebody credit or not and to form a joint venture, partly state-owned. As you can expect with that kind of pressure, shares of Alibaba, which is affiliated with the Ant Group, dropped sharply yesterday.
Last week shares in Tencent, one of the largest tech companies in China, and NetEase, fell sharply after Chinese authorities told the groups to, "Break from the solitary focus of pursuing profit." Both of those companies are leaders in the online gaming space, and the Chinese regulators have put restrictions on the ability of those under 18 to participate in online gaming.
Cathie Wood, who is CEO of the ETF family Ark Invest, spoke at an institutional investment conference last week and said they had dramatically cut back their exposure to Chinese companies. She said that Chinese authorities are focusing on social issues and social engineering at the expense of capital markets and that anything deemed by Beijing as too profitable was at risk of being torpedoed. Ark continues to have some exposure to China, particularly companies that they describe as "courting the government with common prosperity."
As a Money For the Rest of Us Plus member, you are able to listen to the podcast in an ad-free format and have access to the written transcript for each week's episode. For listeners with hearing or other impairments that would like access to transcripts please send an email to [email protected] Learn More About Plus Membership »
Become a Better Investor With Our Investing Checklist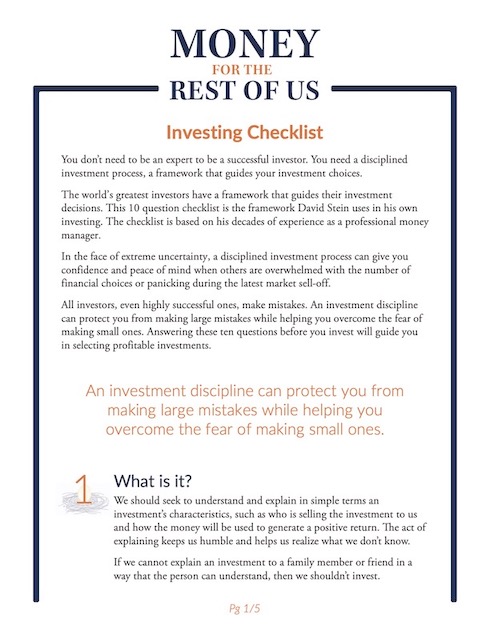 Become a Better Investor With Our Investing Checklist
Master successful investing with our Checklist and get expert weekly insights to help you build your wealth with confidence.