Why the new U.S.-based Bitcoin ETFs are a bad idea and will underperform Bitcoin.
Topics covered include:
What fund and ETF options are available for investing in Bitcoin
Why the U.S. has only authorized Bitcoin ETFs that invest in Bitcoin futures even though there are closed-end funds that hold Bitcoin directly
What is there a regulatory battle surrounding cryptocurrencies?
How closed-end funds differ from ETFs
How Bitcoin futures work
Why Bitcoin ETFs that invest in Bitcoin futures will lag the performance of owning Bitcoin directly
Why investors should avoid the new U.S. Bitcoin ETFs
Show Notes
SEC Set to Allow Bitcoin Futures ETFs as Deadline Looms by Katherine Greifeld, Vildana Hajric, and Benjamin Bain—Bloomberg
U.S. SEC Chair Gensler calls on Congress to help rein in crypto 'Wild West' Katanga Johnson—Reuters
Bitcoin Strategy ETF—ProShares
Purpose Bitcoin ETF—Purpose Investments
Jacobi receives approval for "world's first tier one" bitcoin ETF—Funds Europe
Remarks Before the Aspen Security Forum by Chair Gary Gensler—U.S. Securities and Exchange Commission
Coinbase abandons lending product after SEC pushback by Hannah Murphy and Stefania Palma—Financial Times
Coinbase calls for creation of dedicated crypto regulator by Hannah Murphy and Stefania Palma—Financial Times
First bitcoin futures ETF to make its debut Tuesday on the NYSE, ProShares says by Tanaya Macheel—CNBC
Rustication by Dennis J. Pogue—Mount Vernon Ladies' Association
Is Thomas Jefferson's Monticello Constructed of Rammed Earth?—Earth Architecture
What is Roll Yield and How It Impacts Bitcoin, Commodity, and VIX ETF Returns—Money For the Rest of Us
Episode Sponsors
Become a Better Investor With Our Investing Checklist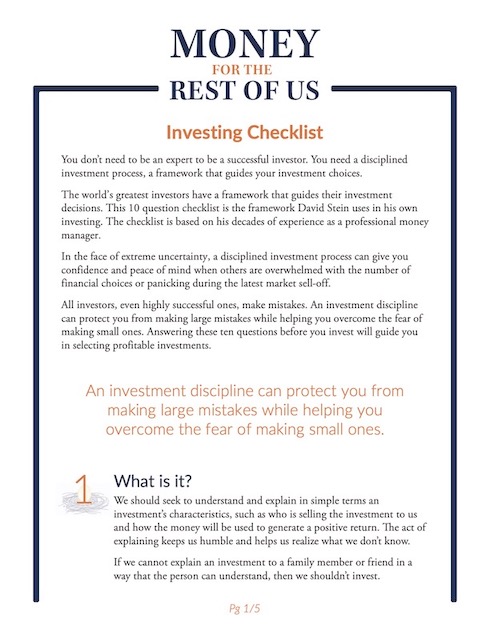 Become a Better Investor With Our Investing Checklist
Master successful investing with our Checklist and get expert weekly insights to help you build your wealth with confidence.
Related Episodes
355: Which Money Is Crazier: The U.S. Dollar or Bitcoin?
319: Here Come Central Bank Digital Currencies
Transcript
Welcome to Money For the Rest of Us. This is a personal finance show on money, how it works, how to invest it, and how to live without worrying about it. I'm your host, David Stein. Today's episode, 362. It's titled "Should you invest in Bitcoin ETFs?"
New Bitcoin ETFs
Today the first U.S.-based Bitcoin exchange-traded fund launched. It's the ProShares Bitcoin Strategy ETF (BITO). There'll be another ETF by Invesco that is linked to Bitcoin that starts trading tomorrow. This is by no means the world's first Bitcoin ETF. That honor goes to the Purpose Bitcoin ETF (BTCC), which launched in February 2021 and trades in Canada.
In Europe, Jacobi Asset Management yesterday was given authorization to launch their own Bitcoin ETF. Bitcoin ETFs are coming, but they're not all the same. The Canadian ETF actually owns Bitcoin, as will the ETF by Jacobi Asset Management. All of the U.S.-based Bitcoin ETFs won't own Bitcoin. They will have positions in Bitcoin futures, and we'll see in this episode that the performance of investing in Bitcoin futures will be very, very different from investing in Bitcoin. Why is it that the U.S. couldn't approve an ETF that invests in Bitcoin?
Existing Bitcoin Fund Offerings
There are funds that invest and hold Bitcoin itself, there's been one in place since 2013. It's the Grayscale Bitcoin Trust. It has over 39 billion dollars in assets under management, and it owns Bitcoin directly. GBTC is structured like a closed-end fund, in which there are a limited number of shares that trade on an exchange, and like other closed-end funds, there isn't a mechanism to keep the market price of the fund in line with the net asset value (NAV). The NAV reflects the true value of the shares, as it's calculated by taking the total value of the underlying holdings, less any debt, and dividing it by the number of shares outstanding.
GBTC currently has a discount of 21%. The market price is 21% lower than the inherent value of the fund. That means an investor can purchase a dollar's worth of Bitcoin for 79 cents. Now, one of the downsides of GBTC—it has a 2% expense ratio.
But there was another closed-end offering similar to GBTC that launched in February of 2021. It's the Osprey Bitcoin Trust (OBTC). It has a much lower expense ratio of 0.49%, but it's also selling for a discount, a 23% discount to net asset value. So there are funds in the U.S. that you can buy, that own Bitcoin. Yet, the U.S. Security and Exchange Commission will not authorize an exchange-traded fund that can buy Bitcoin.
As a Money For the Rest of Us Plus member, you are able to listen to the podcast in an ad-free format and have access to the written transcript for each week's episode. For listeners with hearing or other impairments that would like access to transcripts please send an email to [email protected] Learn More About Plus Membership »