How central bank digital currencies would work, what is the motivation to create them, and what are the risks.
Topics covered include:
What percentage of central banks are working on a digital currency and plan to issue one soon
What are the two kinds of money that central banks currently issue and how would a central bank digital currency differ
How central bank digital currencies would be similar and differ from Bitcoin and other cryptocurrencies
What are the benefits and risks of central bank digital currencies
What are the design principles that major central banks proposed for their digital currencies
What percentage of central banks currently have the legal authority to issue their own digital currency
Show Notes
Digital Money Across Borders: Macro-Financial Implications—International Monetary Fund
DIGITAL CURRENCIES AND STABLECOINS: Risks, Opportunities, and Challenges Ahead—Group of Thirty
Central bank digital currencies: foundational principles and core features—Bank for International Settlements
The technology of retail central bank digital currency—Bank for International Settlements
Impending arrival – a sequel to the survey on central bank digital currency—Bank for International Settlements
The Safe Assets Shortage Conundrum by Ricardo J. Caballero, Emmanuel Farhi, and Pierre-Olivier Gourinchas
An Update on Digital Currencies by Governor Lael Brainard—Board of Governors of the Federal Reserve System
Episode Sponsors
Masterworks – use code David
Become a Better Investor With Our Investing Checklist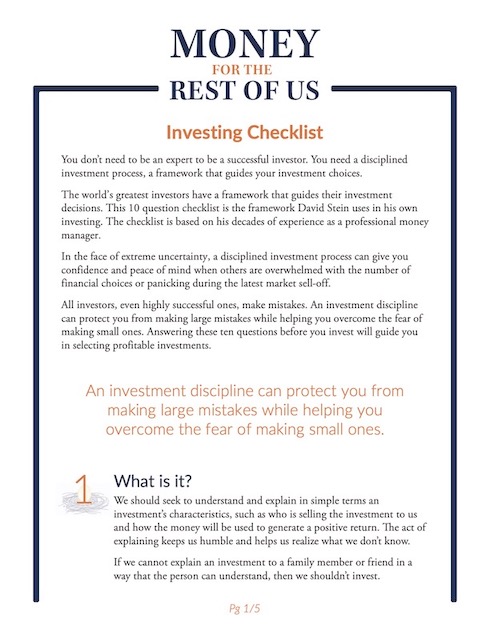 Become a Better Investor With Our Investing Checklist
Master successful investing with our Checklist and get expert weekly insights to help you build your wealth with confidence.
Learn More
167: Is Bitcoin Better At Money Than The Dollar?
182: Was Tulipmania Just Like Bitcoin?
259: Will The Libra Cryptocurrency Revolutionize Money?
339: How To Make Money with BlockFi, Dai and the Evolving DeFi Ecosystem
362: Should You Invest in a Bitcoin ETF?
373: Are Stablecoins Safe? Should You Own Them?
Transcript
Welcome to Money For the Rest of Us. This is a personal finance show on money, how it works, how to invest it, and how to live without worrying about it. I'm your host, David Stein. Today's episode, 319. It's titled "Here comes central bank digital currencies."
I recently thought I hadn't received payment from a sponsor to this show. I reached out to them because I didn't have a payment in my checking account. It turns out they had mailed me a check. The check was sent to a PO box I have in Phoenix. I'm in Idaho. I won't be able to pick up this check for weeks. And then when I cash it, it will take a number of days to clear, to actually get the funds.
Now, the sponsor could have wired me the funds or used ACH, but there would have been a delay of several hours to a day. They could have paid me in Bitcoin or some other cryptocurrency, but given the volatility of Bitcoin, the amount received could be less than the amount sent after I convert the Bitcoin payment into dollars. And of course, they could have just mailed cash. But then, what if it got lost in the mail?
Suppose instead that this sponsor and I both had a savings account at the Federal Reserve, using a digital token issued by the Federal Reserve. The transfer could have been sent and received instantaneously. The transaction would have been verified and added to the central bank's ledger of transactions in the central bank's digital currency (CBDC). Unlike a wire transfer, which can cost up to $25, the transaction would have cost little, if anything.
Central Banks Work on Their Own Digital Currencies
A recent survey by the Bank for International Settlements (BIS) indicated that 80% of central banks are engaged in some type of work related to issuing a central bank digital currency, or CBDC, for short. 40% of central banks have progressed from conceptual research to experiments or proof of concepts. Another 10% have developed pilot projects, and 10% of central banks say they are likely to issue a general-purpose CBDC in the short term, and 20% in the medium term. Just this month, six major central banks including the U.S. Federal Reserve, the European Central Bank, the Bank of England, and the Bank of Japan issued a joint report titled "Central Bank Digital Currencies: Foundational Principles and Core Features."
Central banks are thinking about this, they're working on it. So in this episode, we're going to take a closer look at central bank digital currencies, their use case, their risks, and why it appears increasingly likely that we will see major central banks, including the Federal Reserve, issue digital currencies in the coming years.
Types of Central Bank Money
Central banks already issued two types of money, and they provide infrastructure to support a third type of money. Central banks issue physical cash, notes, and bills. They are widely accessible. You can do peer-to-peer payments anonymously with cash. A dollar is a Federal Reserve note. It is a non-interest-bearing liability issued by the U.S. central bank. That's one type of central bank currency. Other central banks also issue physical cash.
The second type of money that central banks issue are reserves. These are electronic deposit accounts held at the central bank by qualified financial institutions. Commercial banks have accounts at the central bank. Those accounts are denominated in central bank-created money, reserves.
As a Money For the Rest of Us Plus member, you are able to listen to the podcast in an ad-free format and have access to the written transcript for each week's episode. For listeners with hearing or other impairments that would like access to transcripts please send an email to [email protected] Learn More About Plus Membership »