What are the elements of a successful monetary system.
Topics covered include:
The stone currency of Yap
The fiat currency of ancient China
Why money requires trust, accounting, and tokens
Why too much money can lead to inflation and too little to deflation
Why the best money is useless other than as money
Show Notes
The island of stone money : Uap of the Carolines by William Henry Furness
The Gold Standard, Deflation, and Financial Crisis in the Great Depression: An International Comparison by Ben Bernanke and Harold James
The history (and future) of inflation … by Jim Reid, Craig Nicol, Nick Burns, and Sahil Mahtani—Deutsche Bank
Money: The True Story of a Made-Up Thing by Jacob Goldstein
Money: The Unauthorized Biography by Felix Martin
The Power of Gold: The History of an Obsession by Peter L. Bernstein
Episode Sponsors
Become a Better Investor With Our Investing Checklist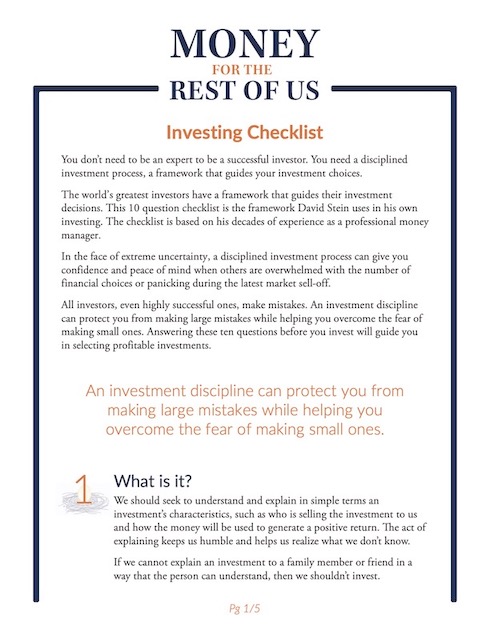 Become a Better Investor With Our Investing Checklist
Master successful investing with our Checklist and get expert weekly insights to help you build your wealth with confidence.
Learn More About Money
199: What Kind of Money Is It?
287: What Causes Hyperinflation and What To Do To Prepare For It
355: Which Money Is Crazier: The U.S. Dollar or Bitcoin?
Transcript
Welcome to Money For the Rest of Us. This is a personal finance show on money, how it works, how to invest it, and how to live without worrying about it. I'm your host, David Stein. Today's episode, 316. It's titled, "Paper, Rocks or Digits. What makes the best money?"
I've been reading a number of books recently on money. Money: The Unauthorized Biography by Felix Martin, and Money: The True Story of a Made-up Thing by Jacob Goldstein. Both of these books have examples of different types of money that have been used in the past. Fascinating examples, that you might not be aware of. And we want to look at them and think about "What is it that makes something money?" Money evolves, and has evolved, and will continue to evolve, and what we use as money today might be very different decades from now.
The Stone Money of Yap
The first example is from the Island of Yap. This is an island in the Western Pacific, part of the Caroline Islands. It is now part of the Federated States of Micronesia. The people of Yap lived on their own and were separated from other cultures for many years. Well, in 1903 an anthropologist who had also been trained as a medical doctor, from New England, William Henry Furness, went to Yap for two months and studied these people. It wasn't a very advanced economy, with basically three products—fish, coconut, and sea cucumbers—but they had something unique that they used for money. Furness describes this money as large, solid, thick stone wheels, ranging in diameter from a foot to twelve feet, having in the center a hole varying in size with the diameter of the stone, wherein a pole may be inserted sufficiently large and strong to bear the weight and facilitate transportation. This was their money it was called fei. Also, it's called rai.
The money was quarried in an island 300 miles away, Babelthuap, and then it was transported on rafts toed behind canoes that had sails on them. It took a lot of effort to get this money.
When Furness first saw it, he realized this was really heavy, and wrote "When it takes four strong men to steal the price of a pig, burglary cannot but prove a somewhat disheartening occupation."
These things were so big and heavy you couldn't steal them. But then he observed as transactions took place that these stones were never moved. He wrote:
"The noteworthy feature of this stone currency is that it is not necessary for its owner to reduce it to possession. After concluding a bargain which evolves the price of a fei too large to be conveniently moved, its new owner is quite content to accept the bare acknowledgment of ownership, without so much as a mark to indicate the exchange. The coin remains undisturbed on the former owner's premises."
In fact, there was one family, Furness pointed out, where the stone was lost from where it was quarried and had been several hundred feet at the bottom of the ocean for several generations. Yet, the family that owned it, everyone recognized that they still own that and that they were wealthy. Furness wrote "The purchasing power of that stone remains therefore as valid as if it were leaning visibly against the side of the owner's house, and represents wealth as potentially as the hoarded, inactive gold of a miser in the middle ages, or as our silver dollar stacked in the Treasury in Washington, which we never see or touch, but trade with on the strength of a print certificate that they are there. It's the belief that it had value.
Felix Martin wrote Yap's money was not the fei, but the underlying system of credit accounts and clearing of which they helped to keep track. The fei were just tokens by which these accounts were kept. They had an accounting system that tracked the trading of fish and sea cucumbers, and they would have outstanding balances, and sometimes they would settle up and maybe they would move the fei, but oftentimes they wouldn't. But there was the record that was there.
Peter Bernstein in his book The Power of Gold: The History of an Obsession wrote "The fei of Yap were stores of wealth. Stores of wealth sit. Money moves. It travels from one pocket to another. A store of wealth is mass." It was the transactions, the accounting record and the trust between the participants that formed their monetary system. The stones were a store of wealth but were just some tokens.
As a Money For the Rest of Us Plus member, you are able to listen to the podcast in an ad-free format and have access to the written transcript for each week's episode. For listeners with hearing or other impairments that would like access to transcripts please send an email to [email protected] Learn More About Plus Membership »