Why bitcoin is a compelling speculative diversifier and how it has been a better store of value than both the U.S. dollar and gold.
In this episode you'll learn:
How U.S. Notes or greenbacks became the first fiat currency.
How large is the U.S. money supply and how much has it increased relative to gold and bitcoin.
What is bitcoin and what is the controversy regarding transaction limits.
Show Notes
United States Notes (greenbacks) – Wikipedia
Mastering Bitcoin by Andreas Antonopoulos
The Internet of Money – Andreas Antonopoulos
Bitcoin Cash: Price of new currency rises after bitcoin's hard fork – U.K. Telegraph
The Innovator's Dilemma by Clayton Christensen
Sponsors
SmartMove use the code INVESTOR
Become a Better Investor With Our Investing Checklist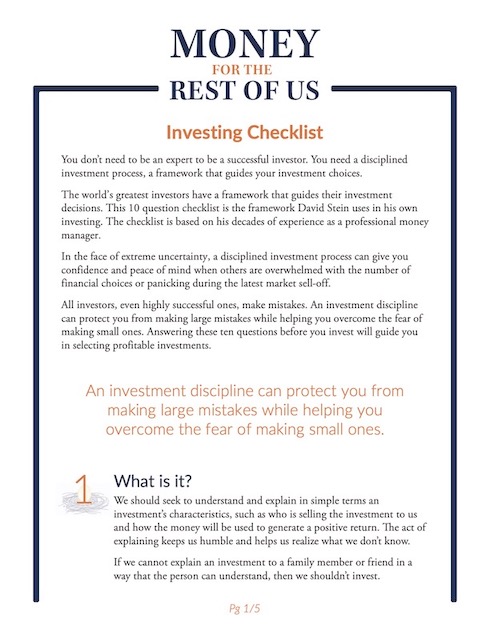 Become a Better Investor With Our Investing Checklist
Master successful investing with our Checklist and get expert weekly insights to help you build your wealth with confidence.
Related Episodes
182: Was Tulipmania Just Like Bitcoin?
259: Will The Libra Cryptocurrency Revolutionize Money?
319: Here Come Central Bank Digital Currencies
Transcript
Today, we're discussing Bitcoin. I've not covered this topic on the podcast in over two years. It was episode 53, "Should You Invest In Bitcoin?". The better question is: should you speculate in Bitcoin? Holding Bitcoin, or other cryptocurrencies, is a speculation, because there is disagreement on whether the currency will appreciate or depreciate in value.
Another Radical Currency
We're going to discuss Bitcoin, but first let me share another radical currency that came out many years ago right around the time the U.S. Civil War. Prior to the 1860s the U.S. government only issued gold and silver coins and they were considered legal tender.
Legal tender means they are recognized by the legal system as valid for meeting financial obligations. Paper money was issued, but it was issued by private banks and you could take that paper money and redeem it for gold. Assuming the bank had the gold. If the bank failed, your money was gone.
However, during the U.S. Civil War, the U.S. needed funds to support the war efforts and they didn't have enough gold. They went to the President, Abraham Lincoln, who then went to the New York banks. They wanted 24% to 36% interest to lend money for the war effort.
A businessman from Illinois named Colonel "Dick" Taylor went to Lincoln in January 1862 and suggested issuing this radical new currency, a currency that was not backed by gold. Taylor said, and this is from the Wikipedia article, "Just get Congress to pass a bill authorizing the printing of full legal tender treasury notes . . . and pay your soldiers with them and go ahead and win your war with them also. If you make them full legal tender . . . they will have the full sanction of the government and be just as good as any money; as Congress is given the Express right by the Constitution".
Greenbacks
On February 25th, 1862, Congress passed the first Legal Tender Act. It authorized the issuance of a hundred and fifty million dollars of United States notes. They became known as "greenbacks", because they were printed with green ink on the back side. But they were also very volatile. They weren't backed by anything. This was the first fiat currency.
By the spring of 1863, the greenback had declined to where it was worth $152 per $100 of U.S. coins that were backed by gold. So, they definitely had depreciated. As different battles took place and after the victory at Gettysburg, the greenback recovered to $131 to $100 in gold. I think the worst was in July of 1864; It was worth 258 greenbacks per $100 of gold. And then, after the war ended, it was $150 per $100 of gold. So, it was very volatile, as volatile as Bitcoin, because it was a new currency not backed by anything.
By the mid 1870s there was about $350 million worth of these greenbacks, or U.S. notes, in circulation, and in January 1875 Congress passed the Specie Payment Resumption Act, which authorized the reduction of circulation of greenbacks to $300 million worth and required the government to redeem the greenbacks for gold and this was going to be implemented by 1879. Essentially, the greenback strengthened, because it was going to be at parity with gold and eventually was.
So, you had U.S. coins backed by gold and then you had U.S. notes backed by gold and then, even after the Federal Reserve started issuing dollars, they were backed by gold up until 1933, when the government banned private ownership in gold, meaning you could no longer redeem Federal Reserve or U.S. notes for gold, but you could still redeem them for silver. That is, until 1968 when all currency became fiat currency, not backed by anything, Federal Reserve Notes and United States notes.
These greenbacks were issued up until 1971 and then they were no longer distributed into public circulation. The U.S. went off the gold standard and it was at that point that money, U.S. dollars, became digital. It could be created at will by banks by simply lending, and I discussed that in episode 94, "How Money is Created and Destroyed", and in episode 157.