How different asset classes and investment strategies have performed during periods of unexpectedly high inflation. While trend and momentum strategies have performed the best, what are some of the challenges with implementing those strategies.
Topics covered include:
What has led to today's high inflation environment and why it is unique
How current demographic and technology trends are disinflationary
How many inflationary regimes have there been in the past
How stocks, residential housing, commodities, collectibles performed during high inflation environments.
How trend following and momentum have been the best performing strategy during high inflation environments.
Which trend following and momentum approaches have worked best for individual investors.
How managed futures strategies work
Show Notes
US Budget Deficit Hits $2.77 Trillion in 2021, 2nd Highest by Associated Press—U.S. News & World Report
India says nationwide birthrates drop below key 'replacement rate' by Gerry Shih—The Washington Post
The Best Strategies for Inflationary Times by Henry Neville Et al.
Trend Following: Equity and Bond Crisis Alpha by Carl Hamill, Sandy Rattray, and Otto Van Hemert
AQR hedge fund suffers $10bn in outflows by Laurence Fletcher—Financial Times
Is There a Replication Crisis in Finance? Theis Ingerslev Jensen, Bryan T. Kelly, and Lasse Heje Pedersen
Episode Sponsors
Become a Better Investor With Our Investing Checklist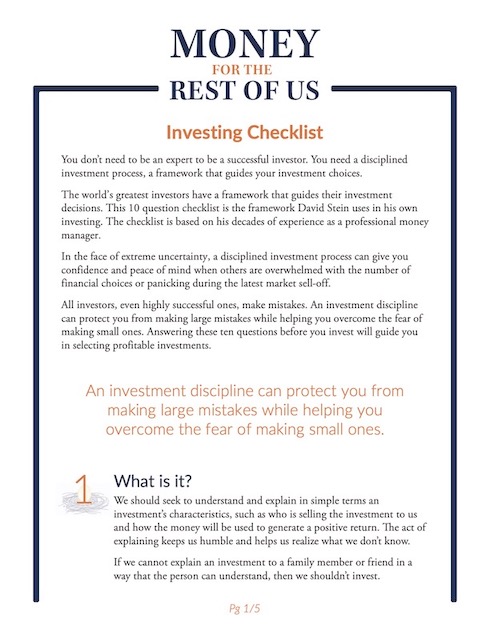 Become a Better Investor With Our Investing Checklist
Master successful investing with our Checklist and get expert weekly insights to help you build your wealth with confidence.
Related Episodes
266: Using Momentum Investing and Trend Following
342: Is Another Great Inflation Coming?
Transcript
Welcome to Money For the Rest of Us. This is a personal finance show on money, how it works, how to invest it and how to live without worrying about it. I'm your host, David Stein. Today's episode, 367. It's titled "What investment strategies do best during high inflation periods?"
Shortages
Last week I attended a family gathering for the U.S. holiday of Thanksgiving. I spoke to family members to see how they were doing. I was particularly interested in those that worked in industry, to see what their recent experience has been due to the supply chain challenges that we've seen.
One family member manages a chemical plant. He mentioned how difficult it has been just to get containers to ship out the chemicals that they produce. And there's really some randomness to when things show up. They've had a significant jump in orders as their customers are worried about getting enough supply, so they order more, demand has boomed, and that has led to some definite challenges.
I spoke to another family member who brokers trucks. Customers call to find transportation for different shipments around the U.S. He says it's been crazy. Just the challenge is both to get trucks and the demand.
We are in a high inflation period. Inflation bottomed out in May 2020, if we're measuring the year-over-year increase in the consumer price index. In May 2020 it was 1.7%. The most recent release in the U.S, the Consumer Price Index, this measure of inflation rose 6.2% year-over-year. Germany year-over-year consumer inflation is over 5%. It's over 4% in the U.K.
What Causes Inflation
Two months before we hit the bottom of inflation, back in March 2020, I released episode 292, "Will Infinite Money Save the Economy?" I said that inflation comes when there's a huge increase in the money supply. Usually, that increase comes through bank lending, but it can also come from the Federal Reserve creating money, and it flowing out into the economy, particularly if it goes directly to consumers.
As a Money For the Rest of Us Plus member, you are able to listen to the podcast in an ad-free format and have access to the written transcript for each week's episode. For listeners with hearing or other impairments that would like access to transcripts please send an email to [email protected] Learn More About Plus Membership »