How lifecycle investing and risk parity portfolios can assist you in having sufficient assets to retire. What are the two types of time diversification and why is one flawed?
Topics covered include:
What is settled work and what are some examples
How does lifecycle investing work and should you consider it
Why investing in stocks and other volatile asset classes is riskier over longer holding periods
What are risk-parity portfolios and how to evaluate them
Show Notes
The moral calculations of a billionaire by Eli Saslow—The Washington Post
Life-Cycle Investing and Leverage: Buying Stock on Margin Can Reduce Retirement Risk by Ian Ayres and Barry J. Nalebuff
Lifecycle Investing – Leveraging when young, Forum Discussion by Steve Reading on bogleheads.org
What Practitioners Need to Know… About Time Diversification (corrected March 2015) by Mark Kritzman—Financial Analysts Journal Volume 71, Number 1
Wishful Thinking About the Risk of Stocks in the Long Run: Consequences for Defined Contribution and Defined Benefit Retirement Plans by Zvi Bodie
Pension Obligation Bonds: Know Their Appeal and Pitfalls by Todd Tauzer—Segal
Shrinkage Estimation in Risk Parity Portfolios by Nabil Alkafri and Christoph Frey
How to Invest in Closed-End Funds—Money For the Rest of Us
Episode Sponsors
Become a Better Investor With Our Investing Checklist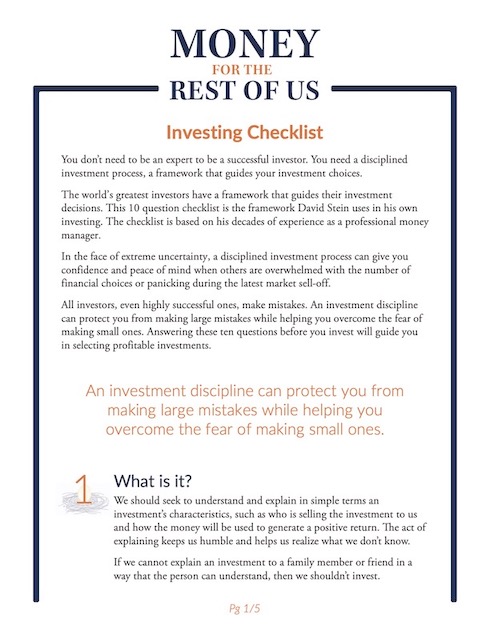 Become a Better Investor With Our Investing Checklist
Master successful investing with our Checklist and get expert weekly insights to help you build your wealth with confidence.
Related Episodes
How to Invest in Closed-End Funds
Why You Should Rebalance Your Portfolio
306: Three Approaches to Asset Allocation
376: What Investment Style Fits Your Personality?
Transcript
Welcome to Money For the Rest of Us. This is a personal finance show on money, how it works, how to invest it, and how to live without worrying about it. I'm your host, David Stein. Today is episode 374. It's titled "Time diversification, risk parity portfolios and settled work."
Settled Work
Yesterday my friend Jay passed away of Covid. He was 96. I spoke to him about an hour before he passed. I felt impressed to call him; I hadn't realized he was sick. His daughter said he was strong and healthy just a couple of weeks ago. Such is Covid. I've only known Jay for about five years. We met because he lived next door to a house in Idaho Falls that LaPriel and I bought and moved into in 2017. He had lived in that house for almost 50 years.
We became fast friends, often visiting together in the evenings or during the day. He would tell stories of his time serving in the Navy in Japan toward the end of World War II. He shared what it was like raising his family in the house where he still lived. His successful real estate career. How much he missed his wife, who passed away about 15 years earlier. We visited about what it was like to be in your 90s. He envied the fact that I had business projects to work on most days. That worried me. Jay had good friends, family, a roof over his head, he was still mobile, he could drive, walk. He was generally upbeat, looking forward to upcoming events like the annual 4th of July picnic. But I also sensed that he was bored.
Boredom is one of my biggest fears. I once got fired from a temp job at a bank because the boredom was so insidious, and I basically got myself fired. Jay didn't have what is known as settled work. This is a term I've first introduced on the show in episode 276, back in November 2019. The term comes from a book titled A Pattern Language by Christopher Alexander, Sara Ishikawa, and Murray Silverstein. It's a book about architecture, design, and philosophy that came out in the '70s. They defined settled work as work which unites all the threads of a person's life into one activity. The activity becomes a complete and wholehearted extension of the person behind it. They point out that settled work doesn't come overnight. It's a gradual development as we develop more skills and realize what our interests are. It's work we do for its own sake because it's intrinsically rewarding. It may earn some money, but that's not the point, to make money.
Now, I've known different people over the years that have been very involved in settled work. Some write, other paint, others sew. Some do run businesses. An elderly woman in the neighborhood where I grew up ran the local hardware store. She must have been in her 80s and she still had a hand-cranked cash register. In episode 276 I've mentioned Joe Weaver, who runs a store in Central Phoenix called Stuff Antiques. He sells vintage lamps, chandeliers, vintage slot machines. He'd been in that building 24 years, and in his previous building over 30 years. He's now 82. We saw him a few weeks ago. We bought some vintage pieces for our Tucson remodel. A chandelier for our dining room, a master bath mirror, and an outdoor light to hang above the front door.
As a Money For the Rest of Us Plus member, you are able to listen to the podcast in an ad-free format and have access to the written transcript for each week's episode. For listeners with hearing or other impairments that would like access to transcripts please send an email to [email protected] Learn More About Plus Membership »