Why it is so difficult to distinguish a legitimate multi-level marketing company from a pyramid scheme as hedge fund billionaire Bill Ackman found out in his losing campaign against Herbalife. How Forsage has taken pyramid and Ponzi schemes to a whole new level, and why the regulators can't shut it down.
Topics covered include:
What are multi-level marketing companies and how most MLM distributors are unsuccessful
What is the difference between a pyramid scheme and a Ponzi scheme and what are some examples
How hedge fund Pershing Square Capital Management took on Herbalife and despite FTC and SEC actions, Herbalife continues to thrive.
Why Forsage, a pyramid and Ponzi scheme on the blockchain, continues, despite SEC regulatory actions
Why Bitcoin isn't a Ponzi scheme
Show Notes
Herbalife Settlement With F.T.C. Ends Billionaires' Battle by Matthew Goldstein and Alexandra Stevenson—The New York Times
Multi-Level Marketing Businesses and Pyramid Schemes—Federal Trade Commission
Herbalife International Settlement Complaint
Herbalife Settles With S.E.C., but Too Late for Hedge Fund Investor by Matthew Goldstein—The New York Times
Consistency is Key! Make Money Podcasting by Elsie Escobar—Libsyn
November Stats From Rob Walch—Podcast Business Journal
Federal Trade Commission Returns More Than $149 Million To Consumers Harmed by AdvoCare Pyramid Scheme—Federal Trade Commission
Federal Trade Commission Returns More Than $23 Million To Consumers Deceived by Online Business Coaching Scheme MOBE—Federal Trade Commission
FTC Shuts Down Credit Repair Pyramid Scheme Financial Education Services, Which Bilked More Than $213 Million from Consumers—Federal Trade Commission
Investor Alert: Ponzi Schemes Using Virtual Currencies—U.S. Securities and Exchange Commission
What is Forsage?—Forsage Support
Episode Sponsors
Become a Better Investor With Our Investing Checklist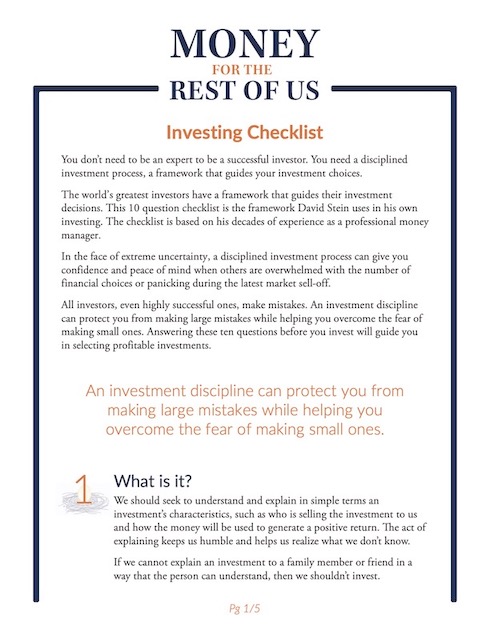 Become a Better Investor With Our Investing Checklist
Master successful investing with our Checklist and get expert weekly insights to help you build your wealth with confidence.
Related Episodes
248: How to Avoid Investment Fraud
253: Are IPOs the New Ponzi Scheme?
Transcript
Welcome to Money For the Rest of Us. This is a personal finance show on money, how it works, how to invest it, and how to live without worrying about it. I'm your host, David Stein. Today's episode—396. It's titled "How multilevel marketing, pyramid schemes, and Ponzi schemes differ. The case of Forsage."
Amway
When I was about ten years old, my uncle came to our house to visit my recently divorced mother and introduced us to a new business opportunity that he had. It was selling cleaning products. Soap. The company was Amway. Amway was founded in 1959. It is the world's largest direct selling company.
Amway distributes and manufactures nutrition products, beauty, personal care, and home products. My mom didn't join. She became a Tupperware distributor instead for several years. I recall us having thousands of dollars of inventory in our basement. She did okay with Tupperware but eventually transitioned to real estate and other opportunities.
When I was at university, a friend approached me about a business opportunity. He wouldn't say what it was. I had to go to a recruiting meeting. This was in the late '80s. And again, it was Amway. They talked about the potential to earn cars, trips, and money.
I don't recall much focus on the product. I wasn't interested. Then in 2007, another family friend came to visit, again to pitch me on a business. It was called Quixtar, which was the name of Amway. They had changed it, and now they've changed it back.
I bought a discount card, I wanted to help out some. I had more means to do so. I just didn't want to be an Amway distributor. I, like you, have seen friends, acquaintances, family members get involved in direct selling businesses, which are sometimes called multilevel marketing. Think Amway Tupperware. Mary Kay cosmetics. Different essential oils companies. Numerous drink companies made from exotic berries.
Melaleuca
Here in Idaho, we have lived in Idaho Falls. One of the largest companies or at least one of the wealthiest companies in Idaho Falls is Melaleuca, a company founded by Frank VanderSloot in 1985.
This company is also a direct sales company, a multilevel marketing company, with cleaning products, personal care products, supplements. They built their world headquarters in Idaho Falls. It's a Disney-like castle. It's huge.
The company, VanderSloot, and his senior partners have invested hundreds of millions of dollars in Idaho Falls in commercial and residential real estate projects. They fund the annual Independence Day fireworks show. Our children have attended a Montessori school that was partially funded with Melaleuca money.
As a Money For the Rest of Us Plus member, you are able to listen to the podcast in an ad-free format and have access to the written transcript for each week's episode. For listeners with hearing or other impairments that would like access to transcripts please send an email to [email protected] Learn More About Plus Membership »