We analyze two listeners' portfolios. One who is close to retirement and considering hiring an outside money manager. The second is 45 and just sold a business and is trying to decide whether to fire Schwab's robo-advisor service and manage his portfolio on his own.
Topics covered include:
What elements are part of a financial plan
What to consider when researching an investment advisor
What is a core-satellite investment approach
Why Schwab was fined $180 million for misleading its clients about the cash balance in its Intelligent Portfolios service
How to decide if an investment advisor is a good fit
Why no portfolio can be on autopilot, but they can be as simple as two ETFs
Show Notes
Schwab Subsidiaries Misled Robo-Adviser Clients about Absence of Hidden Fees—SEC
Cease-And-Desist Order Against Charles Schwab & Co, June 13, 2022—SEC
Episode Sponsors
Express VPN – get three months free on VPN service
Masterworks – invest in contemporary art
Become a Better Investor With Our Investing Checklist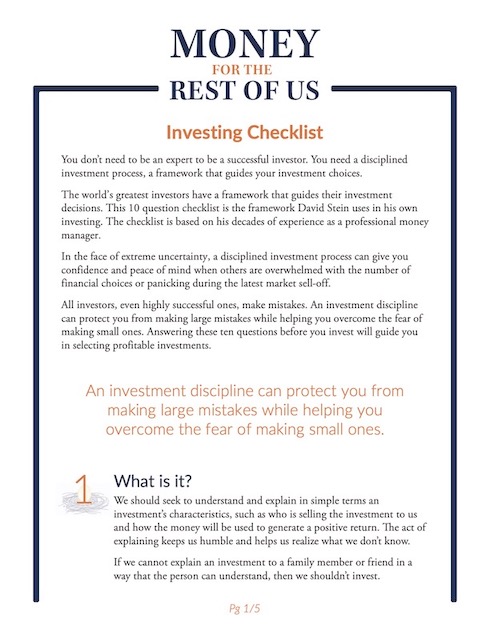 Become a Better Investor With Our Investing Checklist
Master successful investing with our Checklist and get expert weekly insights to help you build your wealth with confidence.
Related Episodes
92: What Robo-Advisors Recommend
248: How to Avoid Investment Fraud
303: How To Do Financial Planning
Transcript
Welcome to Money For the Rest of Us. This is a personal finance show on money, how it works, how to invest it, and how to live without worrying about it. I'm your host, David Stein. Today's episode, 398. It's titled, "When should you hire an investment advisor? Two case studies."
I've had several questions recently from members of Money For the Rest of Us Plus surrounding financial plans and hiring financial advisors.
Typically, I answer these questions in the weekly premium podcast episode for Plus members, but I thought it would be interesting to address their questions in a regular podcast episode, to hopefully benefit you. In this episode, we'll look at two families' investment allocation as they grapple with whether they should hire or continue to use an investment advisor.
What's Included in a Financial Plan
First, though, I want to address a question from a member to help set the stage. The member asked "What does it mean to have a financial plan? If I have an investment, asset allocation plan, a net worth statement, and a basic understanding of how much I need to retire, and how much I can withdraw each year during retirement, what else does one need in a financial plan?"
Well, I googled it, just to make sure I didn't miss anything, because I don't have a formal financial plan, but I have the elements that make up a financial plan. The first is a net worth statement, as his member mentioned.
This is a snapshot. It's something that I do every month because I share my allocation percentages with members of Money For the Rest of Us Plus, so they can see how I'm allocated, as well as the trades I make. This member also has a retirement plan.
Additional elements of a financial plan could include your financial goals, it can include some budgeting. LaPriel and I, we do an annual budget, we use Mint to track our spending, and then I update a spreadsheet once a month just to see what our spending has been, and then track that on an annual basis.
A financial plan can include some type of debt management plan; how soon will debt be paid off, or a plan to get out of debt. Financial plans typically include some type of emergency fund, and how those are allocated. A big element of financial plans is insurance coverage—health insurance, disability insurance, auto, and homeowners or renters' insurance, life insurance.
And finally, a financial plan can include some type of estate plan—wills, a trust. This is something that LaPriel and I need to update, as our will is a number of years old, we put it together when our children were much younger, and now they are older, and our circumstances have changed; it's time to update that.
A financial plan doesn't necessarily have to be one document all in a binder, it can be as simple as a note card, or just different elements. Sometimes when we have a life change, it can be helpful to visit with a financial planner, or an advisor, or a coach, just to help us to kind of work through different elements. I've hired coaches in the past as I've made transitions, and I think that can be helpful.
As a Money For the Rest of Us Plus member, you are able to listen to the podcast in an ad-free format and have access to the written transcript for each week's episode. For listeners with hearing or other impairments that would like access to transcripts please send an email to [email protected] Learn More About Plus Membership »