We explore examples of positive and negative unintended consequences, what causes them, and how to navigate a world where unanticipated things happen all of the time.
Topics covered include:
What leads to unintended consequences
What are some unintended consequences of QE and stimulus, price controls, tax incentives, gun legislation, and marijuana legalization
How positive unintended consequences and order can arise from the bottom up
How recent climate legislation could lead to unintended consequences
Why customers don't always know what they want
Show Notes
Large rent increases squeeze metro Phoenix tenants by Associated Press—The Journal Record
Unintended Consequences by Karras Lambert and Christopher J. Coyne
The Seen, the Unseen, and the Unrealized: How Regulations Affect Our Everyday Lives by Per L. Bylund
Norway reconsiders electric car privileges by Chris Randall—electrive.com
More Guns, More Unintended Consequences: The Effects of Right-to-Carry on Criminal Behavior and Policing in Us Cities by John J. Donohue, Samuel Cai, Matthew Bondy, and Philip J. Cook
Marijuana Legalization and Fertility by Sarah Papich
Japan's latest alcohol advice: please drink more by Leo Lewis and Kana Inagaki—Financial Times
The Poverty of Historicism by Karl Popper
How the New Climate Bill Would Reduce Emissions by Nadja Popovich and Brad Plumer—The New York Times
Democrats Designed the Climate Law to Be a Game Changer. Here's How. by Lisa Friedman—The New York Times
Economists' Statement on Carbon Dividends; The Largest Public Statement of Economists in History—Climate Leadership Council
Why We Don't Have a Carbon Tax by Paul Krugman—The New York Times
Lean Startup and the Business Model: Experimentation Revisited by Teppo Felin, Alfonso Gambardella, Scott Stern, and Todd Zenger
Episode Sponsors
LinkedIn – Post your job for free
Become a Better Investor With Our Investing Checklist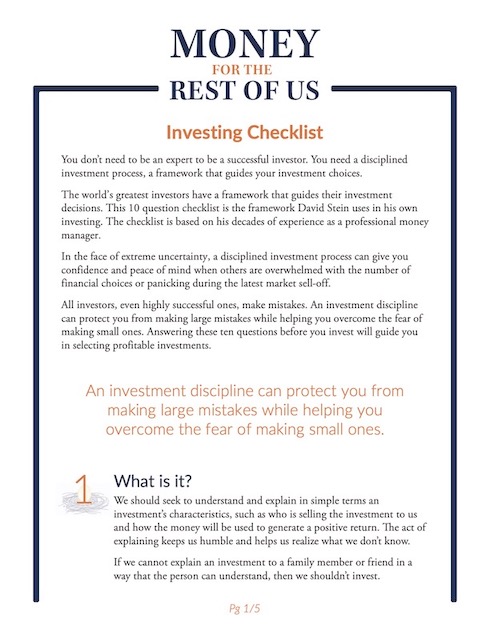 Become a Better Investor With Our Investing Checklist
Master successful investing with our Checklist and get expert weekly insights to help you build your wealth with confidence.
Related Episodes
158: How To Invest Like A Cockroach
236: How Investors Cope With Radical Uncertainty
425: How Profits Motivate Change
Transcript
Welcome to Money For the Rest of Us. This is a personal finance show on money, how it works, how to invest it, and how to live without worrying about it. I'm your host, David Stein. Today's episode, 399. It's titled, "Unintended consequences are inevitable, and what to do about them."
Are Government Actions Contributing to Homelessness?
A couple of weeks ago LaPriel and I stopped in Phoenix on our way from Idaho back to Tucson. While I was walking that next morning, I saw a woman in the distance. She was walking very erect, pushing a wheelchair.
Later, when I went into a convenience store and came out, she walked in; she was wearing a mask. She was homeless, but she looked like she hadn't been homeless for very long. Her clothes were still very clean, and she was very well dressed.
But she clearly had been pushing a wheelchair, with her things in it, as you often see the homeless do. In Phoenix, rents have increased 30% in the past year. The vacancy rate for apartments is 3%. The average is 6%.
I didn't speak to the woman. I wanted to, but I just didn't. And she was coming in as I was going out. I was curious about her story because with rents increasing by that amount, logic dictates that the number of homeless is increasing because they can't afford those higher rents. In metro Phoenix, overall rents have increased 80% between 2016 and 2021.
In episode 388 we looked at the massive increase in the money supply in the U.S, from a combination of the Federal Reserve's quantitative easing program, and government stimulus. The government, U.S. government running huge federal budget deficits during the pandemic, with many of those funds going to help those that are down and out.
An unintended consequence of all of that stimulus and money creation appears to be a rise in homelessness because rents have increased so much. Why have rents increased? Low-interest rates combined with stimulus lead to more people being willing to purchase houses, and to pay more for those houses.
And as housing prices have gone up, the rent on those houses has gone up, and the value of apartments has increased, as has the rent on apartments. Higher home prices, higher rents, more homelessness.
Now, there isn't an official number of homeless in the U.S, to confirm that the actual number has increased. The U.S. government does a point-in-time count every January, counting the sheltered and unsheltered homeless.
The most recent count was in January 2022, but those numbers haven't been released yet. The count in 2021 only counted sheltered homeless, as opposed to those that were out on the streets, and that was due to safety concerns with COVID.
As a Money For the Rest of Us Plus member, you are able to listen to the podcast in an ad-free format and have access to the written transcript for each week's episode. For listeners with hearing or other impairments that would like access to transcripts please send an email to [email protected] Learn More About Plus Membership »