How risk perceptions and actions have changed over several years of the pandemic. How the pandemic's impacts continue to affect politics, the economy, financial markets, how we invest, and our personal lives.
Topics covered include:
Is the pandemic really over? Based on what criteria
What percentage of people continue to isolate at home
How behaviors such as eating out and visiting friends have changed throughout the pandemic.
How work has changed with the pandemic
Has pandemic stimulus changed beliefs about the sustainability of the national debt leading to structural inflation
How productivity improvements could improve the national debt burden
What investment lessons has David learned from the pandemic
Show Notes
Biden's claim that 'pandemic is over' complicates efforts to secure funding by Dan Diamond—The Washington Post
COVID-19 Dashboard—The Center for Systems Science and Engineering at Johns Hopkins University
Axios/Ipsos COVID-19 Poll – Wave 70, September 9–12, 2022
Study: 163 Million People Dine Out at Least Once a Week—QSR Magazine
U.S. Return-to-Office Rates Hit Pandemic High as More Employers Get Tougher By Peter Grant—The Wall Street Journal
Reassessing Constraints on the Economy and Policy; Panel Topic: An End to Pre-Pandemic Trends or Just a Temporary Interruption? by Valerie A. Ramey
Inflation as a Fiscal Limit by Francesco Bianchi and Leonardo Melosi
Investments Mentioned
Simplify Interest Rate Hedge ETF (PFIX)
Episode Sponsors
LinkedIn – Post your job for free
Express VPN – get three months free on VPN service
Become a Better Investor With Our Investing Checklist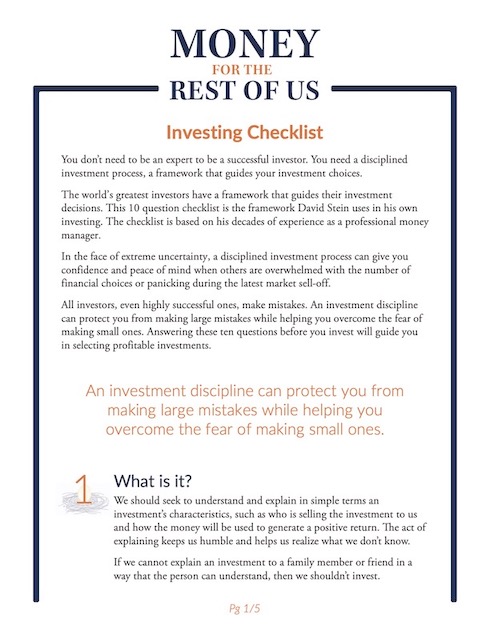 Become a Better Investor With Our Investing Checklist
Master successful investing with our Checklist and get expert weekly insights to help you build your wealth with confidence.
Related Episodes
333: How The Covid Shock Nearly Destroyed The Financial System
400: What If High Inflation Doesn't End?
Transcript
Coming Soon
As a Money For the Rest of Us Plus member, you are able to listen to the podcast in an ad-free format and have access to the written transcript for each week's episode. For listeners with hearing or other impairments that would like access to transcripts please send an email to [email protected] Learn More About Plus Membership »