How to survive in a world where luck and randomness play a pivotal role.
Topics covered include:
What are power laws
What are the narrative fallacy and hindsight bias
What are examples of domains where randomness has contributed to success
What are ways to distinguish investing skill from luck
How sixth-century philosopher Boethius had an accurate view of chance
What are ways we can benefit from good luck while protecting ourselves from bad luck
Show Notes
Redacted messages to and from Elon Musk—Delaware's Court of Chancery
Elon Musk's Texts Shatter the Myth of the Tech Genius by Charlie Warzel—The Atlantic
Talent Versus Luck: The Role of Randomness In Success and Failure by Alessandro Pluchino, Alessio Emanuele Biondo, and Andrea Rapisarda
Welcome to Susan Alexandra's Dream World by Sophia Herring—Clever, Architectural Digest
The Fashion Set Can't Get Enough of Susan Alexandra's Colorful, Kitschy Designs by Noah Lehava—Coveteur
Quantifying the evolution of individual scientific impact by Roberta Sinatra et al.
What's in a Surname? The Effects of Surname Initials on Academic Success by Liran Einav and Leeat Yariv
Middle names make you look smarter—University of Southhampton
Admission to Selective Schools, Alphabetically by Štěpán Jurajda and Daniel Münich
It Pays to Be Herr Kaiser: Germans With Noble-Sounding Surnames More Often Work as Managers Than as Employees by Raphael Silberzahn and Eric Luis Uhlmann
The relative-age effect and career success: Evidence from corporate CEOs by Qianqian Du, Huasheng Gao, Maurice D. Levi
The Black Swan: The Impact of the Highly Improbable by Nassim Nicholas Taleb
Were Those Great Returns the Result of Skill — or Just Luck? by Julie Segal—Institutional Investor
Episode Sponsors
Become a Better Investor With Our Investing Checklist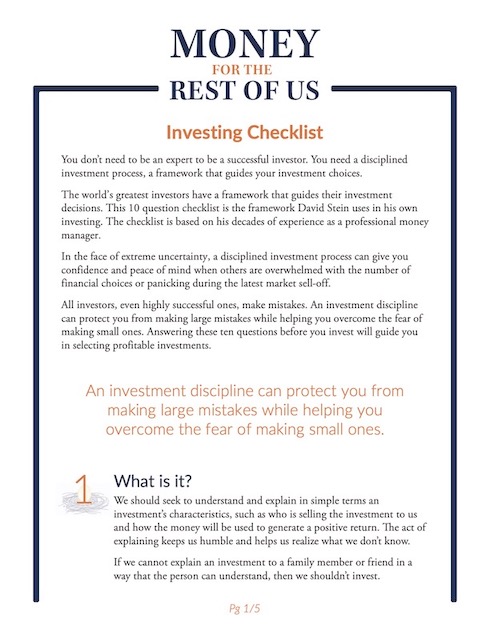 Become a Better Investor With Our Investing Checklist
Master successful investing with our Checklist and get expert weekly insights to help you build your wealth with confidence.
Related Episodes
323: The Economy Is Not A Machine
Transcript
Welcome to Money for the Rest of Us. This is a personal finance show on money, how it works, how to invest it, and how to live without worrying about it. I'm your host, David Stein. Today's episode, 408. It's titled "Is Success Due to Hard Work, Talent, or Luck?"
Elon Musk
I recently had my iPhone fixed. I replaced the back of the phone, and they actually gave me a new phone for the back, and then we used the old screen. I backed up the phone to iCloud but didn't realize that the two-factor authentication app I used wouldn't back up automatically to iCloud without giving it specific permission.
That meant I was locked out of a number of websites, including our payroll company. It was a real pain because you had to upload a photo of yourself, as well as a photo ID. There are still some accounts that I haven't restored, yet just because of the headache of getting access again.
Last week, Elon Musk closed on his purchase of Twitter after a legal battle to try to exit the purchase. As part of the discovery process, the Delaware's Court of Chancery released hundreds of text messages and emails sent to and from Musk. Charlie Warzel in The Atlantic wrote, "The 151-page redacted document is a rare, unvarnished glimpse into the overlapping worlds of Silicon Valley, media, and politics".
I didn't spend much time on the document, but I did look at it, and was amused that this stream of messages that began last January has Musk working with one of his associates to get two-factor authentication turned off on Twitter, so he can access it. Apparently, he couldn't access it, he was having difficulty with the new phone, didn't have the passcode to turn off two-factor authentication. Basically, he had the same issue I did.
Now, I'm clearly not as talented as Elon Musk. But I admit, I've found it ironic that here's the world's wealthiest man, with a net worth of over $200 billion, and yet, the details of his day-to-day life, trying to get two-factor authentication turned off; he even offered to do a FaceTime with Twitter, so they could see that it was really him, so they could give him access.
Power Laws
I recently read an academic paper where that quoted a report that the eight wealthiest men in the world own the same wealth as the 3.6 billion people who make up the poorest half of the global population. Wealth follows a power law distribution, also known as a Pareto distribution, based on the economist that developed it.
It's known as the 80/20 rule, where for example 20% of a business's clients generate 80% of the profits. With a Pareto distribution, the average isn't very meaningful, because a small percentage has the bulk of whatever we're measuring. In the case of wealth, the average wealth across the world is brought up significantly higher because of the wealth of Musk and other billionaires. The median, the middle then ends up being much less than the average.
In a recent academic paper that I'll refer to several times in this show—it was written by Alessandro Pluchino, Alessio Emanuel Biondo, and Andrea Rapisarda, three Italian academics, is titled "Talent versus luck: The role of randomness in success and failure." They write "If one considers the individual wealth as a proxy of success, one could argue that it's deeply asymmetric and unequal distribution among people.
In other words, the top eight billionaires have more wealth than half the world's population. That's either consequence of their natural differences in talent, skill, competence, intelligence, ability, or a measure of their willfulness, hard work, or determination." Is that what it is? Are some people so much more successful because they're just incredibly more talented, or intelligent, or hardworking?
In the paper, they point out that human qualities though are normally distributed. The average IQ is 100. Nobody has an IQ of 1,000 or 10,000. We all have the same 24 hours per day. Nobody works a billion times more hours than anybody else. And yet, some individuals are much more successful; incredibly more successful.
As a Money For the Rest of Us Plus member, you are able to listen to the podcast in an ad-free format and have access to the written transcript for each week's episode. For listeners with hearing or other impairments that would like access to transcripts please send an email to [email protected] Learn More About Plus Membership »