Camden and David converse with Asha Mehta, Managing Partner & CIO at Global Delta Capital about the bullish case for emerging and frontier markets stocks as well as the risks.
Topics covered include:
How to go about investing in emerging markets
Should you invest in China
Where are the most promising emerging and frontier markets
Why aggregate emerging markets earnings have been lackluster
How to balance quantitative analysis with subjective reasoning
Show Notes
Power of Capital by Asha Mehta
Episode Sponsors
MasterClass – Get two annual memberships for the price of one at https://masterclass.com/mftrou
Masterworks – invest in contemporary art
Become a Better Investor With Our Investing Checklist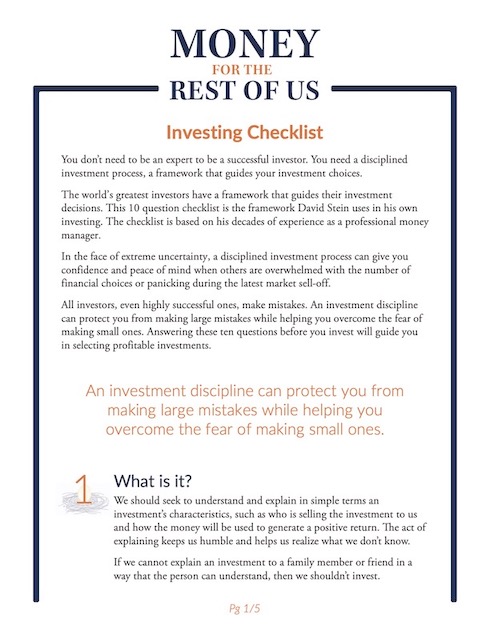 Become a Better Investor With Our Investing Checklist
Master successful investing with our Checklist and get expert weekly insights to help you build your wealth with confidence.
Related Content
The Opportunity and Risk of Frontier Markets
249: Should You Invest in India?
445: From Boom to Bust—Why China's Stocks Lagged Behind Its Economy & Where to Invest Next
Transcript
David Stein: Welcome to Money for the Rest of Us. This is a personal finance show on money, how it works, how to invest it, and how to live without worrying about it. I'm your host, David Stein, and today is episode 411, and Camden and I are having a discussion with a super-smart investor, Asha Mehta, on emerging markets and frontier markets. She's a quantitative investor.
We'll start with having Camden introduce Asha and what we're covering today, and then we'll get into the interview. Just to note, I'm recording this introduction separate from Camden's recording of Asha's bio, because he's traveling in Japan currently.
We actually held the interview while he was in Japan, I was in the US, and Asha—I'm not sure where she was. So we'll go ahead and get started with the introduction, and then we'll jump right into the interview. I think you'll enjoy it because I definitely learned a lot about what's going on with the emerging and frontier markets, and quantitative investing.
Camden Stein: Asha Mehta, CFA, is the founder and chief investment officer of Global Delta Capital. Her thematic focus includes emerging and frontier markets and sustainable investing. She was previously an investment banker at Goldman Sachs, and lead portfolio manager and director of responsible investing at Acadian Asset Management.
Early in her career, she conducted microfinance lending in India. She has traveled to over 80 countries and lived in six. Asha was named one of the top ten women in asset management by Money Management Executive and profiled as a brilliant quant by Forbes Magazine. Asha is an active advocate of financial literacy and financial empowerment. She is a supporter of several related organizations, including Compass Working Capital, and 100 Women in Finance.
Our discussion focuses on subjective versus objective decision-making when investing, the importance of data, and what we need to understand about emerging and frontier market performance. Let's jump in.
As a Money For the Rest of Us Plus member, you are able to listen to the podcast in an ad-free format and have access to the written transcript for each week's episode. For listeners with hearing or other impairments that would like access to transcripts please send an email to [email protected] Learn More About Plus Membership »