What has been the impact on trade and the trade deficit since the U.S. implemented tariffs on steel, aluminum, and goods made in China?
Topics covered include:
Has the shipping backlog been reduced at U.S. ports
What are the dangers of running too high of a trade deficit
How large is the U.S. trade deficit
What has been the impact of U.S. tariffs on trade, domestic production, and prices
How Chinese direct-to-consumer retail companies Shein and Temu are driving prices of goods ever lower
Why consumers should demand greater visibility on how products they purchase are made
Show Notes
The 'ship backup has ended' at Los Angeles, Long Beach ports by Alejandra Salgado—Supply Chain Dive
America's Trade Deficit Surged in 2022, Nearing $1 Trillion by Ana Swanson—The New York Times
Industry study tracks China tariffs' added costs to importers and consumers by Ben Unglesbee—Supply Chain Dive
Costs of Trade Wars: The Distributional Consequences of US Section 301 Tariffs Against China by Kara M. Reynolds—SSRN
Certain Effects of Section 232 and 301 Tariffs Reduced Imports and Increased Prices and Production in Many U.S. Industries by USITC—United States International Trade Commission
Economic Impact of Section 232 and 301 Tariffs on U.S. Industries by USITC—United States International Trade Commission
The other Chinese apps taking the US and UK by storm by Chelsea Bailey—BBC
Secretive Shein Founders Build $40 Billion Fortune in Rapid Fashion by Venus Feng and Pei Yi Mak—Bloomberg
Shein sets ambitious revenue target ahead of IPO by Rachel Douglass—Fashion United
Shein copycats chase its explosive growth by Eleanor Olcott, Qianer Liu, and Gloria Li—The Financial Times
Temu's Big Haul by Ella Apostoaie—The Wire China
The High Price of Fast Fashion by Dana Thomas—The Wall Street Journal
Stealing More than Just Designs: Utilizing Environmental Law as a Remedy to Design Piracy by Fast Fashion Brands by Spencer Kluth—SSRN
Shein's Cotton Tied to Chinese Region Accused of Forced Labor by Sheridan Prasso—Bloomberg
Worn: A People's History of Clothing by Sofi Thanhauser—Penguin Random House
More than ever, our clothes are made of plastic. Just washing them can pollute the oceans. by Brian Resnick—Vox
Episode Sponsors
Use code MONEY10 to get 10% off on your NAPA Autoparts online order.
NetSuite – the leading integrated cloud business software suite
Become a Better Investor With Our Investing Checklist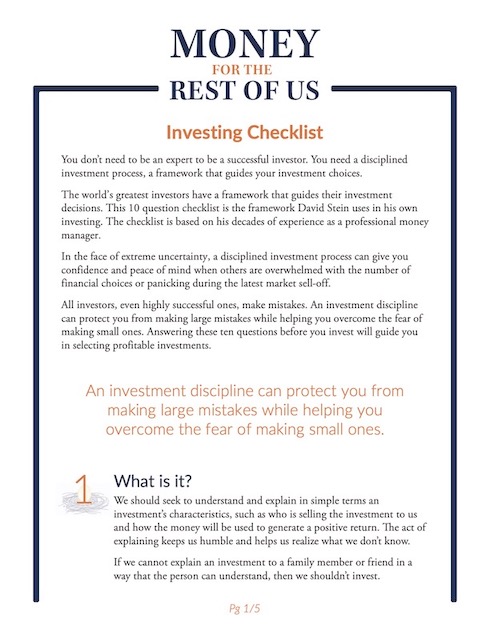 Become a Better Investor With Our Investing Checklist
Master successful investing with our Checklist and get expert weekly insights to help you build your wealth with confidence.
Related Episodes
212: Trade Wars Increase Prices and Poverty
413: What if the World Stopped Shopping?
Transcript
Welcome to Money for the Rest of Us. This is a personal finance show on money, how it works, how to invest it, and how to live without worrying about it. I'm your host, David Stein. Today is episode 427. It's titled "Did The Tariffs Work? The Trade War Five Years Later."
Shipping Backlogs
Last week I went camping with my two sons, Camden and Brett, and our daughter-in-law on Santa Cruz Island, which is part of the Channel Islands. This is a 150-mile-long island chain. It ranges between 12 and 70 miles off the coast of California. Santa Cruz Island is separated from the mainland by the Channel of Santa Barbara.
And over those few days, I would occasionally look out into that channel as we were hiking, or sea kayaking, and I would see large cargo ships stacked with containers making their way to the Port of Los Angeles or the Port of Long Beach. It got me wondering whether the backlog at those ports that we saw during the pandemic, whether that has subsided.
And so when I got back I looked, and yeah, as of last November, the Marine Exchange of Southern California—this is an industry working group—they declared the ship backlog at those two ports had ended after 25 months.
It began in October 2020, there was heavy congestion, as demand was much greater than the capacity of the ports; that was due to workers that were sick, but just the sheer volume of goods ordered trying to go through those ports. Now volume is down at those two ports over the past year, partly because there's labor negotiations and companies have started diverting some of that traffic to other ports in the US.
Record Trade Deficit
So even though the backlog is down, overall imports of goods into the US continued to increase. In 2022, the US saw a record trade deficit. The trade deficit, the value of goods and services imported more than what is exported increased 12.2% last year, to $950 billion. It was a record.
Now, that's the total volume, and we need to look at what is the trade deficit relative to the size of the economy, the value of goods and services produced. And if we look at the trade deficit as a percent of GDP, a measure of that output, last year, based on the trailing four quarters, it was 3.7%. That's the highest it's been going back to 2009.
For much of the 2010s, the trade deficit as a percent of GDP was under 3%. Now it's at 3.7%.
Trade Deficit Ramifications
When a country such as the US runs a trade deficit, in this case nearly a trillion dollars, that's cash that has to flow to be paid to foreign companies. And that cash needs to be funded or financed somehow. If you spend $100,000 on goods more than you receive in income from selling your services as an employee, you need to come up with the money to fund the deficit.
As a Money For the Rest of Us Plus member, you are able to listen to the podcast in an ad-free format and have access to the written transcript for each week's episode. For listeners with hearing or other impairments that would like access to transcripts please send an email to [email protected] Learn More About Plus Membership »