How to solve the conundrum that consumption reductions lead to economic disasters while benefiting the environment.
Topics covered include:
Why consumption, fossil fuel usage, and carbon emissions keep growing
How fossil fuel consumption goes well beyond heating and transportation uses but is tied to agriculture, steel, and cement production
The four times global consumption fell and the dire economic consequences that resulted
How the world is consuming twice as many resources as the planet can sustain
How the economy could still grow while reducing the environmental impact
Show Notes
How the World Really Works: The Science Behind How We Got Here and Where We're Going by Vaclav Smil
The Day the World Stops Shopping: How Ending Consumerism Saves the Environment and Ourselves by J.B. Mackinnon
Episode Sponsors
MasterClass – Get two annual memberships for the price of one
Masterworks – invest in contemporary art
Become a Better Investor With Our Investing Checklist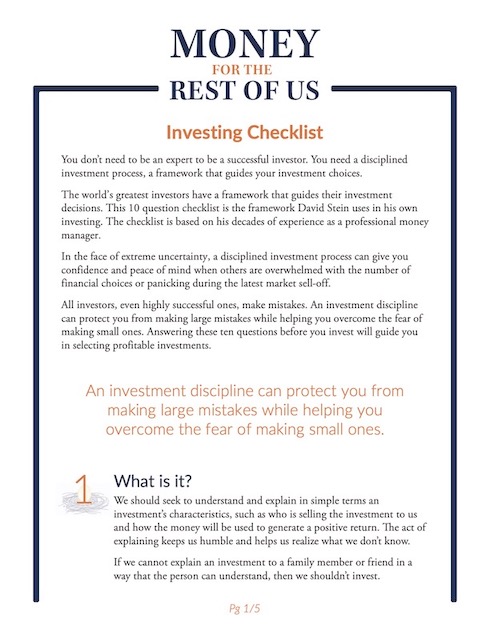 Become a Better Investor With Our Investing Checklist
Master successful investing with our Checklist and get expert weekly insights to help you build your wealth with confidence.
Related Episodes
262: Better Not Bigger, Circular Not Linear – How the Global Economy Is Changing
282: Is GDP the Best Measure of Happiness and Well-Being?
340: Climate Change, ESG, and What Should Investors Do?
395: How Population Trends Will Impact Growth, Inflation, Investing, and Well Being
427: Did the Tariffs Work? The Trade War Five Years Later
442: Crisis-Proof Investing: Strategies for a Shaky Future
444: Natural Disasters: Are They Truly Increasing?
Transcript
Welcome to Money for the Rest of Us. This is a personal finance show on money, how it works, how to invest it, and how to live without worrying about it. I'm your host, David Stein. Today's episode, 413. It's titled "What if the world stopped shopping?"
Two Sobering Books
I recently finished two excellent, but sobering books by two Canadians. The first was by energy analyst Vaclav Smil, titled How the World Really Works. It was a detailed book on the magnitude of the energy and fossil fuel consumption. The sheer scale, the numbers he shares, and it's very, very detailed in terms of numbers. I realized, in reading the book, just how difficult reducing carbon emissions is going to be.
The second book is titled The Day the World Stops Shopping, by J.B. MacKinnon. He's a Canadian journalist, and it was really a thought experiment on what would happen if the world indeed cut its consumption by 25%. It would not be pretty. Which brings up a huge conundrum. On one side, we really do need to reduce the amount of carbon entering the atmosphere in order to mitigate the impacts of climate change. On the other, in doing so we could destroy the global economy by reducing the amount that we consume.
The Critical Role of Energy
Smil in his book points out that there's been a 60-fold increase in the use of fossil fuels during the 19th century, and then a 16-fold increase in the 20th century. Over the past 220 years, the world has used 1,500 times more fossil fuels, and that's been an incredible benefit to modern civilization. It's allowed billions to escape poverty; it has made our life so much easier. An individual today has 700 times more useful energy available than an individual at the beginning of the 19th century. Even since World War II, the rate of energy use in the world has tripled.
Physicist Robert Ayres wrote that the economic system is essentially a system for extracting, processing, and transforming energy as resources into energy embodied in products and services. We use fossil fuel for many, many things: lubricants, asphalt, fertilizer, plastic, electricity generation, steel, cement. The annual global demand for fossil carbon is 10 billion tons a year. That's five times more than the amount of grain grown in a given year. It's twice as much water that's consumed by the world's 8 billion inhabitants. We use a lot of carbon, and we consume a lot of things.
In the US, the population is 60% greater today than it was in 1970, but we consume 400% more than we did back then. 500% more since 1965. With those types of numbers, trying to reduce the 37 billion tons of global carbon dioxide emissions from fossil fuel consumption, trying to get that to net zero, Smil points out would be an energy transition unprecedented in both pace and scale.
We've talked a lot on the show about the energy transition with electricity. But electricity is only 18% of final global energy consumption. Most energy used is for making things; or making things used to make things, so steel, and cement. The sheer amount of energy used to transport food, to package food, and market food. Even in terms of energy sources, in the US 80% of the primary energy supply is from fossil fuels. In Japan, it was 83% in the year 2000, but by 2019 90% of their primary energy sources were from fossil fuel.
As a Money For the Rest of Us Plus member, you are able to listen to the podcast in an ad-free format and have access to the written transcript for each week's episode. For listeners with hearing or other impairments that would like access to transcripts please send an email to [email protected] Learn More About Plus Membership »