How businesses, households, governments, asset managers, and investors interact in unpredictable ways to address the risks and opportunities related to climate change and other global trends. Why ESG investing goes beyond just buying an ESG fund or ETF.
Topics covered include:
What are the incentives, constraints, opportunities, and risks faced by businesses, households, governments, asset managers, and investors when deciding what to do.
What is ESG and sustainable investing
What are the different levels of sustainable investing practiced by investors and asset managers
How investors can benefit from emerging technologies to combat climate change
Show Notes
The Beauty of Everyday Things by Soetsu Yanagi (affiliate link)
Darmstadt Definition of Sustainable Investments by Johannes Hoffmann, Gerhard Scherhorn, Timo Busch (eds.)—Wuppertal Institute
FACT SHEET: President Biden Sets 2030 Greenhouse Gas Pollution Reduction Target Aimed at Creating Good-Paying Union Jobs and Securing U.S. Leadership on Clean Energy Technologies, APRIL 22, 2021—The White House
Drawdown Framework—Project Drawdown
'I Will Get Very Serious About ESG — But Not Yet,' Allocators Claim by Amy Whyte—Institutional Investor
How Sensitive are Optimal Fully Renewable Power Systems to Technology Cost Uncertainty? by Behrang Shirizadeh, Quentin Perrier, and Philippe Quirion
Techno-optimism, behaviour change and planetary boundaries by Adair Turner—Keele World Affairs Lectures on Sustainability
Activate Your Money: Invest to Grow Your Wealth and Build a Better World 1st Edition by Janine Firpo (affiliate link)
Making Sense Podcast 244 – Food, Climate, and Pandemic Risk—Sam Harris
Why Invest in Disruptive Innovation?—Ark Invest
Episode Sponsors
Clear – Use code David for two months free
Become a Better Investor With Our Investing Checklist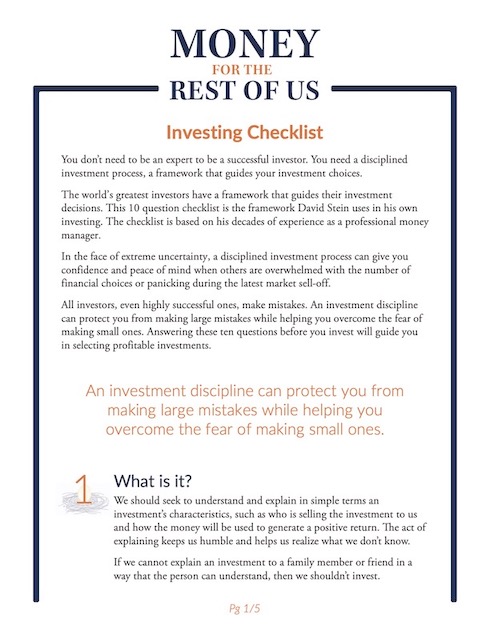 Become a Better Investor With Our Investing Checklist
Master successful investing with our Checklist and get expert weekly insights to help you build your wealth with confidence.
Related Episodes
77: Does Ethical Investing Outperform the Market?
118: Are Renewable Energy ETFs a Good Investment?
140: How Climate Change Could Impact Your Investments and Your Life
251: Impact Investing and Intentionality
262: Better Not Bigger, Circular Not Linear – How the Global Economy Is Changing
351: How to Profit From Carbon Investing While Combatting Climate Change
384: Has a Commodities Bull Market Supercycle Started? If So, How Do You Invest in It?
390: Are BlackRock and Vanguard Too Big and Powerful?
413: What if the World Stopped Shopping?
444: Natural Disasters: Are They Truly Increasing?
Transcript
Welcome to Money For the Rest of Us. This is a personal finance show on money, how it works, how to invest it, and how to live without worrying about it. I'm your host, David Stein. Today is episode 340. It's titled "ESG, climate change, and what should we do as investors."
Climate Change
A month or so ago I get an email from a member of Money For the Rest of Us Plus, and she mentioned that she and her family were caught in the Oregon wildfires last September, and it was an unforgettable experience. She actually updated their disaster preparedness tools after that trip. She writes:
"I believe we're on the cusp of massive change in every arena I can think of, which makes it very hard to plan for the future. I remain hopeful that most of these changes will be for the best. The one change that deeply troubles me and my grown kids is climate change. The effects are accelerating, and impossible to ignore. I would love to hear a podcast on investment strategies to support climate change solution technologies. I'm ready to become more aggressive in this area, but I am not sure where to start."
Later she wrote that she favored investing in baskets, so more diversified pools, rather than individual companies. In some ways, climate change, the ESG (environmental, social, and governance) criteria that is used to evaluate stocks, value-based investing, impact investing—it's a little overwhelming. It's not as simple as just buying an ETF or identifying a manager. It is so much more than that.
There are indeed massive changes coming, and as I've thought about how to answer her question, I had to step back and put a framework together to help me really figure out "Well, should I be doing more? How will things evolve going forward? Are there opportunities there, and what are the risks?"
Pattern
In the last few weeks, I've been reading a book by Soetsu Yanagi called The Beauty of Everyday Things. Yanagi was a Japanese art critic and philosopher, and this book was written in the 1930s. One of the chapters was on patterns, the beautiful patterns you find on everyday objects such as ceramics and textiles. He listed three criteria that are important for a beautiful pattern. Constraints. As I was pondering climate change and how to invest in this environment, this idea of patterns and what is required for an effective and beautiful pattern really stood out.
The first thing he mentioned is utility. The pattern on a particular object needs to be there for a reason, such as the extra-stitching around the collar of a jacket to protect it against wear. So utility, the necessity, the desirability of something is important.
The material involved. The pattern should be adapted based on the material used. The way to think about that outside of patterns is "What are our current resources?"
And the third thing is technique. He writes "It's important that the pattern emerge naturally from the technical process." So it's part of how the object is made, and the pattern is a result of that. We can think of that as our capabilities.
So when we think about how the world's going to evolve in the face of climate change and other constraints and opportunities, we'll have to focus on utility. What is necessary now? What's the material? What are our current resources? What are the techniques? What are our current capabilities?
As a Money For the Rest of Us Plus member, you are able to listen to the podcast in an ad-free format and have access to the written transcript for each week's episode. For listeners with hearing or other impairments that would like access to transcripts please send an email to [email protected] Learn More About Plus Membership »