From raging wildfires to devastating floods, how are these natural events reshaping our financial landscape? What if anything, should we be doing with our investments as a result?
Topics covered include:
The devastating Maui wildfire: What are the factors that led to one of the deadliest wildfires in US history.
Global wildfire trends: Are they really increasing? The data might surprise you.
The role of insurance companies: Learn how the giants of the reinsurance world, like Swiss Re and Munich Re, are navigating the increasing number of natural disasters.
The complex interplay of climate change, urban expansion, and human choices
Why IPCC is not highly confident regarding some weather impacts of climate change due to the natural variability in weather patterns.
What should individuals do when there is a lack of details regarding a long-term potential threat?
Show Notes
Why the fires in Hawaii have been so bad—The Economist
CAMS: monitoring extreme wildfire emissions in 2022—Copernicus
A human-driven decline in global burned area by N. Andela et al.—Science
Seasonal Trend for Europe—Copernicus
Insurers rack up $50bn in losses from natural catastrophes this year by Ian Smith—The Financial Times
World insurance market developments in 5 charts—Swiss Re Institute
When Disaster Strikes: Preparing for Climate Change by Seán Nolan and Krishna Srinivasan—IMF
California insurance market rattled by withdrawal of major companies by Michael R. Blood—AP
Rising Temperatures Are Wreaking Havoc Year-Round by Zahra Hirji, Rachael Dottle, and Denise Lu—Bloomberg
Climate Change Information for Regional Impact and for Risk Assessment by Roshanka Ranasinghe, et al.—IPCC
CO2 emissions (metric tons per capita)—The World Bank
Episode Sponsors
Use code MONEY10 to get 10% off on your NAPA Autoparts online order.
Masterworks – invest in contemporary art
Masterworks Disclosure:
"net IRR" refers to the annualized internal rate of return net of all fees and costs, calculated from the offering closing date to the sale date. IRR may not be indicative of Masterworks paintings not yet sold, and past performance is not indicative of future results. See important Reg A disclosures: Masterworks.com/cd
Become a Better Investor With Our Investing Checklist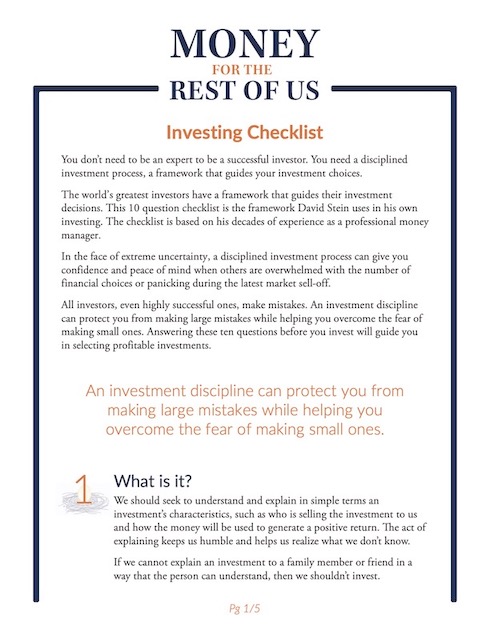 Become a Better Investor With Our Investing Checklist
Master successful investing with our Checklist and get expert weekly insights to help you build your wealth with confidence.
Related Episodes
340: Climate Change, ESG, and What Should Investors Do?
413: What if the World Stopped Shopping?
442: Crisis-Proof Investing: Strategies for a Shaky Future
Transcript
Welcome to Money for the Rest of Us. This is a personal finance show on money, how it works, how to invest it, and how to live without worrying about it. I'm your host, David Stein. Today is episode 444. It's titled "Natural Disasters: Are They Truly Increasing?"
Maui Wildfire
Last week a deadly wildfire broke out in Maui, killing at least 99 people. It was the deadliest wildfire in the US in more than a century. The town of Lahaina, a town I've been to, and I suspect many of you have been to and traveling to Maui, was essentially obliterated. It has a population or had a population of 13,000. It was the capital of the Hawaiian Kingdom back in the 19th century. And yet this wildfire came down the mountain slope and wiped out the town, killing many individuals.
Reasons for the fire, why it was so powerful was it was a period of drought, and Maui, that portion of Maui was considered abnormally dry, but generally, Maui doesn't get a whole lot of rain on its South side in the summer. There was also fuel for the fire from agricultural lands that had been abandoned, and so there was grasses and shrubs to fuel the fire. And then there was the wind, as Hurricane Dora passed Maui at a distance, but brought super-strong winds that came down the mountain.
Wildfires Are Decreasing
This was a tragic event, and I was curious whether wildfires have been increasing around the world. And I was surprised to find that no, the number and extent of wildfires globally is in decline.
I'll link to some data in the show notes from the Copernicus Atmosphere Monitoring Service, that tracks this and has been tracking this data since early 2003, looking at annual global total wildfire carbon emissions, carbon dioxide put off by the fires. And there's a bar chart there that shows the trend is down. In 2022, up until December 10th, there was around 1,500 megatons of carbon emissions produced by wildfires.
A research paper I found by eight co-authors published in 2017 found that the global burned area—in this case, acreage—was down 24% in the 18 years that they studied, up until 2017. Why is that? Well, it turns out that over that roughly two-decade period, the population in the world grew 25%, but the amount of agriculture production increased 40%. More land was used and turned into agriculture.
Other researchers have found that when there is increased investment in agricultural areas, it reduces fire activity. Now, that depends. In portions of Asia, where there's widespread burning of agricultural waste, that has seen increased fires and carbon emissions, but other areas, such as Brazil, where areas have been turned over to livestock, that actually suppresses the fire activity, because the cows eat grass, and it reduces the fuel loads.
So the overall trend in wildfires is down. But it varies from year to year. And the reality is, when there's a big wildfire like in Maui, it gets huge press in the media, as it should. But there are few news stories when an area doesn't have a wildfire.
Last year in France there were a great number of wildfires, with carbon emissions five times greater than it had been in the past 20 years. But even there, the trend, if we look at the trend in Spain, Portugal, and France, 2022 was a challenging year for wildfires, but the trend is flat to down. The cumulative burned area in 2023 so far, the acreage will be below average of the past 20 years. Yet somewhere like Greece, this year, 2023, has seen the burned acres upwards of three times more than usual.
As a Money For the Rest of Us Plus member, you are able to listen to the podcast in an ad-free format and have access to the written transcript for each week's episode. For listeners with hearing or other impairments that would like access to transcripts please send an email to [email protected] Learn More About Plus Membership »