Given climate change and other risks, how should you invest for the next forty years?
Topics covered include:
What predictions from the last forty years came true and which didn't
Why the next forty years will have a lot of similarities to the last forty years despite the promise of AI
Why the scale and complexity of the world make big transitions away from oil, cement, and natural gas unlikely
Why economic growth and consumption will likely continue leading to positive investment returns
How should our portfolios and lifestyle be structured to build resilience
Show Notes
The Third Wave by Alvin Toffler—Penguin Random House
Parcel shipping index 2022—Pitney Bowes
America Is Drowning in Packages by Amanda Mull—The Atlantic
How to Spend Way Less Time on Email Every Day by Matt Plummer—Harvard Business Review
World Population Prospects—United Nations Department of Economic and Social Affairs
Global Climate Change Vital Signs—NASA
Congestion Pricing Plan in New York City Clears Final Federal Hurdle by Ana Ley—The New York Times
New Jersey Sues Over Congestion Pricing in New York City by Ana Ley—The New York Times
How the World Really Works by Vaclav Smil—Penguin Random House
Does Sam Altman Know What He's Creating? by Ross Andersen—The Atlantic
The Economic Cost of Houston's Heat: 'I Don't Want to Be Here Anymore' by Rachel Wolfe and Amara Omeokwe—The Wall Street Journal
SEC Proposes Rules to Enhance and Standardize Climate-Related Disclosures for Investors—U.S. Securities and Exchange Commission
SEC's Climate-Disclosure Rule Isn't Here, but It May as Well Be, Many Businesses Say by Richard Vanderford—The Wall Street Journal
Market Myopia's Climate Bubble by Madison Condon—Boston University School of Law
What Really Happens to the Clothes You Donate by Oliver Franklin-Wallis—GQ
OpenAI's Sam Altman launches Worldcoin crypto project by Anna Tong—Reuters
Worldcoin's premise is a disturbing one by Tabby Kinder—The Financial Times
Episode Sponsors
Madison Trust Self-Directed IRA – Go here to learn more and get your $100 promo code
Factor – Use code david50 to get 50% off your meal order
Become a Better Investor With Our Investing Checklist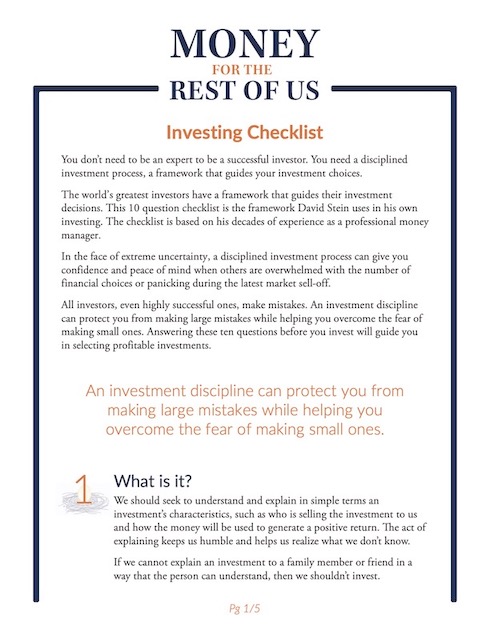 Become a Better Investor With Our Investing Checklist
Master successful investing with our Checklist and get expert weekly insights to help you build your wealth with confidence.
Related Episodes
395: How Population Trends Will Impact Growth, Inflation, Investing and Well Being
413: What if the World Stopped Shopping?
439: How and Why to Invest in AI
444: Natural Disasters: Are They Truly Increasing?
Transcript
Welcome to Money for the Rest of Us. This is a personal finance show on money, how it works, how to invest it, and how to live without worrying about it. I'm your host, David Stein. Today is episode 442. It's titled, "Crisis-Proof Investing: Strategies for a Shaky Future."
I recently received a question from a member of Money for the Rest of Us Plus, our premium membership community. He is looking ahead 40 years, and trying to figure out how to invest in an era where on one side there's the potential catastrophic impact of climate change and on the other the potential catastrophic impact of a consumption disaster from attempts to cut carbon emissions, either through regulation, or through personal choice.
This member owns his primary residence, he's based in Canada, and he's in his early 40s. High net worth individual; has a sizable whole life insurance policy, his own business, and a large stock portfolio. 40 years is a long time. 40 years from now is the year 2063. I'll probably be dead. I hope not. My kids will hopefully still be alive.
One of the early renditions of Money for the Rest of Us that I launched in 2012 was called The Next 40 Years. It was a website about a 40-year time horizon and figuring out how to invest and save for retirement over that time period. The website lasted about two months and I shut it down.
The Third Wave
40 years ago I was in high school. One of my teachers, who was well ahead of her time, decided she wanted to have a class to discuss the future. She invited 10 students to participate in this semester-long class. I agreed to attend, and we spent a number of months discussing Alvin Toffler's book, The Third Wave. This was a book over 400 pages long, published in 1980, and it was about the future, the first wave being the agricultural revolution, the second wave the industrial revolution, and the third wave the information revolution.
Back in high school, I didn't understand much of the book. In fact, I found it was boring, as did the other students. We spent a lot of time playing boggle, the word game, during class. Although we had some meaningful discussions about the future and what was going on in the early '80s. 40 years later, as I read the book, I was amazed how much more clear it was.
Toffler wrote "The third wave brings with it a genuinely new way of life, based on diversified renewable energy sources, on methods of production that make most factory assembly lines obsolete, on new non-nuclear families, on a novel institution that might be called the electronic cottage, and on radically-changed schools and corporations of the future. Above all, the third wave civilization begins to heal the historic breach between producer and consumer, giving rise to the prosumer economics of tomorrow."
Prosumer is a word Toffler made up. It means consumers who produce or do a lot more things for themselves in terms of production, and that's where he talks about methods of production that could make factory assembly lines obsolete. He felt that we would have much more leisure time, and given the cost of services to produce things, that we would produce more and more as the work week got shorter.
He gives the example of a dress pattern, where the prosumer would buy a cassette tape with a program that would drive a smart electronic sewing machine. Even the clumsiest househusband, he wrote, with such a cassette could make his own custom-fitted shirts. Mechanically-inclined tinkerers could do more than tune up their autos; they could actually half-build them.
As with most long-term predictions, 40-year predictions, there was an element of truth. The rise of YouTube means we can do more things for ourselves if we choose to do them.
As a Money For the Rest of Us Plus member, you are able to listen to the podcast in an ad-free format and have access to the written transcript for each week's episode. For listeners with hearing or other impairments that would like access to transcripts please send an email to [email protected] Learn More About Plus Membership »