How slowing population growth and an eventual population peak will lead to competition for foreign workers, potentially higher inflation, and ultimately the need to transition to a steady-state economy rather than one based on constantly producing more.
Topics covered include:
How longevity and birthrates impact population growth
What areas of the world are seeing population increases versus declines
Why high income countries will need more immigrants in order to sustain their population levels
When is global population expected to peak and at what level
Will greater dependency ratios lead to higher inflation
What is the difference between growth and development
How slowing population growth will impact investments
Why the world will need to transition to a steady-state economy focused on well-being rather than growth
Show Notes
World Population Prospects 2022: Summary of Results—United Nations Department of Economy and Social Affairs

Five Key Findings from the 2022 UN Population Prospects by Hannah Ritchie, et al.

Germany Plans to Simplify Immigration Rules to Combat Labour Shortage—Schengen Visa

High Cost Deters IT Gurus from Filling Luxembourg Jobs by Kate Oglesby

Another Beautiful Italian Town Is Selling €1 Homes—This Time, No Deposit Required by Cailey Rizzo

Will Inflation Make a Comeback as Populations Age? by Olli Rehn

The Great Demographic Reversal: Ageing Societies, Wanting Inequality, and an Inflation Revival by Charles Goodhart and Manoj Pradhan

The Enduring Link Between Demography and Inflation by Mikael Juselius and Elöd Takáts

Unions Are Now a Lifestyle Choice for Some Young, Aspirational Workers, Says Walter Olson—The Economist

Economics for a Full World by Herman Daly

This Pioneering Economist Says Our Obsession with Growth Must End by David Marchese

The Environmental Kuznets Curve by David I. Stern

Small Is Beautiful: Economics as if People Mattered by Ernst F. Schumacher
Episode Sponsors
LinkedIn – Post your job for free
Become a Better Investor With Our Investing Checklist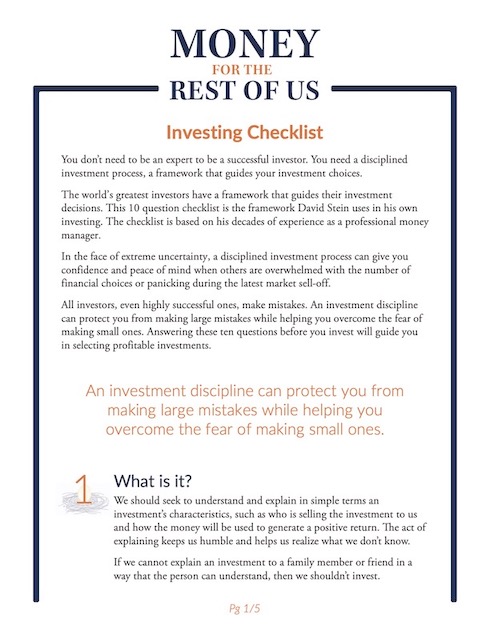 Become a Better Investor With Our Investing Checklist
Master successful investing with our Checklist and get expert weekly insights to help you build your wealth with confidence.
Related Episodes
413: What if the World Stopped Shopping?
Transcript
Welcome to Money For the Rest of Us. This is a personal finance show on money, how it works, how to invest it, and how to live without worrying about it. I'm your host, David Stein. Today it's episode, 395. It's titled "How population trends will impact growth, inflation, investing and well-being."
World Population Prospects
This month, the United Nations released their World Population Prospects. This revision for 2022 looks at a range of plausible outcomes at the global level, regionally, and nationally. Current world population in 2022 is about 8 billion individuals.
Based on the UN's latest projections, world population is expected to be eight and a half billion in 2030, 9.7 billion in 2050, and 10.4 billion in 2100. Importantly, world population is expected to peak in 2086 at 10.4 billion. Consequently, those last 14 years world population is expected to stagnate, to stop growing.
Global population trends are determined by birth rates and life expectancy. At the national level, the other factor that impacts it is net migration. Are immigrants allowed into the country, or are migrants leaving?
In 2019, global life expectancy reached 72.8 years. That is nine years greater life expectancy since 1990, but it actually shrank in 2021 from 72.8 years, down to 71 years due to COVID.
The expectation though by the UN is that average longevity will reach 77.2 years by 2050. So about six years longer than it was in 2021. Life expectancy for women is higher than for men about 5.4 years. Average female life expectancy is 73.8 years, versus 68.4 for men.
Because women live longer, they make up more of the older population, those over 65. Globally, women comprise about 56% of persons 65 years or older. Life expectancy is higher in higher income, more developed countries.
If we look at the least developed countries in the world, their average life expectancy is seven years behind the global average. And that's due to high levels of child mortality and maternal mortality. And in some countries, it's violence, and conflict, and diseases.
Global population then is increasing as we look over the next 60 years because life expectancy is increasing. Fewer individuals are dying.
What is holding back population growth is birth rates. In 2021 the average fertility of the world's population was 2.3 births per woman over the woman's lifetime. That has fallen from five births per woman in 1950. The UN expects fertility to decline to 2.1 births per woman. Fertility is decreasing.
Women are having fewer children, families are having fewer children because infant mortality and child mortality is decreasing. Families are choosing to have fewer children so that they can invest more in the children that they have, and because it's costly to raise a child. With greater survival rates, families are just choosing to have fewer children.
With a lower birth rate, the population growth is shrinking. It is now under 1%. Back in the 1970s, the population was growing at more than 2% per year. As the population increases, it's a bigger number, and so that also impacts the growth rate.
More than half of the projected increase in global population is found within eight countries: the Democratic Republic of the Congo, Egypt, Ethiopia, India, Nigeria, Pakistan, the Philippines and the United Republic of Tanzania.
Different population growth rates will impact the most populated country in the world. Right now, China and India each have approximately 1.4 billion individuals. India's growth rate is higher, and so by 2050, India is expected to have 1.7 billion individuals, while China will have 1.3 billion.
China's population is shrinking. By 2100, India is expected to also see a lower population, at 1.5 billion, but China will be at 800 million.
Much of the increase in global population through 2050 is driven by youths that are already around, the current population, and just those children growing up and having more children. Even if they only have two children per couple, we'll still see a population increase, just because they're already here.
Some countries though will not grow at all. Japan, for example, 124 million individuals in 2022; expected to be down to 104 million in 2050, and 74 million in 2100.
The UN is projecting that the US, which has 338 million individuals this year, will grow to 375 million in 2050, and 394 million in 2100.
As a Money For the Rest of Us Plus member, you are able to listen to the podcast in an ad-free format and have access to the written transcript for each week's episode. For listeners with hearing or other impairments that would like access to transcripts please send an email to [email protected] Learn More About Plus Membership »