How big index fund and ETF providers have increased their sway over publicly-traded companies while potentially discouraging competition. What can be done about it?
Topics covered include:
How market share for assets under management has become increasingly concentrated with big fund complexes like Vanguard and BlackRock
What is a fiduciary relationship and how do asset managers serve as fiduciaries
Why do investors in index funds and ETFs have no input as to how fund sponsors vote on shareholder proposals
What percentage of outstanding shares do Vanguard and BlackRock own of publicly traded companies like Apple, Target, or gun manufacturers
How Vanguard and BlackRock use engagement and voting policies to influence publicly traded companies, particularly when it comes to climate risk and diversity
How ownership by Vanguard and BlackRock in publicly-traded companies in the same industry could discourage competition.
What can be done through regulation or through individual action to reduce Vanguard and BlackRock's influence
Show Notes
What BlackRock, Vanguard and State Street Are Doing to the Economy by Farhad Manjoo—The New York Times
World's Top Asset Management Firms—ADV Rating
West Virginia Treasury Drops BlackRock Over Stance on Climate Risk by Alicia McElhaney—Institutional Investor
How an Organized Republican Effort Punishes Companies for Climate Action by David Gelles and Hiroko Tabuchi—The New York Times
The Future of Corporate Governance Part I: The Problem of Twelve by John C. Coates, IV
Larry Fink's 2022 Letter to CEOs: The Power of Capitalism
BlackRock's gun money by Dan Primack—Axios
Investment Stewardship 2021 Annual Report—Vanguard
Proxy Voting Policy for U.S. Portfolio Companies
BlackRock Investment Stewardship Principles
BlackRock Investment Stewardship Report
Anticompetitive Effects of Common Ownership by José Azar, Martin C. Schmalz, and Isabel Tecu
Common Ownership and Industry Profitability: A Crossindustry View by Haifeng Wang, Jan-Carl Plagge, James Rowley, Roger A Aliaga-Diaz
How ESG investing came to a reckoning by Harriet Agnew, Adrienne Klasa and Simon Mundy—Financial Times
Episode Sponsors
Wealthfront – get your first $5,000 managed for free for life
Policygenius – save over 50% on life insurance
Become a Better Investor With Our Investing Checklist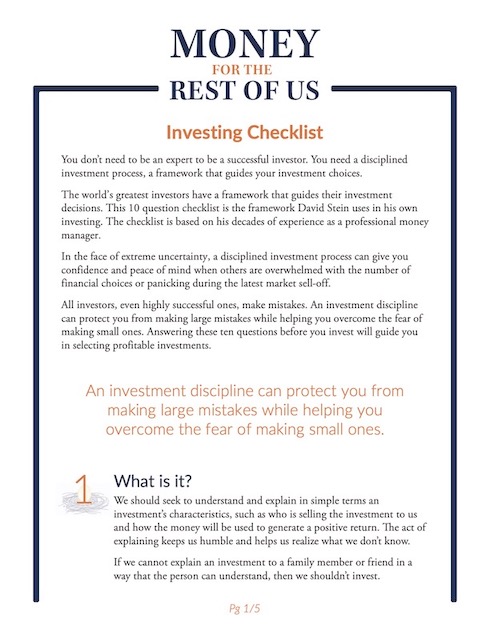 Become a Better Investor With Our Investing Checklist
Master successful investing with our Checklist and get expert weekly insights to help you build your wealth with confidence.
Related Episodes
148: Is Your Financial Advisor Loyal to You?
340: Climate Change, ESG, and What Should Investors Do?
Transcript
Welcome to Money For the Rest of Us. This is a personal finance show on money, how it works, how to invest it, and how to live without worrying about it. I'm your host, David Stein. Today's episode—390. It's titled "Are BlackRock and Vanguard Too Big and Powerful?"
Too Much Control?
I recently received an email from a long-time listener; she is in her 80s. She mentioned that her individual retirement account, all of her grandchildren's college 529 plans, and most of the rest of her net worth is managed by Vanguard.
She finds Vanguard easy to work with. They've provided helpful tax management strategies, but she sent me an article that concerned her. It was an editorial in the New York Times by Farhad Manjoo. It was titled "What Blackrock, Vanguard, and State Street are Doing to the Economy."
Manjoo suggests these three asset management firms control too much of the economy. How can that be? Aren't they just investing in stocks on behalf of their clients, most of which are in index funds? Yes, of course, but the amount that they manage in assets keeps growing.
The most recent ICI Fact Book had an interesting chart. It showed in 2005, the five largest fund complexes, which would include Vanguard and BlackRock, controlled 35% of total assets in mutual funds and ETFs. By 2021, or year-end 2021, it was 54%.
The top 10 now controls 66% of assets and the top 25, 83% of assets. The two largest by far are Blackrock with $9.6 trillion in assets under management, followed by Vanguard with $8.1 trillion in assets under management.
BlackRock recently wrote in an investment stewardship update that (paraphrasing) "the assets we manage are owned by other people, our clients, who depend on Blackrock to help them achieve their investment goals. These clients include public and private pension plans, governments, insurance companies, endowments, universities, charities, and ultimately, individual investors among others, are voting on client's behalf were so authorized by them and will always be undertaken with the appropriate consideration of our client's long term economic interests as their fiduciary."
As a Money For the Rest of Us Plus member, you are able to listen to the podcast in an ad-free format and have access to the written transcript for each week's episode. For listeners with hearing or other impairments that would like access to transcripts please send an email to [email protected] Learn More About Plus Membership »