We review the performance and investment prospects for carbon, SPACs, silver, convertible bonds, and frontier markets.
Topics covered include:
What has been the performance of these five asset types since they were discussed on the podcast two to three years ago
What are the underlying performance drivers and expected returns going forward
Which asset types are most and least attractive
Episode iframe
Show Notes
Initial Public Offerings: Updated Statistics by Jay R. Ritter—Warrington College of Business, University of Florida
Two SPAC ETFs Close in One Month, Suggesting End to Wall Street Boom by Emily Graffeo—Bloomberg
Investments Mentioned
Vanguard Total World Stock Market ETF (VT)
SPAC and New Issue ETF (SPCX)
iShares Convertible Bond ETF (ICVT)
iShares Silver Trust (SLV)
ProShares Ultra Silver (AGQ)
iShares Fronter and Select EM ETF (FM)
Kraneshares Global Carbon ETF (KRBN)
Episode Sponsors
Masterworks – invest in contemporary art
Masterworks Disclosure:
"net IRR" refers to the annualized internal rate of return net of all fees and costs, calculated from the offering closing date to the sale date. IRR may not be indicative of Masterworks paintings not yet sold, and past performance is not indicative of future results. See important Reg A disclosures: Masterworks.com/cd
Use code MONEY10 to get 10% off on your NAPA Autoparts online order.
Become a Better Investor With Our Investing Checklist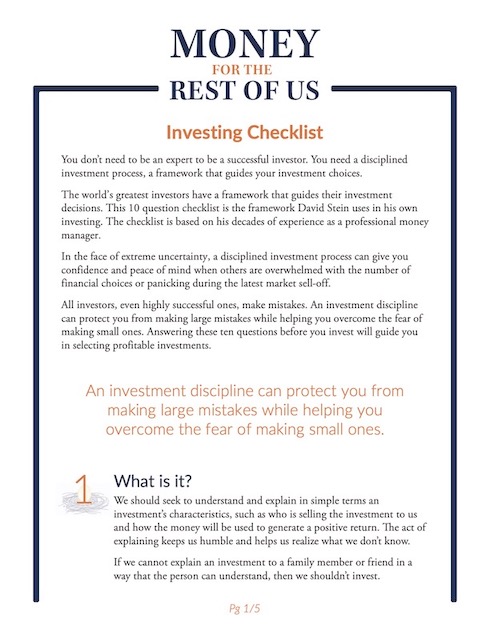 Become a Better Investor With Our Investing Checklist
Master successful investing with our Checklist and get expert weekly insights to help you build your wealth with confidence.
Related Content
318: What Are SPACs and Should You Invest in Them?
330: Is Silver the Next GameStop? How to Invest in Silver
A Complete Guide To Investing In Convertible Bonds
The Opportunity and Risk of Frontier Markets
What You Need to Know About Carbon Investing and its Effect on Climate Change
Transcript
Welcome to Money for the Rest of Us. This is a personal finance show on money, how it works, how to invest it, and how to live without worrying about it. I'm your host, David Stein. Today is episode 436. It's titled, "How Do They Do? Revisiting Carbon, SPACs, Silver, Convertible Bonds and Frontier Markets."
We cover a wide variety of asset types on Money for the Rest of Us, and I think it's helpful to go back and review those asset types to both make sure we remain familiar with them, but also to see how they have performed since we last covered them. Now, the assets I mentioned, carbon, SPACs, silver, convertible bonds, and frontier markets—they're very different.
One I think's a terrible investment. That would be SPACs. Two are speculation—silver and carbon. Convertible bonds and frontier markets I would consider investments, because they have a positive expected return, because of the underlying cash flow associated with those two investments. Now, that doesn't mean performance has been great since we covered them, but let's get started with what I think is the worst investment.
Special Purpose Acquisition Companies
We covered it back in October 2020—it's special purpose acquisition companies or SPACs. These are non-operating, publicly-listed companies whose purpose is to identify and purchase a private company. And that allows the acquisition company to have publicly-listed stocks.
SPACs are sometimes known as blank check companies, and when a SPAC buys one of these private companies, it's called a reverse merger, because it's opposite a typical merger—a public company is taken private.
With a SPAC, it takes a private company and makes it public, without having to go through all the burdensome procedures through a traditional initial public offering. SPACs are also attractive to the founders of these private companies because they can sell a higher percentage of their ownership in a reverse merger.
Now, there are some things about SPACs that are unfortunate. One is the sponsors of the SPAC basically get 20% of the company for free, and they get what are known as Class B founders shares and warrants. So they're basically able to purchase up to 20% of the outstanding shares at incredibly inexpensive rates. And that really leads to some conflicts.
A SPAC has two years to find an acquisition target. The founders of SPACs, knowing that they have the potential to significantly increase their net worth if they find an acquisition target and close the deal because they get 20% of the company which they can then sell, they have an incentive to go find a company, even if it may not be the best deal for the SPAC shareholders. And by and large, investing in SPACs has not been a great deal for shareholders.
Before we turn to performance, how this works then—the SPACs have two years to identify an acquisition target. If they can't find one within two years, if they're not given an extension, they have to return the money. So the money raised in the IPO for a SPAC is kept in an escrow account. So the vast majority, upwards of 90%, is in this escrow account, essentially earning cash yields.
After an acquisition is noted, it's announced, there's additional due diligence, negotiation, and then the SPAC has to raise additional funds, either equity or debt, to complete the combination if it's approved by the shareholders. If more than 50% of the SPAC shareholders disapprove of the business combination, then the escrow account is closed, and the proceeds are returned to the shareholders.
As a Money For the Rest of Us Plus member, you are able to listen to the podcast in an ad-free format and have access to the written transcript for each week's episode. For listeners with hearing or other impairments that would like access to transcripts please send an email to [email protected] Learn More About Plus Membership »