Should you invest in silver? Why has silver jumped to its highest price in eight years and what do you need to know to invest?
Topics covered include:
What drove the huge spike in silver purchases
How silver differs from meme stocks
How hedge funds are positioned with regard to silver
What are three ways to invest in silver
What is the annual demand and supply for silver
What are the reasons to own silver
How good has silver been as an inflation hedge
What is the gold-silver ratio and how to use it
What happened when the Hunt brothers tried to corner the silver market
What evidence is there that the silver market is manipulated
Show Notes
Silver Prices Surge to Eight-Year High Amid Reddit-Fueled Frenzy by Eddie Spence, Jake Lloyd-Smith, and Yvonne Yue Li—Bloomberg
Silver price retreats rapidly in blow to new retail buyers by Henry Sanderson and Neil Hume—Financial Times
'What'd You Miss?' Full Show (02/01/2021)—Bloomberg
Silver Price Chart—BullionVault
Silver Supply and Demand—The Silver Institute
Understanding Futures Expiration & Contract Roll—CME Group
Silver $50: Three Years After the "Shortage" by Miguel Perez-Santalla—BullionVault
JPMorgan Admits Spoofing by 15 Traders, Two Desks in Record Deal by Tom Schoenberg and Matt Robinson—Bloomberg
CME Hikes Silver Margins After Prices Surge to Eight-Year High by Yvonne Yue Li
A Complete Guide to Investing in Gold—Money For the Rest of Us
Episode Sponsors
Become a Better Investor With Our Investing Checklist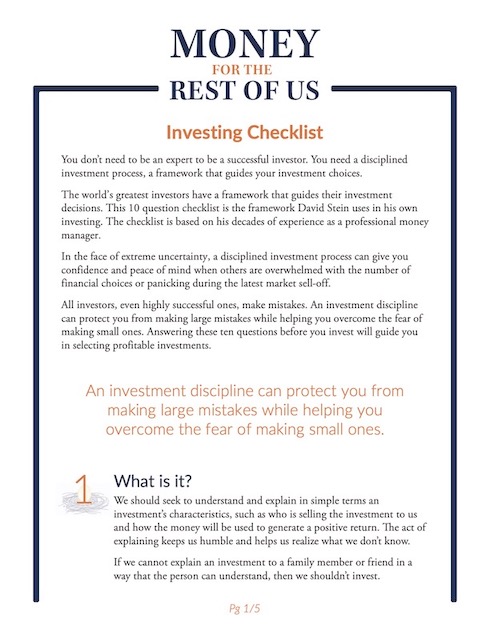 Become a Better Investor With Our Investing Checklist
Master successful investing with our Checklist and get expert weekly insights to help you build your wealth with confidence.
Related Episodes
263: Should You Invest In Gold?
308: Coins and Cash: Shortages, Hoarding, and Threats
316: Paper, Rocks, or Digits—What Makes the Best Money
436: Revisiting Carbon, SPACs, Silver, Convertible Bonds, and Frontier Markets
Transcript
Welcome to Money For the Rest of Us. This is a personal finance show on money, how it works, how to invest it and how to live without worrying about it. I'm your host, David Stein. Today's episode—330. It's titled "Should you buy silver?"
Yesterday silver prices hit the highest level in eight years, to over $29.50 per ounce. The London Bullion Market Association, which oversees the silver market, said that more than a billion ounces of silver were traded yesterday. It's three times greater than the average from the end of 2020.
A Big Spike in Silver Demand
Ken Lewis, CEO of APMEX, which is a dealer in precious metals, coins, bullion, bars, said yesterday on Bloomberg TV that they had more volume in silver sales in the past three days than they had all of December. And 43% of those orders were from new customers, where typically it's only 14%–20% of orders in a given day are from new customers.
Adrian Ash, who's the Director of Research at Bullionvault, which also sells silver bullion, said they had more customers yesterday than all of last February. Why is there this sudden interest in silver?
Last week we discussed wallstreetbets, the subreddit, and what was driving the price of GameStop and other meme stocks. There were some posts last week on wallstreetbets about silver being the biggest short in the world. But there's posts on all different types of topics. Some of those posts, because they're voted on in this forum, made it to the top, and then news organizations picked it up, that the wallstreetbets Subreddit was now turning the focus on silver.
But then some on wallstreetbets Subreddit said no, they're not promoting silver; that there are proponents of silver taking advantage of the forum. So there was a lot of confusion over who's driving this increase in silver, but clearly, it's happening.
One commodities trader said about wallstreetbets that "I'm beginning to think that they're being suckered by the silver scammers to try to get the price up." Today when I looked at wallstreetbets there weren't any of the top articles on silver. There appeared to be a couple about diamonds, but most were on GME stock, which fell over 50% this week.
Here we are, with silver having spiked to its highest level in eight years. Today it's down to $27/ounce, but the sudden interest in the news gives us an opportunity to look at silver, the investment case for silver, and should we buy silver.
Now, there are two primary ways to buy silver. We can buy it physically, including coins or bullion bars, we can also buy silver through an exchange-traded fund, like the iShares Silver Trust, which owns physical silver also, or we can participate in the silver futures market, and we'll talk about how that works.
A lot of these news articles referenced some of the posts on wallstreetbets about how silver is the biggest short in the world, and there'll be a squeeze, and we're gonna stick it to the banks that are short. But silver is really different than the short squeeze on GameStop or some other stock like I talked about last week, where you had hedge funds that were massive short GameStop; there were more shorts than shares outstanding, and when the stock started to rise, those hedge funds needed to buy back GameStop stock, so that they could close out their short position and stop losing money.
But if we look at the positioning of hedge funds and other speculators in the silver futures market, they're actually net long; in other words, positioned for silver to go up in price. And they have been net long since 2019.
Financial Times reported that analysts said bullion banks such as HSBC and JP Morgan did not have speculative naked short positions in silver and if anything, would make money by selling silver to exchange-traded funds and helping miners hedge exposure.
Bernard Dahdah, an analyst at Natixis said "It's the wrong understanding of the market." It's trying to apply the same rationale as GameStop, but most of the market is long silver. The banks are going to make more profit, and the silver buyers are indirectly sending their own money to them.
If we look at the current positioning of speculators in silver, they are net long 44,000 futures contracts, worth about 220 million dollars. But even if they decided to take delivery on that net long position, there's a billion dollars of silver in the vaults at the London Bullion Market. So there doesn't seem to be a silver squeeze, in the same way, there is for the GameStop stock.
As a Money For the Rest of Us Plus member, you are able to listen to the podcast in an ad-free format and have access to the written transcript for each week's episode. For listeners with hearing or other impairments that would like access to transcripts please send an email to [email protected] Learn More About Plus Membership »