How long-term trends in inflation, stocks and climate changed are hidden by short-term countertrends, creeping normalcy and myriad moving parts.
In this episode you'll learn:
How inflation leads to a decline in real wealth.
Why it is difficult to detect inflation trends.
What is creeping normalcy.
What causes climate change.
Why science is messy.
What can individuals do to combat global warming.
Show Notes
Supermodels – The Science of Climate Change – The Economist
North American osprey populations and contaminants: historic and contemporary perspectives by CJ Henry, RA Grove, JL Kaiser and BL Johnson
Superforecasting: The Art and Science of Prediction by Philip E. Tetlock
Become a Better Investor With Our Investing Checklist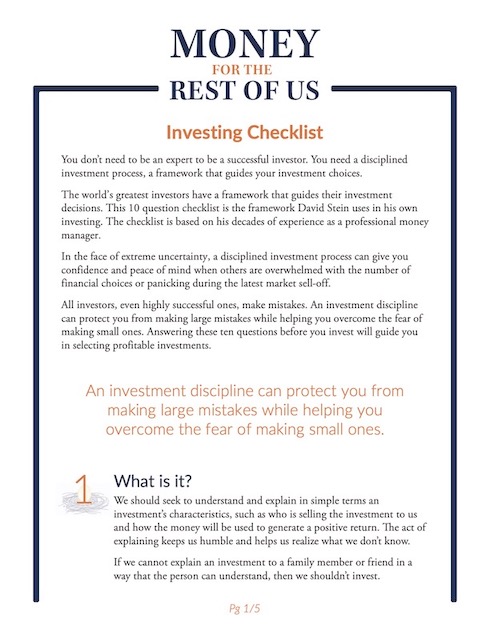 Become a Better Investor With Our Investing Checklist
Master successful investing with our Checklist and get expert weekly insights to help you build your wealth with confidence.
Summary Article
Is This Normal?
Recently Weight Watchers, a company that assists individuals in losing weight, made some changes to their program that caused a bit of a fuss for some of their members.
Weight Watchers assigns point values to different foods based on their calories and nutrition levels.
Less nutritious, higher calorie foods such as cake and pie have high point values while lower calorie, more nutritious foods have low point values—sometimes even zero in the case of certain fruits and vegetables.
Members are given a daily points budget that they can "spend" by eating food. They then track where they are relative to their budget by entering what they ate into the Weight Watcher's mobile app.
Point Inflation
Last week, app users found the point value for certain "less healthy" foods jumped significantly. For example, McDonald's oatmeal went from 7 points to 13 points, an 85% increase.
While some users daily point budget went up, the points assigned to higher calorie, sugar-laden foods rose by even more, discouraging some members.
In short, participants suffered a loss of real food eating wealth due to point inflation.
Monetary Inflation
This is exactly how monetary inflation takes an economic toll. Salaries can increase each year, but prices of goods and services can rise by even more, resulting in a decline in real or inflation-adjusted wealth.
The difference between Weight Watchers point inflation and monetary inflation is monetary inflation tends to be more gradual and consequently less noticeable.
Prices don't typically jump 85% in a week, although they can in countries suffering hyperinflation.
Inflation is also difficult to detect because each year some prices go up while other prices go down.
The U.S. Consumer Price Index ("CPI") measures the price appreciation for a market basket of goods and services comprising over 80,000 items spread across 200 different categories.
A rising price trend for a market basket consisting of so many moving parts is extremely difficult for consumers to detect, partly because the changes are so small and incremental that consumers adapt to them without noticing.
Creeping Normality
Adapting to something that is changing without noticing the change is called creeping normality.
The stock market is another area where trends are difficult to perceive on a short-term basis.
On any given day thousands of stock prices rise while thousands fall. Some weeks and months the overall stock market is up while other weeks and months the market is down.
Yet, over time there are definite secular trends.
For example, the U.S. stock market has been in a secular uptrend since early 2009 with an average annual increase of 16% as measured by the S&P 500 Index.
Some investors have been completely out of the stock market for this entire bull market out of fear of an imminent market collapse.
From 2000 to 2009, the U.S. stock market was in a secular downtrend averaging an annual decline of 6%.
If we evaluate stocks over a longer temporal scale, such as decades, the U.S. equity market has also appreciated.
Since 1900, the U.S. stock market as measured by S&P 500 Index has returned on average over 9% a year.
Buy-and-hold investors who allocate to stocks assume this long-term appreciation trend will continue, and they are willing to ride out the inevitable down periods in anticipation of extended uptrends.
Climate Change
Another gradual trend that is difficult to detect amidst short-term fluctuations is climate change. It is also subject to creeping normality as we adapt to a milder winter climate and hotter summers.
Temperatures rise and fall, seasons change, extended warm periods are followed by extended cold periods, making it difficult to detect the underlying climate pattern without scientific measurement. Climate trends can also differ by region with some places warming and others cooling.
But just as the overall stock market and inflation have increased over the long term despite short-term countertrends and price fluctuations for individual stocks and goods, the overall global average temperature is rising.
The world is warmer by 0.75 degrees Celsius than it was before the industrial revolution. The rate of warming is accelerating. Sea ice and glaciers are melting and the ocean is rising. The amount of sea ice in the Arctic has declined by 40% over the past 36 years.
The scientific consensus is greenhouse gas emissions from burning fossil fuels, such as oil, coal and natural gas, are the primary cause for these warming temperatures.
Science Is Messy
Climatology is complex. The models aren't perfect. But science by its very nature is imperfect and rife with uncertainty. That doesn't mean it isn't useful.
Philip Tetlock writes in his book "Superforecasting," "In science, the best evidence that a hypothesis is true is often an experiment designed to prove the hypothesis is false, but which fails to do so. Scientists must be able to answer the question, what would convince me that I am wrong."
The climate hypothesis that has yet to be proven wrong is the world's temperature is rising due to greenhouse gas emissions from burning fossil fuels.
Last week, 196 countries agreed in Paris to a historic climate agreement in which individual countries voluntarily committed to reduce their greenhouse gas emissions in order to keep the average mean global temperature increase to less than two degrees Celsius compared to pre-industrial times.
Why would sovereign nations commit to this if the consequences of climate change remain uncertain and ultimately unknowable?
Because we have already seen the ecological damage from the warming that has already occurred.
Waiting for further evidence that an action is risky when the potential negative consequences of that action are so large is imprudent, if not foolish.
What We Can Do
What can individuals do to contribute to reducing greenhouse gases that contribute to global warming?
Reduce their use of fossil fuels by driving less, driving more efficient vehicles, weatherizing their homes, using more efficient light bulbs and appliances and buying used goods instead of new when possible.
These small, voluntary acts if replicated by many can have an impact on global warming.
Of course, more will need to be done by industry and government, but individuals can also play a significant role.