What are the impediments to the mass adoption of electric vehicles.
In this episode you'll learn:
How much safer are cars and why
Why electric cars are more expensive.
Why manufacturing expertise will determine who are the leaders with electric cars.
What could prevent mass adoption of electric cars.
Show Notes
Motor Vehicle Fatality Rate in U.S. by Year
Why Cars Are Safer Than They Have Ever Been – Popular Mechanics
Relative Costs of Driving Electric and Gasoline Vehicles in theIndividual U.S. States – Michael Sivak and Brandon Schoettle
Sustainable Energy With The Hot Air – David JC MacKay
Plug-in electric vehicles: future market conditions and adoption rates – Melissa Lynes – EIA
Carmakers take electric fight to the factory floor – Financial Times
Episode Sponsors
Become a Better Investor With Our Investing Checklist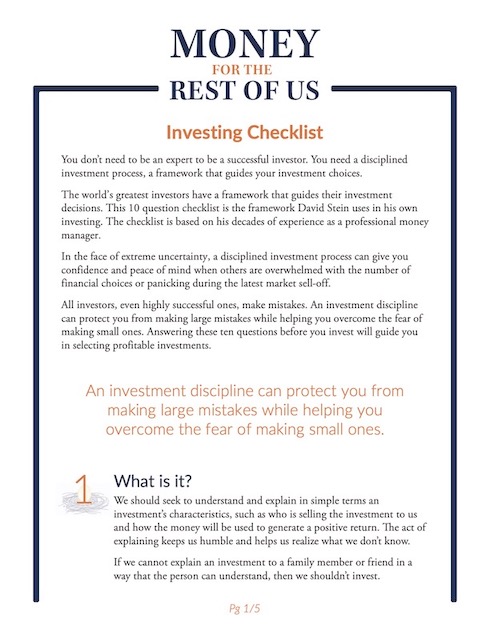 Become a Better Investor With Our Investing Checklist
Master successful investing with our Checklist and get expert weekly insights to help you build your wealth with confidence.
Episode Summary
Over the past few months David has been traveling across the country and throughout the trip, he's covered thousands of highway miles and seen countless vehicles. This inspired him to ask the question, "Will my next car be electric?" On this episode of Money For the Rest of Us he outlines how the vehicle market is changing, the benefits of electric vehicles over gasoline-powered vehicles, main factors prohibiting widespread adoption of electric vehicles, and the impact governments can have on consumer buying decisions. Conversations behind renewable energy and reliable transportation abound, and you'll want to listen to this episode for the latest information on this heated debate.
Cars are changing: they're safer, but we're purchasing less of them
In 2017 there were 40,109 reported motor vehicle deaths, down 1% from 2016 figures. The number of deaths per 100 million vehicle miles traveled has been on a downward trend for decades. This is due in part to enhanced motor vehicle safety laws but also refined manufacturing techniques. Cars are getting safer! However, consumers are purchasing fewer vehicles than in years past. Vehicle sales peaked at 17.9 million for the year ending in March 2018, compared to 18 million in the prior year. In 2017 electric vehicles surpassed 1% of the entire market – a nominal figure compared to future projections of 25% of the market being comprised of electric vehicles by 2040.
Electric cars are extremely efficient compared to gasoline-powered vehicles
Perhaps the most common argument in support of electric vehicles is their efficiency. Popular models such as the Ford Focus Electric and Chevy Volt top the list of efficiency on a kilowatt-hour (kWh) to miles per gallon (MPG) scale comparison. These two models boast 19-20 kWh used per 100 kilometers driven. Conversely, a traditional gasoline-powered vehicle that achieves 20 MPG efficiency requires 131 kWh of energy to travel 100 kilometers. As the world moves towards cleaner, greener, and more renewable sources of energy, efficiency will become an even more important factor in the debate.
What's preventing electric vehicles from being widely adopted?
Since electric vehicles are far more efficient than their fossil-fuel powered counterparts, what's preventing their widespread adoption? David outlines 4 main reasons on this episode of Money For the Rest of Us:
High upfront cost
Cost of battery
Production limitations
Limited infrastructure for charging stations
New electric vehicles start at around $30,000 and only go up from there. While battery costs are down from $1,000 per kWh of storage to $200, the cost is still prohibitive for many consumers. Battery replacement (while extremely uncommon) could have a price tag of over $5,000. Production lines are currently unable to mass produce electric vehicles at scale, which is an issue that must be corrected if the vehicles are to have a mainstream place on our highways. Finally, drivers must have reliable and widespread charging stations at home, work, and travel destinations in order for electric vehicles to be convenient.
How governments can encourage consumers to focus on electric vehicles for their next car purchase
Putting data and costs aside, one of the biggest questions David poses on this episode is, "Do consumers want electric cars?" There are many differences between traditional and electric vehicles that consumers will have to adjust to, such as the lack of engine noise, differences in braking, charging routines, etc. For example, David explains that even though the Chinese government offers financial incentives to purchase electric vehicles, consumers are still more interested in gasoline-powered SUV-style vehicles. Countries such as Norway, India, France, and the UK are all making progress towards mandating electric vehicles, and legislation can encourage manufacturers to pursue cheaper and faster production methods. Electric vehicles are here to stay, now it's a matter of determining how many of them and for how much.
Episode Chronology
[0:35] David asks the question, "Will your next car be electric?"
[4:18] Why are cars safer?
[6:44] Cars are changing
[7:39] What's preventing electric vehicles from becoming widely adopted?
[22:43] Do consumers want electric cars?
[26:58] Government policy can encourage or prohibit adoption of electric vehicles
Related Episodes
262: Better Not Bigger, Circular Not Linear – How the Global Economy Is Changing
346: Should You Buy an Electric Car or Truck?
366: Is There A Global Energy Crisis?
Transcript