What are the pros and cons of owning an electric vehicle (EV) compared with an internal combustion engine (ICE) vehicle? Are electric vehicles worth it?
Topics covered include:
What is the total energy consumption for EVs versus ICE vehicles including energy expended to produce the vehicles and energy used to produce the electricity and refine the gasoline that run the vehicles.
What vehicles weigh the most, ICE, EVs, or hybrids
How the mix of renewables and coal in the power grid impacts the energy impact of electric vehicles.
What is the total cost of owning an electric vehicle compared with a similar model ICE vehicle.
Show Notes
The Greenhouse gases, Regulated Emissions, and Energy use in Technologies Model—Argonne National Laboratory
Vehicle Cost Calculator—Alternative Fuels Data Center
EV vs. Gas: Which Cars Are Cheaper to Own? by Roberto Baldwin—Car and Driver
Batteries For Electric Cars Speed Toward a Tipping Point by Ira Boudway—Bloomberg
Episode Sponsors
Become a Better Investor With Our Investing Checklist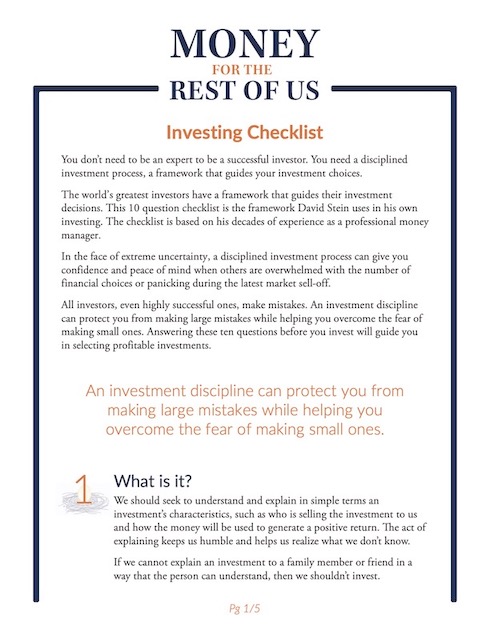 Become a Better Investor With Our Investing Checklist
Master successful investing with our Checklist and get expert weekly insights to help you build your wealth with confidence.
Related Episodes
202: Will Your Next Car Be Electric?
366: Is There A Global Energy Crisis?
Transcript
Welcome to Money For the Rest of Us. This is a personal finance show on money, how it works, how to invest it, and how to live without worrying about it. I'm your host, David Stein. Today is Episode 346. It's titled, Should You Buy An Electric Car or Truck?
Heavier Vehicles Use More Energy
I recently got an email from a listener. He is a mechanical engineer in the automotive industry. He mentioned he's been doing some research on electric vehicles versus internal combustion engine cars, and he's having a difficult time understanding the benefit of electric vehicles. He mentioned that he was inspired the other day as he went on a walk with his partner. They both walked the same distance, 1.3 miles. They both set their Apple watches to count how many calories they burned on the walk. He burned 250 kcals and she burned 198 kcals. He pointed out the reason he burned more calories was because he weighs more. He wrote, "The calories burned or energy required is proportional to the weight carried over a distance." "Well, the same must hold true for cars", he wrote.
I have pointed out in earlier episodes of the show that internal combustion engines, only about 20% is used for kinetic energy. He says it's closer to 30%, which is fine. And with a battery, 90% is used in kinetic energy. But then he points out that the new Electric Hummer will weigh between 10,000 and 14,000 pounds, while an old H2 from the mid-2000s weighs only 6,500 pounds. And his point is if carbon emissions is a top priority, then driving an electric vehicle that weighs twice as much as an internal combustion car is grossly inefficient because you're going to use a lot more energy because the vehicle weighs so much more. I thought it was an interesting point.
I am not an electric vehicle expert, but I wrote a friend of mine, Gregor MacDonald—he's a journalist, an analyst that has been researching and writing on the energy transition to renewables and electric vehicles for over a decade. He pointed out that the calculations between an electric vehicle and an internal combustion engine vehicle can't be made on a series of mental napkin notes, as he put it. Doing so will produce an endless daisy chain of errors. The definitive work on electric vehicles versus internal combustion engines, what is known as "from well to wheel," the oil well which includes the cost to produce the energy that is used in gasoline, as well as the cost of the energy in the electric vehicles—that's done by a number of national-level government research institutes. And in the US, that analysis is done by Argonne National Laboratories, and it's sponsored by the Department of Energy.
This listener's correct, a car that weighs more is going to use more energy, and an electric vehicle driven somewhere where the power is generated via coal, versus somewhere where most of the power is generated by renewables, but coal-powered grid, electric vehicles using that grid will create more carbon. Despite these weight differences and the source of power, electric vehicles use significantly less energy than an internal combustion engine, 65 to 70 percent less. Gregor concluded, "If you are brave, you will enter the cave of the Argonne calculator with its myriad spreadsheets."
As a Money For the Rest of Us Plus member, you are able to listen to the podcast in an ad-free format and have access to the written transcript for each week's episode. For listeners with hearing or other impairments that would like access to transcripts please send an email to [email protected] Learn More About Plus Membership »
Why We Are Considering an Electric Vehicle
I entered, because I wanted to kind of go through the numbers and understand it myself because we are considering purchasing an electric vehicle. About a year ago we bought a 2002 suburban that was converted into a camper, and we used it to go camping last summer. It has been a disappointment, in that we have paid over $8,000 in repairs; a new catalytic converter, a new axel, wheel bearing, CV joints, oil gaskets to try to solve the oil leak. This vehicle has 150,000 miles. Meanwhile, we have a 2014 BMW X3, which also has 150,000 miles, and I have never done anything to the car except to replace the brakes, tires and we replaced the windshield.
A couple of years ago we bought a Prius that our daughter drives at school. That was our first hybrid that we bought, and we've been very happy with that. At our cabin, the roads are not great. We need an all-wheel-drive vehicle with higher clearance, so we can't really buy a Tesla Model 3; it just wouldn't work.
I was intrigued by the new Ford F-150 Lightning. This is a new electric vehicle that will be coming out next spring. I actually put a $100 deposit to be able to potentially order one if I choose: but I'm not sure. I've never really gone through the math. The Argonne model is called the Greenhouse Gases Regulated Emissions and Energy use in Technology Model, the GREET Model for short, and it looks at from well to pump, the entire fuel cycle, the different ways the fuel is created, different ways for the electric grid, and it also looks at the total cost and energy to produce the car, and then to run the vehicles, be it gas, a hybrid, a plug-in hybrid, or an electric vehicle.
An Analysis of Electric Trucks versus Internal Combustion Engine Trucks
One of the first things I discovered as I went through the spreadsheet and looked at the many, many different assumptions, is electric vehicles do not weigh twice as much as comparable internal combustion engine vehicles. Their spreadsheet models out passenger cars, SUVs, and pickup trucks, and I focused most of my analysis on pickup trucks because we are considering the Ford Lightning. What I found in their model is electric vehicles, including the battery, weigh just a little bit more than internal combustion engine vehicles.
So in their model, a gasoline-powered truck weighs roughly 4,500 pounds; an electric truck weighs about 4,600 pounds. Now, potentially, that battery could weigh more than that; it could be another 500 pounds for the battery. In their model, what was the heaviest vehicle—and this makes sense—were hybrids. A hybrid vehicle has both a battery and also a traditional internal combustion engine. And the vehicle that weighs the most are plug-in hybrid electric vehicles. LaPriel and I drove a plug-in BMW X3 at the dealership the other day just to see what it's like. That vehicle can go 30 miles just on its battery, but it's plug-in because the battery technology used in a traditional hybrid and a plug-in hybrid electric vehicle is different. The battery in plug-in electric vehicles tend to be larger than the batteries in a traditional hybrid vehicle, and because the battery is larger, they weigh more.
I went looking for actual models in production, and one is the Mini Cooper, which is produced by BMW. Its internal combustion engine version weighs 2,900 pounds. The electric version weighs 3,100 pounds, so about 200 pounds more. The Ford F-150 Lightning pickup truck weighs about 6,500 pounds, which is about 1,000 pounds more than the Ford F-150 with a 3.5-liter engine. The Ford F-150 Lightning, the battery alone will weigh about 1,800 pounds. But when we look at the GREET Model and go through the numbers, we'll see that the energy efficiency of an electric truck is so much greater than an internal combustion engine truck, even if that electric truck weighs more, 1,000 pounds more. Now, if the truck weighs double, that's another matter, but that's not the case; they don't weigh double.
In the case of the Ford F-150, it's about 1,000 pounds more. Clearly, a heavier vehicle will use more energy. But we can't compare a brand-new electric vehicle with a very old internal combustion engine vehicle. We really need to do a brand-new electric vehicle, the same model with its internal combustion engine sister.
So when we look at the actual energy being used, from well to wheel, so to produce the vehicles, to produce the energy used to run the vehicles, what we see is that there's no competition. They have many different measurements in this spreadsheet, but I'll focus on BTUs per mile. An internal combustion engine truck uses about 8,600 BTUs per mile, 200% more than an electric, which is 2,850 BTU per mile. The electricity for that truck is assuming the standard US energy mix, which has about 37% natural gas, 25% coal, 20% nuclear power, and about 17% renewables, and then there's some biomass in there and some residual oil.
200% more electricity for the internal combustion engine truck. The hybrid uses 133% more energy as measured by BTU per mile than the electric version. And then the plug-in hybrid electric version uses 68% more. I would have thought that a plug-in hybrid or a traditional hybrid would be more energy efficient than they were. But the electric is incredibly efficient. We need to look at different energy grids. And what I've found was in the area of the US that is the most energy inefficient in terms of the type of input used to create electricity is the Upper Midwest; Nebraska, North Dakota, South Dakota, Iowa, Minnesota. They use 43% coal, 12% renewables. And the most efficient was the Western U.S, with 17% coal and about 42% renewables. The difference for that electric truck in terms of BTU per mile in that Upper Midwest, where there's a great deal more coal usage—it was 3,480 BTU per mile. In the Western US, the most efficient area, 2,700 BTU per mile.
So about 600 BTU per mile difference in the energy use between an inefficient grid, a grid that creates more emissions, than one that's more efficient, that Western mix. So it does make a difference with regard to how the electricity is produced used to charge the electric vehicle. But it doesn't make enough difference to justify, strictly from an energy use basis, an internal combustion engine truck. They are significantly more inefficient than an electric truck. Of course, the amount of energy consumed is just one way to look at it.
The Cost of Owning an Electric Vehicle
What about the actual cost of owning the vehicle over time? I looked for different analyses for this, and the best article I found was by Roberto Baldwin writing for Car and Driver. This came out in May 2020. It was titled, EV vs Gas: Which Cars Are Cheaper to Own? They did a three-year cost analysis. They were focusing on two vehicles that had an electric version and a gas-powered version—the Mini Cooper and the Hyundai Kona.
Their analysis was based on 45,000 miles, so about 15,000 miles per year. They looked at the main components that determine the cost of a car—the maintenance, the energy cost, the depreciation, and then what the car cost to buy.
Maintenance Cost
For the maintenance, it's less for an electric vehicle. And they based their analysis on AAA's 2019 estimates of maintenance costs for different vehicles.
Ford is saying their new Ford Lightning F-150 will cost 40% less than the gas-powered version to maintain. There are just fewer parts for an electric vehicle. What they found then looking at the Mini Cooper and the Hyundai Kona was that maintenance was about 30% to 40% more expensive to maintain the internal combustion engine vehicle. For example, the Mini, gas-powered, was eight cents per mile, for a total of $3,839 in maintenance. The electric was 6.6 cents per mile or $2,970. These are cars that are only three years old. Presumably, the older the car, the more the gas-powered vehicle will cost to maintain because there's just more parts to break. But even in the first three years, the electric vehicle was less expensive.
Energy Cost
Taking a look at the energy cost, they assumed $2.44 per gallon for gas for regular, $3.11 for premium per gallon—the Mini requires premium—and their kilowatt rate per hour was just under 13 cents per kilowatt-hour. Our power here in Idaho is less than that; it's closer to eight cents per kilowatt-hour, and that certainly factors in what does it cost. In that case, gas is still going to be more expensive, so they estimate the total cost of gas for the Mini Cooper was $4,478 over the three-year period. The electric Mini was $1,939. It costs twice as much for the gas-powered version of the Mini compared to the Electric version in terms of the energy cost. For the Hyundai Kona, it was also twice as much—$3,600 for the gas, $1,723 for electricity.
Depreciation
The next area and the one that's probably the most difficult to estimate is the depreciation. It would be interesting to see in leasing both vehicles what residual is the company assuming for an electric Mini Cooper versus a gas one.
The reality is electric vehicles do cost more because of the battery technology, and higher-priced cars tend to have more depreciation. From that aspect, they estimated that in the first three years a Mini Hardtop would suffer $8,900 in depreciation; the value of the car would fall by $8,900 compared to the price paid. And the electric version of the Mini would have $13,600 of depreciation. For the Kona gas-powered, about $10,600 depreciation, and the electric $12,200. So they're assuming the electric vehicles will depreciate more because they are more expensive.
One of the interesting stats in the Argonne lab GREET Model is their estimate of lifetime vehicle miles traveled. They assumed that the internal combustion engine and hybrid version of the truck will travel 183,000 miles over its lifetime, whereas the electric they only assume 128,000 miles, presumably because at that point the batteries need to be replaced. And so there is an argument to suggest depreciation should be more for electric vehicles, not only because they cost more, but because they don't necessarily last as long.
Overall Cost
Finally, when they looked at what was the cost of the car, including depreciation, the energy cost and the maintenance, the three-year cost of ownership for the Mini Electric was $49,312. For the Mini Gas-powered Hardtop, it was $41,454. So about an $8,000 difference. Now, that was before a federal tax credit. Many countries give purchasers of electric vehicles a tax credit. In the US, it's $7,500, although each manufacturer only gets so many tax credits. One of the things we saw with the Ford Lightning is not necessarily everyone that buys it will be able to get the tax credit. But if you factor in the tax credit, the three-year cost of owning the Electric Mini versus the gas-powered is about the same. The Hyundai Kona was a little different. The total cost before tax credit, total cost of ownership was $55,311 for the electric vehicle, and just under $40,000 for the gas-powered. So even after factoring in the tax credit, the gas-powered Hyundai is the better deal.
Other Considerations When Choosing a Vehicle
Cost obviously is just one aspect.
One of the things that attracts me to an electric vehicle is they're just quiet. I like cars that are quiet, that the engine doesn't make any noise. Some people like pickup trucks because they're not quiet. They like the cars to be noisy, for the engine to roar. One of the options as we were building out this Suboverland camper was what type of exhaust system do we want? In other words, how much noise do we want the truck to make? But I like it quiet.
Another aspect is I like the idea of generating a smaller carbon footprint with the electric. And clearly, the electric vehicle is extremely more efficient from that aspect. I like the lower maintenance cost, and not just the cost, I just find it extremely frustrating to get cars fixed. You have to keep taking the car to the shop and having them fixed something else on this Suburban. I like not having to fix cars. The downside to the electric vehicle is the range. The Ford Lightning potentially only goes to 300 miles. Some electric vehicles have a smaller range than that. And then there's the inconvenience of charging, and you have to plot out your trip to make sure it gets charged. That's something that concerns LaPriel. She kind of likes the hybrid version. But again, when you start factoring in the greater efficiency of an electric versus a plug-in hybrid electric or a traditional hybrid, electric is way more efficient. And maybe it justifies that inconvenience.
EV Prices Will Continue To Fall
Right now, electric vehicles are more expensive. They will not always be. A recent price survey by Bloomberg NEF found that the average price per kilowatt-hour for a lithium-ion battery pack fell to $137 in 2020, down 13% from $157 in 2019. 10 years ago, those batteries sold for $1,100 per kilowatt-hour. Price parity between an electric vehicle and an internal combustion engine vehicle is estimated to be about $100 per kilowatt-hour if that's what the battery pack costs.
And Bloomberg's analysts expect that battery makers will get to that mark in 2023, of $101 per kilowatt-hour.
The battery is about 30% of the cost of an electric vehicle. So as battery technology improves, the cost of electric vehicles will go down, so they'll be more price-competitive relative to internal combustion engines over the lifecycle of the car. That is a compelling case to own. If you can overcome the inconvenience factor of having to charge the car if you take a lot of long trips. If you don't travel long distances, then it's, in my mind, a fairly easy decision, if you're concerned about the potential climate impact of driving a vehicle. We're going to sell the Suburban, taking it in to get it repaired one more time; we certainly have all the paperwork that we'll share with the potential buyers. But one of the things that you're seeing, and we saw this last week as we were driving around car lots, is that there are not a whole lot of vehicles out there, due to semiconductor shortages. The Toyota lot was practically empty. And because of that, the prices of used cars have spiked. There's also a shortage of recreation vehicles.
So our hope is if we can sell this Suburban, show them the paperwork, that we'll be able to recoup most of our cost, because the build-out specialists of Suboverland, their waitlist is October 2022. If you want a new Suboverland, converted Suburban, you have to wait until October of next year. So we'll see if we can get our money out of it, and then we're just going to wait and see. We'll go with the one car, LaPriel and I will share, and maybe we'll go with the Ford Lightning, maybe we'll do an electric vehicle. We definitely need something that has all-wheel drive and high clearance. I'm leaning toward the electric, because they're quiet, because there's lower maintenance because they use less energy. And I'm willing to pay a premium for that for now, even if there's the inconvenience of having to charge it as we travel.
And that's Episode 346.